Human trafficking is arguably the most insidious of crimes. The theft of a human life, sold for labour or as a sex slave is a gross indictment of humanity's potential for evil. And in the context of the rise of an extraordinarily well-funded global terror network, human trafficking has become a crime of monumental proportions – a crucial commodity in the financing of terrorism. The International Labour Organisation estimates that 36 million individuals are trapped in sex slavery, forced or bonded labour and other forms of servitude – an industry worth in the region of $150 billion a year. The harsh reality for those of us in the emerging markets in Africa is that our current, fragmented, financial systems are making the funnelling of money gained from trafficking much easier than it should be.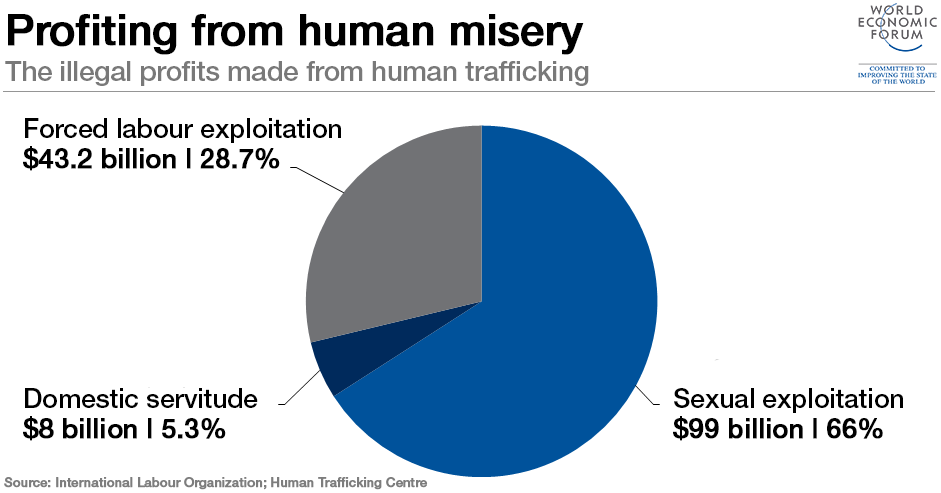 African countries have a special responsibility because they are part of a region that has historic challenges when it comes to corruption and conflict. This is a continent that has developed greatly over the past two decades – but it's a region that is still on a journey to strengthen governance and security frameworks. We in Africa have a duty to manage our meteoric economic growth responsibly. Policymakers in Africa recognize the harsh reality that funds gained from human trafficking still cross our borders through shell companies, badly governed banking systems and lax anti-money laundering laws. It is therefore imperative to achieve a unified response across such a vast region. This can only be achieved by continuing to strengthen our governance and compliance framework in order to address human trafficking much more aggressively.
The first step is for each and every nation to build its own regulatory platform against money-laundering. The international community is here to help us do this. The Financial Action Task Force (FATF) provides a clear framework for legal, operation and regulatory measures that can be forced upon the banking system – and other transactional industries such as online gambling and real estate brokerage.
Here in Angola we have been reforming our legal framework for many years. Since the introduction of financial compliance laws in 2011, which were targeted specifically at anti-money laundering and the financing of terrorism in financial and non-financial sectors, the Central Bank of Angola (BNA) has introduced a series of mandatory regulations and compliance mechanisms. These include obligations to prove identification across the entire chain – banks have a duty to ensure that the banks they are doing business with are also meeting their legal obligations.
These institutions need to then prove so by issuing an annual audit that will be verified for completeness and transparency. This latest measure, introduced in December 2015, means that for the first time, every institution under the supervision of the BNA in Angola must issue a report on its own compliance (or otherwise) to the country's anti-money laundering laws. And to be clear, those laws are based on the FATF recommendations and the Basel III measures set out by the Basel Committee on Banking Supervision both of which set out to strengthen the regulation, supervision and risk management of the banking sector around the world.
Adoption of global standards is important – but Africa needs to do more. There is an urgent need to go beyond standard anti-money laundering controls. African countries need to work together to develop and implement new monitoring techniques specifically tailored to detecting human trafficking. Again, we can look to the international community and the developed economies for guidance. We can also learn lessons from how the international community has come together to try to combat the smuggling of refugees across the Mediterranean. In November 2015, an international operation that was conducted by Europol led to the arrest of 29 suspected migrant smugglers – individuals believed to be part of a sophisticated network of human traffickers leading all the way to Pakistan. Each migrant on this particular occasion paid around 14,000 euros to the smugglers in order to obtain fake documentation and 'safe passage' to Europe where they would be able to claim asylum. More than 40 people died on that journey.
The success of such sting operations is down to intelligence sharing and a concerted effort to identify unusual payments or employment conditions. One human trafficking network was uncovered in Spain after semi-slavery working conditions in Pakistani run restaurants were identified. Individuals worked without pay, holiday or social security in order to pay back their 'debts' to the smugglers.
Unearthing these slave networks requires intelligence gathering, intelligence sharing and on-the-ground observation. Africa can learn simple lessons here – they can help financial institutions to identify 'red flag' indicators to scan their systems for suspicious transactions. They can empower banks to create their own version of the US Bankers Alliance, which led to the publication of international guidance to help the financial industry identify and report transactions linked to trafficking. In 2013, some of the United States' largest banking groups joined forces to create a human trafficking working group in conjunction with the Manhattan District Attorney's Office. This now acts as a forum for the sharing of best practice and monitoring rules. This is the outcome of two simple ingredients: political will and the buy-in of the private banking sector. Leadership from policymakers must however come first.
Here in Angola, the constitution prohibits any practice that affects the dignity of the human being. This statement was enshrined in law in 2014, in addition to existing laws that regulate the legal regime of foreigners operating in Angola in order to unearth the use of illegal manpower, illegal migration and other crimes.
Of course, laws and regulations are an important step – but they are useless without teeth. Enforcement comes from political collaboration, technology and strong regional links between police forces and intelligence agencies. A 2015 article by the World Economic Forum explored how data can be used to identify the footprints left by organised crime. JP Morgan, for example, has a Financial Intelligence Unit, which works with the U.S. Home land Security: a great example of private financial institutions working together with government.
Developments such as these are patently voluntary. African countries must learn from these developments. African governments and private banks must come together voluntarily to confront this growing evil – and those of us who wish to pursue greater collaboration must work with international bodies, such as Europol, to support African governments less equipped to come to the table. This is no longer an issue that Africa can ignore as we must lead the fight against human trafficking and financial institutions in Africa have a major role to play to eradicate this menace.