Did you know that Brazil was the first country to outlaw conversion therapy? Or that in Turkmenistan, homosexuality is legal for women but not men? How about the fact that in Canada, the age of consent is different for homosexuals and heterosexuals?
That's just a handful of examples of the information you can find on Equaldex, a collaborative LGBT rights website launched in 2014. The crowdsourced project works a lot like an LGBT Wikipedia. Anyone can join, edit and amend information. Other users are encouraged to authenticate the accuracy of each update and the information becomes verified as site usage increases.
As you can see in the maps below, there is still a lot of work to be done. The site is currently tracking over 1,932 laws around the world, but information can often be scarce, difficult to verify, or flat-out confusing. Take, for example, the recent Court of Appeals decision in Lebanon that allowed a transgender man to change his legal status to male. That's an amazing first step for the country and the Middle East as a whole, but it remains unclear what that means practically for others wishing to transition.
The Equaldex maps are particularly useful because they are constantly updated. Which, with the pace of change when it comes to LGBT rights, is crucial. Last year saw an amazing acceleration of LGBT rights around the world, but that also meant that data maps published only months earlier were quickly out of date. Countries like Ireland, for example, have passed numerous laws to improve the lives of LGBT people, something not reflected on most available charts.
Where is homosexuality still illegal?
Homosexuality as a legal matter remains a concern in Africa and the Middle East, where some countries still impose the death penalty for those who are gay or lesbian. In India, the Supreme Court recently stated that it will review the country's laws on homosexuality.
The East/West divide on same-sex marriage is strikingly clear in this map. Notable exceptions are South Africa and parts of Latin America.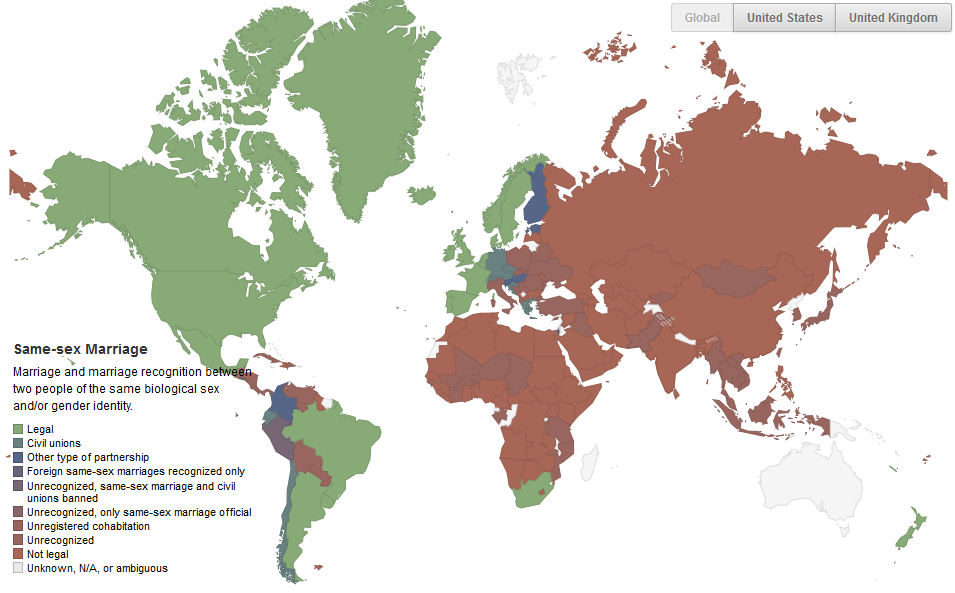 Changing gender can be a complicated and difficult procedure for transgender people. While many countries now recognize a person's right to legally change, in most of the world this is only after they have had surgery.
Adoption laws differ greatly around the world. Some countries allow adoption by LGBT parents, while others only allow for married couples, and others still only for step-children.
Europe provides the most protection against discrimination based on a person's sexual orientation or gender identity. Many other parts of the world offer some protection, but a vast majority still offer no protection at all.
Employment discrimination
US Vice-President Joe Biden emphasized how important LGBT tolerance was in the workplace when he spoke to top executives in Davos earlier this year. This map shows just how much work remains to be done.
Data is somewhat lacking as to which countries provide protections against housing discrimination for LGBT people, but clearly housing discrimination is still a serious problem for many. In the United States, one in five transgender individuals have become homeless at some point in their life.
A surprising number of countries agree that you don't need to be straight to shoot straight. While officially the US removed its "don't ask, don't tell" policy for homosexual conscripts, it's still referred to in this map because something similar still applies to transgender people.
Blood donations by gay men are still severely restricted.
The age of consent for heterosexuals and homosexuals is not always the same, notably in Canada and Australia.
Conversion therapy, the practice of "curing" homosexuals through a variety of methods, was first banned in Brazil. Despite remaining widespread in China, the practice was officially ruled against by a Beijing court in 2014.