Air pollution is the deadliest form of pollution, killing millions of people each year, according to a new study.
The Cost of Air Pollution, a joint report by the World Bank and the Institute for Health Metrics and Evaluation (IHME), also highlights the economic toll, showing that premature deaths linked to air pollution cost the global economy hundreds of billions of dollars in lost labour income.
Facts about Air Pollution

Here are some shocking air pollution facts that everyone needs to know.
More than nine out of 10 of the world's population – 92% – lives in places where air pollution exceeds safe limits, according to research from the World Health Organization (WHO).
The health risks of breathing dirty air include respiratory infections and cardiovascular diseases, stroke, chronic lung disease and lung cancer.
Almost all deaths (94%) linked to air pollution occur in low- and middle-income countries, the WHO says.
Parts of Africa, Eastern Europe, India, China and the Middle East are the biggest regional danger spots.
More than 1 million air pollution-related deaths occurred in China and over 600,000 in India in 2012, according to the WHO. But the worst countries for deaths per head of population are in Eastern Europe. Ukraine, at the top of the table, had 120 deaths per 100,000 inhabitants in 2012.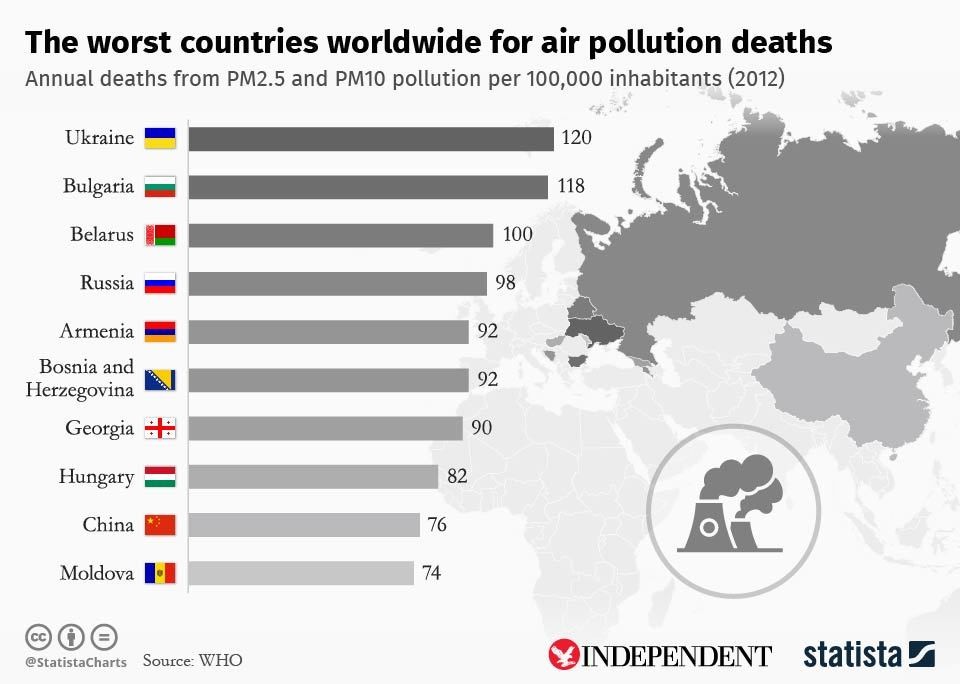 The study by the World Bank and the Institute for Health Metrics and Evaluation (IHME) calculated the economic cost of air pollution. It found that air pollution led to one in 10 deaths in 2013, which cost the global economy about $225 billion in lost labour income.
Another fact about air pollution is that the tiny particles, known as PM2.5, have a diameter of less than 2.5 micrometers and can penetrate deep into the lungs and cardiovascular system, increasing the risk of disease.
WHO guidelines state annual average concentrations of PM2.5 should be below 10 micrograms (mcg) per cubic meter, but the vast majority of the world's population is living in areas exceeding this limit.
The authors of the report have called it an "urgent call to action" for policy makers around the world. Dr Chris Murray, Director of IHME said: "Of all the different risk factors for premature deaths, this is one area, the air we breathe, over which individuals have little control. Policy makers in health and environment agencies, as well as leaders in various industries, are facing growing demands – and expectations – to address this problem."
We hope these air pollution facts will make you think and take action. You might also be interested in checking out these air pollution statistics.