At the current rate of progress, the economic gender gap will close in 170 years. This timeframe, calculated by the World Economic Forum's latest Global Gender Gap Index, means that neither our generation nor our children's will live in a world where men and women equally take part in business and the economy.
As disheartening as it may sound, it's actually within our power to bring forward that horizon. In order to help organizations towards that horizon, the World Economic Forum has launched a toolkit which aims to help them assess their levels of sexual equality, as well as how much they do to inspire and encourage others.
Failing to nurture women is wasting talent
Despite the fact that in 100 countries around the world women are more highly educated than men, they still do not participate in the labour market on equal terms. Female employees are less likely to work in skilled, senior roles than their male colleagues, and on average they earn little more than half a man's wage. At a time when retaining and developing talent is one of the biggest concerns for businesses, the widespread failure to nurture women amounts to a sizeable waste of human capital.
It starts with company-wide commitment
The World Economic Forum's toolkit offers 23 practical initiatives for enhancing equality within companies and organizations.
Following the mantra that the fish rots from the head, the toolkit recommends building a strong business case among senior management. In addition to getting top-down commitment to gender equality, companies need to acknowledge any existing gender bias, set realistic targets for overcoming it, and put in place appropriate feedback loops to monitor progress.
A case in point is PricewaterhouseCoopers, who for the past decade have focused on building diversity-friendly policies. "Progress didn't happen overnight," explains a spokesperson for the company, "but we're starting to see the fruits of our labour: PwC's leadership team now consists of 10 men and nine women. We've also achieved gender parity at entry level for a number of years now, with just over 50% of our graduate hires globally being female."
Embedding gender diversity
With these basics in place, the next stage is to create concrete initiatives which address the specific gaps the organization has identified. These typically include levelling pay gaps by defining uniform wage bands and ensuring consistent salary review processes; and creating generous parental leave allowances for both men and women. Underpinning such schemes should be company-wide gender awareness training and effective measures to tackle sexual harassment.
A good example of this in action can be found at Ernst & Young, where a high-profile communication platform encourages its leaders to engage with people, both inside and outside the workplace, on causes that drive women's advancement. Such a resource provides colleagues with an "evidence-rich narrative to share with clients and other stakeholders, to put gender parity on their agendas", explains the company.
Once implemented successfully, an organization's gender policies and commitment to equality can also become a useful tool in the wider cause of corporate social responsibility. Organizations should consider encouraging diversity in their supply chain, political lobbying, partnering with philanthropic organisations and supporting gender parity in education to help shape their future talent pool.
Great examples of this are breakthrough campaigns on social media such as #LikeAGirl and #ShareTheLoad by Proctor & Gamble, the latter of which went viral in 22 countries (it's racked up 65 million views since it launched). The idea started with the finding that 70% of children believe household chores are women's work; today more than 2 million men in India have pledged to carry their share of the domestic burden.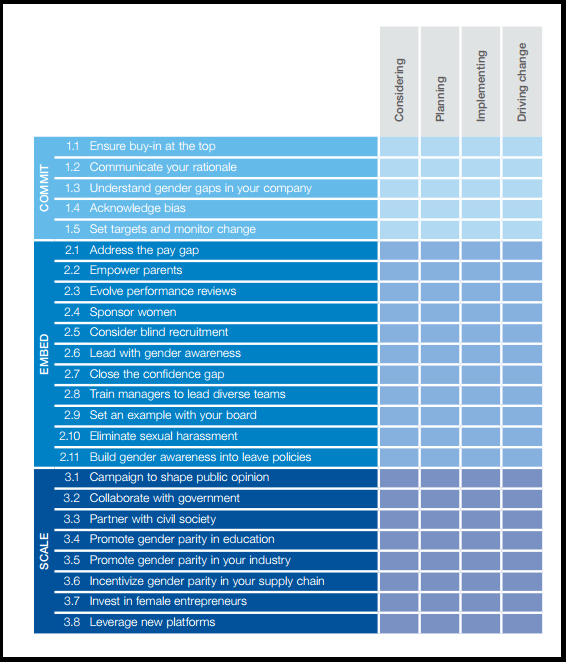 Creating a balanced scorecard
To ensure a well-rounded effort to achieve gender parity, the World Economic Forum recommends a scorecard to track how the organization is progressing relative to its targets. Is it only considering a particular policy, are there concrete plans in place, or is an initiative already being implemented? Once the ticks on the scorecard have moved to "implementing", is the organization reaching out beyond its own walls to drive change in its wider environment?