This daily round-up brings you a selection of the latest news updates on the COVID-19 coronavirus pandemic, as well as tips and tools to help you stay informed and protected.
Top stories: Singapore's economy sinks into recession; restrictions are reimposed across Asia; and the WHO warns leaders over 'mixed messages'.
1. How COVID-19 is affecting the globe
Global confirmed coronavirus cases have passed 13.1 million, according to Johns Hopkins University. More than 573,000 people are known to have died from the virus, while over 7.2 million are known to have recovered.
2. Restrictions are being reimposed across Asia-Pacific as cases rise
Indoor dining in restaurants will be banned from 6:00pm to 5:00am, masks on public transport will be mandatory and public gatherings will drop from 50 people down to four.
The move comes after Hong Kong reported a record number of 41 locally transmitted infections on 13 July.
It's a similar story across much of the Asia-Pacific region, where countries who had success at containing the initial outbreak of the virus - which first emerged in China in December 2019 - have had to tighten measures after cases spiked.
In India, the tech capital Bengaluru has begun a week-long lockdown after a surge in cases from 1,000 on 19 June to nearly 20,000.
What is the World Economic Forum doing to manage emerging risks from COVID-19?
The first global pandemic in more than 100 years, COVID-19 has spread throughout the world at an unprecedented speed. At the time of writing, 4.5 million cases have been confirmed and more than 300,000 people have died due to the virus.
As countries seek to recover, some of the more long-term economic, business, environmental, societal and technological challenges and opportunities are just beginning to become visible.
To help all stakeholders – communities, governments, businesses and individuals understand the emerging risks and follow-on effects generated by the impact of the coronavirus pandemic, the World Economic Forum, in collaboration with Marsh and McLennan and Zurich Insurance Group, has launched its COVID-19 Risks Outlook: A Preliminary Mapping and its Implications - a companion for decision-makers, building on the Forum's annual Global Risks Report.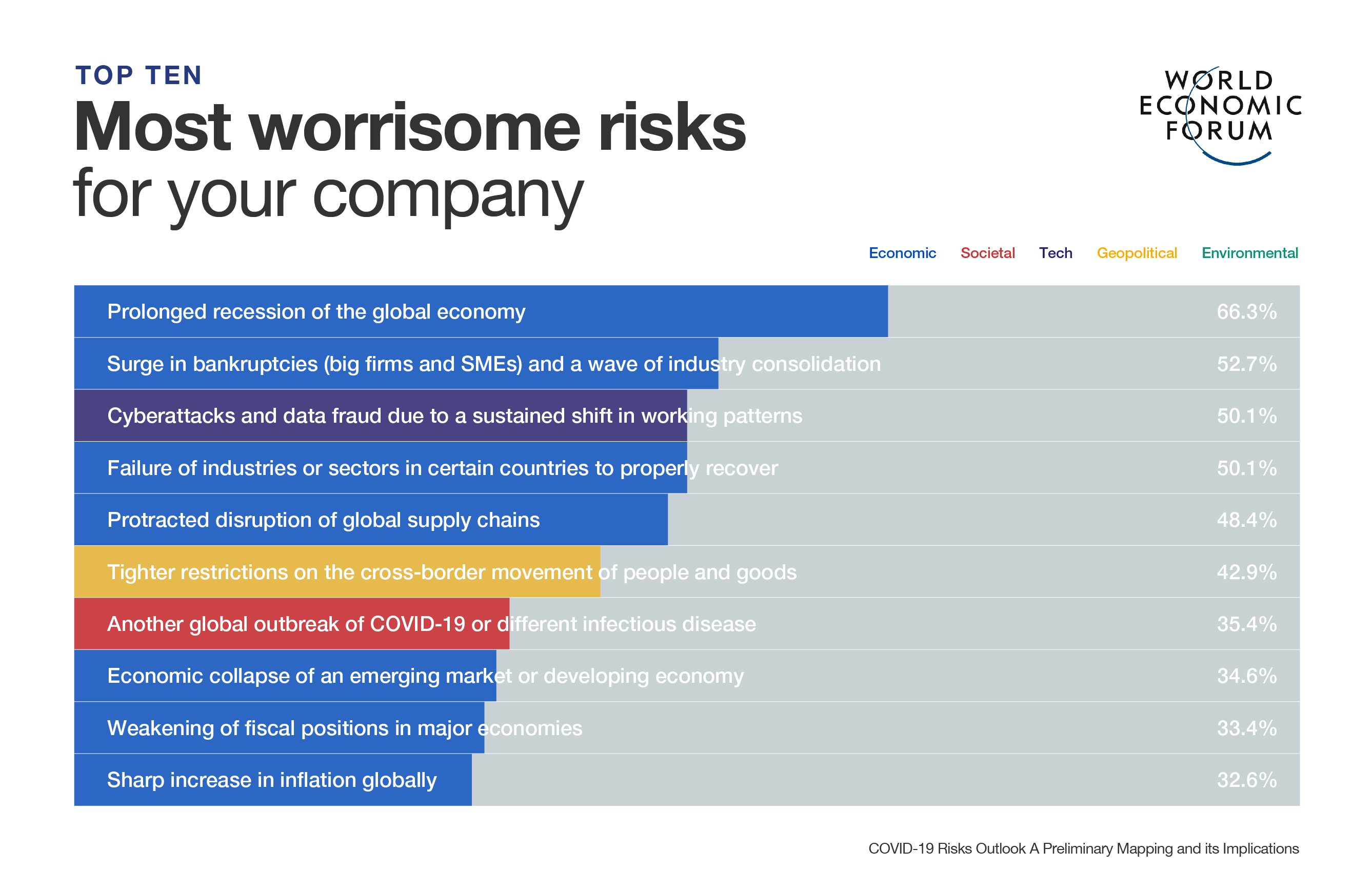 3. WHO chief: Mixed messages from leaders are undermining trust
Unless governments do more to communicate clearly with their citizens and take life-saving steps, the COVID-19 pandemic will only get worse.
This was the stark message from the World Health Organization's Director-General Tedros Adhanom Ghebreyesus at a media briefing on 13 July.
"Let me blunt, too many countries are headed in the wrong direction," he said.
"The virus remains public enemy number one, but the actions of many governments and people do not reflect this. The only aim of the virus is to find people to infect.
"Mixed messages from leaders are undermining the most critical ingredient of any response: trust."
He said there would be no return to the "old normal" for the foreseeable future.
But he added, every leader and individual can "do their bit to break chains of transmission and end the collective suffering".
The roadmap to controlling the pandemic requires three things: a focus on reducing mortality and suppressing transmission; an empowered, engaged community that takes individual behavioural measures; and strong government leadership and coordination of comprehensive strategies that are communicated clearly and consistently.