This daily round-up brings you a selection of the latest news updates on the COVID-19 coronavirus pandemic, as well as tips and tools to help you stay informed and protected.
Top stories: China's economy returns to growth, Tokyo has a new record high of cases, and the IMF's Managing Director warns "we're not out of the woods".
1. How COVID-19 is affecting the globe
2. IMF Chief: Global economy 'not out of the woods' yet
Kristalina Georgieva, Managing Director of the International Monetary Fund, has warned that a second global wave of COVID-19 could disrupt early signs of economic recovery.
"A partial recovery is expected to continue in 2021. The exceptional action taken by many countries, including the G-20—through fiscal measures of about US$11 trillion and massive central bank liquidity injections—put a floor under the global economy. This extraordinary effort should not be underestimated.
What is the World Economic Forum doing to manage emerging risks from COVID-19?
The first global pandemic in more than 100 years, COVID-19 has spread throughout the world at an unprecedented speed. At the time of writing, 4.5 million cases have been confirmed and more than 300,000 people have died due to the virus.
As countries seek to recover, some of the more long-term economic, business, environmental, societal and technological challenges and opportunities are just beginning to become visible.
To help all stakeholders – communities, governments, businesses and individuals understand the emerging risks and follow-on effects generated by the impact of the coronavirus pandemic, the World Economic Forum, in collaboration with Marsh and McLennan and Zurich Insurance Group, has launched its COVID-19 Risks Outlook: A Preliminary Mapping and its Implications - a companion for decision-makers, building on the Forum's annual Global Risks Report.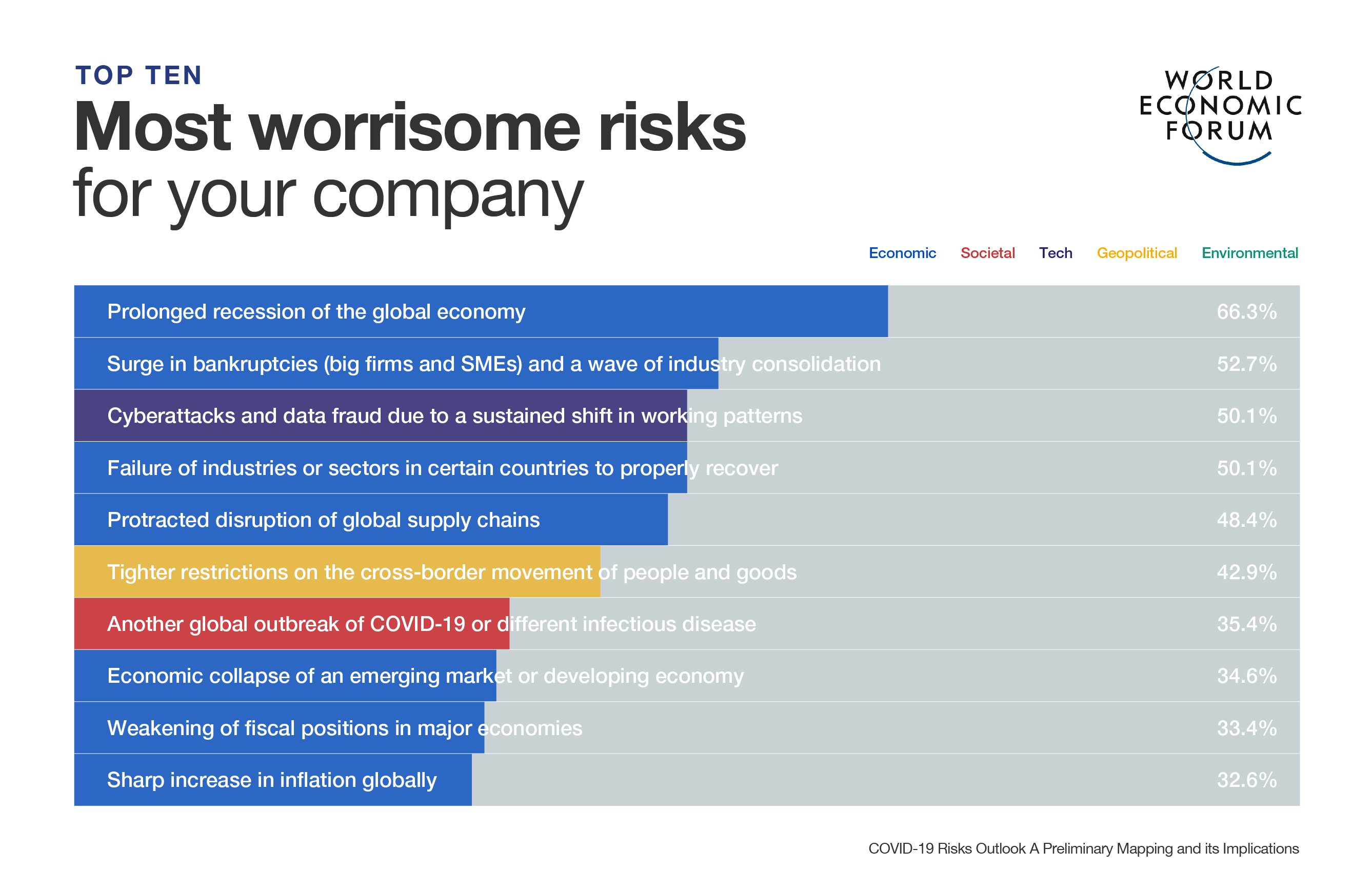 "But we are not out of the woods yet. A second major global wave of the disease could lead to further disruptions in economic activity. Other risks include stretched asset valuations, volatile commodity prices, rising protectionism, and political instability."
Georgieva said further action was needed in terms of both domestic policies and collective efforts to ensure a more inclusive and resilient recovery.

3. WHO warns of alarming decline in children being vaccinated during pandemic
The COVID-19 pandemic is disrupting the delivery and uptake of immunization services, with the World Health Organization and UNICEF warning of an alarming decline in the number of children receiving life-saving vaccines around the world.
New data by WHO and UNICEF show these disruptions threaten to reverse progress to reach more children and adolescents with a wider range of vaccines.
Preliminary data for the first four months of 2020 points to a substantial drop in the number of children completing three doses of the vaccine against diphtheria, tetanus and pertussis (DTP3). This is the first time in 28 years that the world could see a reduction in DTP3 coverage – the marker for immunization coverage within and across countries.
"Vaccines are one of the most powerful tools in the history of public health, and more children are now being immunized than ever before," said Dr Tedros Adhanom Ghebreyesus, WHO Director-General.
"But the pandemic has put those gains at risk. The avoidable suffering and death caused by children missing out on routine immunizations could be far greater than COVID-19 itself. But it doesn't have to be that way. Vaccines can be delivered safely even during the pandemic, and we are calling on countries to ensure these essential life-saving programmes continue."