This daily round-up brings you a selection of the latest news updates on the COVID-19 coronavirus pandemic, as well as tips and tools to help you stay informed and protected.
Top stories: Price of gold hits record high; WHO says COVID-19 'most severe' health emergency; and action needed to save children from malnutrition.
1. How COVID-19 is affecting the globe
What is the World Economic Forum doing to manage emerging risks from COVID-19?
The first global pandemic in more than 100 years, COVID-19 has spread throughout the world at an unprecedented speed. At the time of writing, 4.5 million cases have been confirmed and more than 300,000 people have died due to the virus.
As countries seek to recover, some of the more long-term economic, business, environmental, societal and technological challenges and opportunities are just beginning to become visible.
To help all stakeholders – communities, governments, businesses and individuals understand the emerging risks and follow-on effects generated by the impact of the coronavirus pandemic, the World Economic Forum, in collaboration with Marsh and McLennan and Zurich Insurance Group, has launched its COVID-19 Risks Outlook: A Preliminary Mapping and its Implications - a companion for decision-makers, building on the Forum's annual Global Risks Report.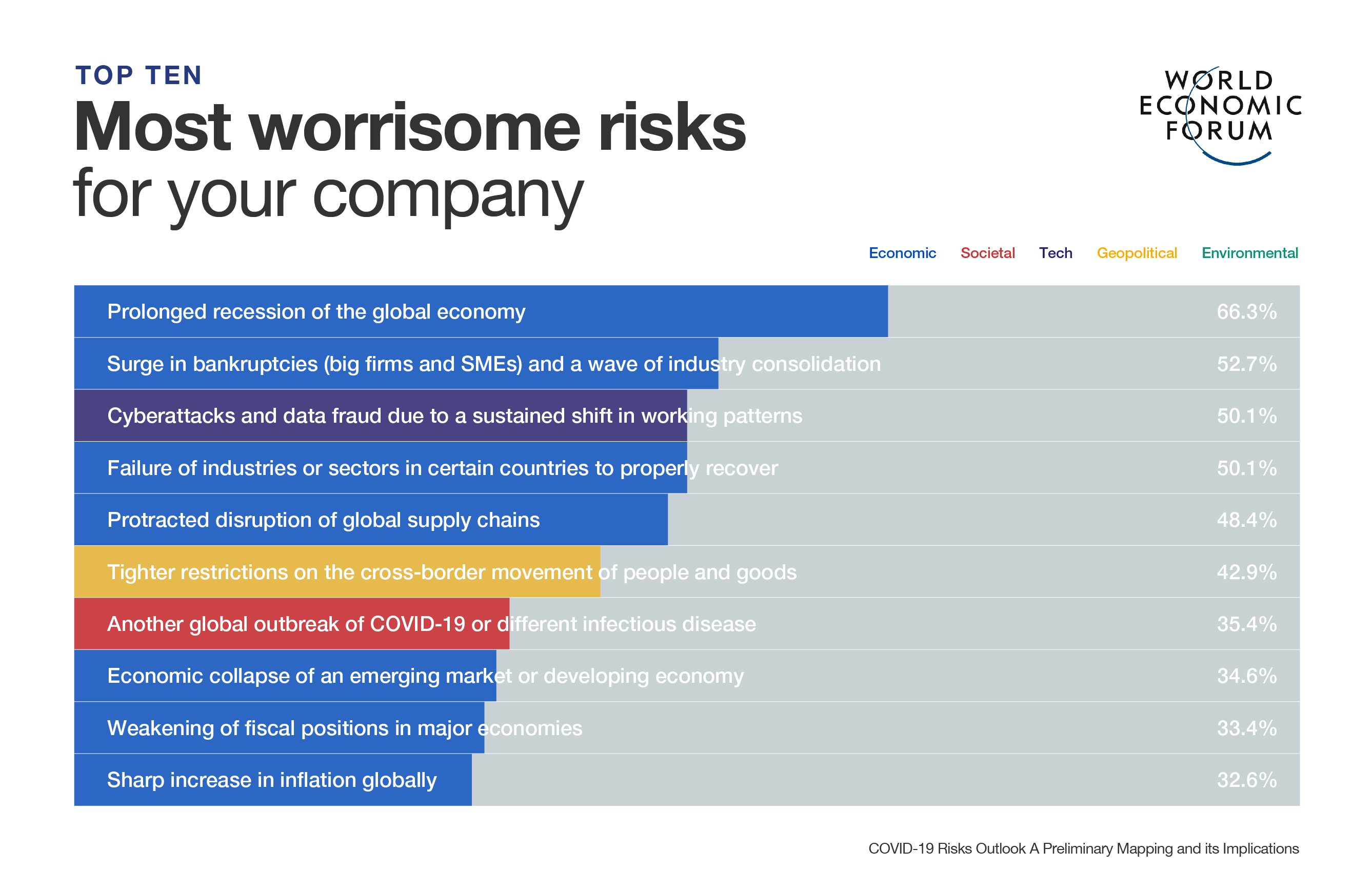 2. COVID-19 is 'most severe global health emergency' - WHO
As the world approaches a milestone in the coronavirus timeline, the World Health Organization (WHO) has warned the pandemic is accelerating.
Thursday, 30 July marks six months since the WHO declared COVID-19 a public health emergency of international concern.
"When I declared a public health emergency of international concern on the 30th of January – the highest level of alarm under international law – there were less than 100 cases outside of China, and no deaths.
"And the pandemic continues to accelerate. In the past 6 weeks, the total number of cases has roughly doubled."
Sounding a positive note, he praised countries whose swift action had seen infections drop and said: "We are not prisoners of the pandemic. Every single one of us can make a difference. The future is in our hands."
3. 5 actions needed to protect children's right to nutrition in COVID-19
An additional 6.7 million children under the age of five could become dangerously undernourished this year due to the impact of the COVID-19 pandemic, UNICEF has warned.
An analysis published in The Lancet found that 80% of these children would be from sub-Saharan Africa and South Asia.
"The repercussions of the pandemic are causing more harm to children than the disease itself," UNICEF's Executive Director Henrietta Fore said.
"Household poverty and food insecurity rates have increased. Essential nutrition services and supply chains have been disrupted. Food prices have soared. As a result, the quality of children's diets has gone down and malnutrition rates will go up."
$2.4 billion is needed urgently by humanitarian agencies to protect maternal and child nutrition in the most vulnerable countries from now until the end of the year.
The heads of the four United Nations agencies have appealed to governments, the public, donors and the private sector to protect children's right to nutrition during the pandemic by taking five urgent actions:
1. Safeguard and promote access to nutritious, safe and affordable diets.
2. Invest in improving maternal and child nutrition through pregnancy, infancy and early childhood.
3. Re-activate and scale up services for the early detection and treatment of child wasting.
4. Maintain the provision of nutritious and safe school meals for vulnerable children.
5. Expand social protection to safeguard access to nutritious diets and essential services.