This daily round-up brings you a selection of the latest news updates on the COVID-19 coronavirus pandemic, as well as tips and tools to help you stay informed and protected.

Top stories: Cases spike in Tokyo, masks are mandatory in Texas and the UK issues list of reduced-risk countries whose visitors don't need quarantine.
1. How COVID-19 is affecting the globe
Confirmed cases have surpassed 10.8 million globally, according to Johns Hopkins University. More than 521,000 people are known to have died from the virus, while over 5.7 million are known to have recovered.
2. WHO: Ebola measures are helping Africa fight COVID-19
Temperature screening measures already in place at airports in Africa for the Ebola epidemic have made an "important contribution" in identifying coronavirus cases.
Speaking at a World Health Organization media briefing, hosted by the World Economic Forum, Dr Matshidiso Moeti, the WHO's Regional Director for Africa, said Ebola preparedness had been key in the region's fight against the pandemic.
As countries open up borders and resume commercial flights, Dr Moeti said WHO advice is to "make decisions and take action based on data, which requires strong surveillance and testing".
"Air travel is vital to the economic health of countries," she said. "But as we take to the skies again, we cannot let our guard down. Our new normal still requires stringent measures to stem the spread of COVID-19."

To date, there have been more than 413,000 cases on the continent and more than 10,000 have died, she said. Community transmission is in 30 countries.
South Africa remains the worst-affected country, accounting for around two-thirds of cumulative cases and half of the new cases in past few days.
In Ghana and Nigeria, cases are steadily increasing. In Sierra Leone and Zambia, new cases are decreasing.
"Our actions as individuals really make a difference. By practising physical distancing, hand hygiene and wearing a mask over our mouths and noses, we can reduce the risk of transmission," Dr Moeti said.
What is the World Economic Forum doing to manage emerging risks from COVID-19?
The first global pandemic in more than 100 years, COVID-19 has spread throughout the world at an unprecedented speed. At the time of writing, 4.5 million cases have been confirmed and more than 300,000 people have died due to the virus.
As countries seek to recover, some of the more long-term economic, business, environmental, societal and technological challenges and opportunities are just beginning to become visible.
To help all stakeholders – communities, governments, businesses and individuals understand the emerging risks and follow-on effects generated by the impact of the coronavirus pandemic, the World Economic Forum, in collaboration with Marsh and McLennan and Zurich Insurance Group, has launched its COVID-19 Risks Outlook: A Preliminary Mapping and its Implications - a companion for decision-makers, building on the Forum's annual Global Risks Report.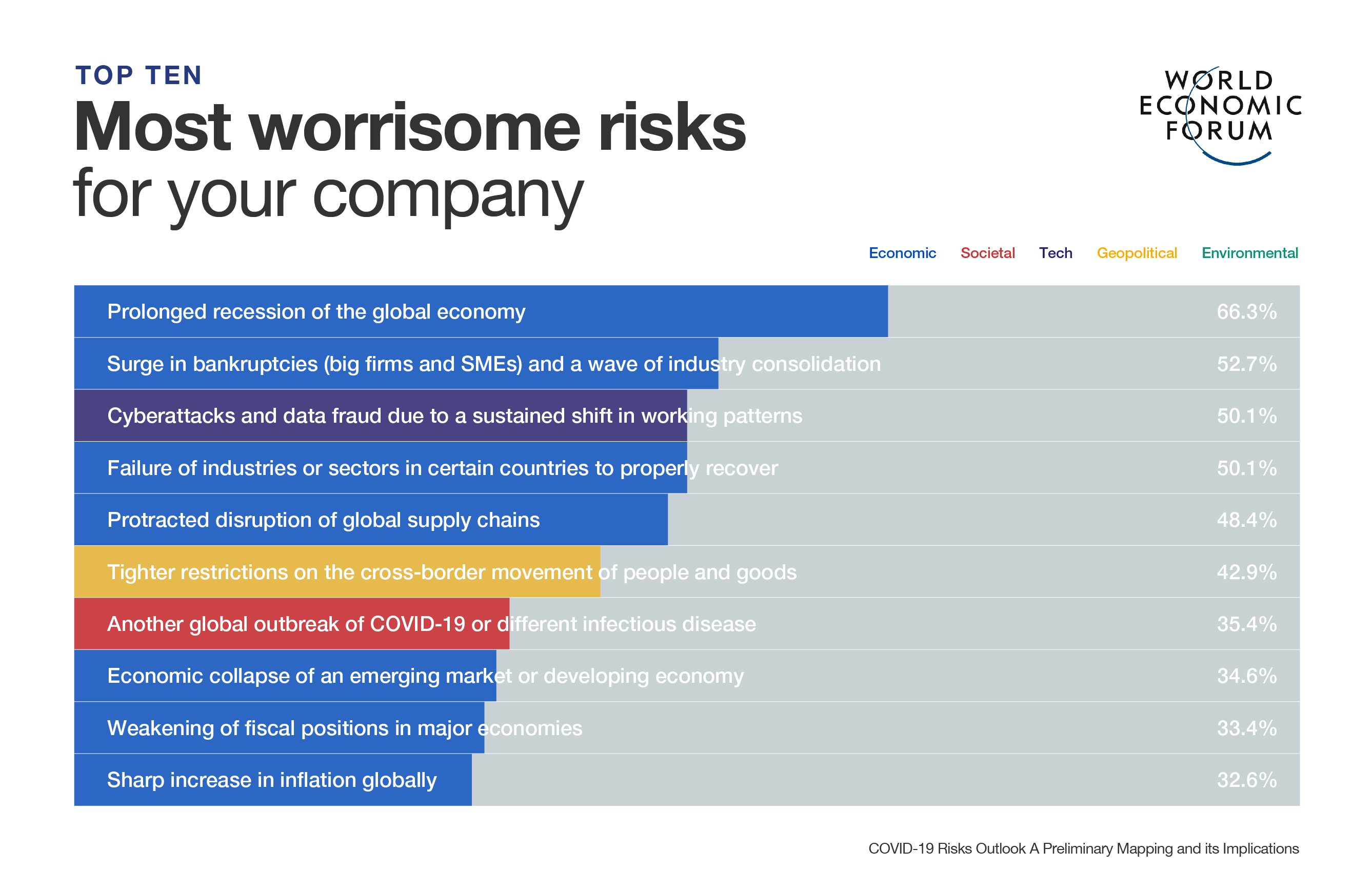 "Thanks to the public health and social measures that countries have put in place, we have not seen a sharp peak in cases in Africa. Everyone should continue to prepare for this virus to circulate for the foreseeable future. When restrictions are eased, cases may flare up.
"With data driving the response and everyone playing a role, we can limit the spread of COVID-19 and save lives."
3. F1 World Champion: COVID-19 should lead to environmental action
Former racing driver Nico Rosberg, who won the Formula 1 World Championship in 2016, believes COVID-19 has given us the impetus to tackle climate change.
In the latest episode of the World Economic Forum's World Vs Virus podcast, Rosberg, now an eco-entrepreneur and a Forum Young Global Leader, said:
"COVID has really reminded us about the fragility of our society and in turn maybe even reminded us about the fragility of our planet."
German-Finnish Rosberg is an investor in the all-electric Formula E racing series and launched the Greentech Festival in 2019 to showcase sustainable technologies.
Public opinion will support greater action on greener transport, he said.
"There's been a recent survey in Germany, which really shows how so many people wish to keep the situation on their streets the way it was during COVID. So, more quiet, less congested, less polluting."