A new report suggests that reaching net-zero carbon emissions by 2050 is feasible.
UK carbon emissions from the electricity grid could go negative by 2033 – if action is taken immediately.
This is dependent on key facilitators for decarbonization being boosted over the next decade.
A more agile, decentralized energy system is needed to manage demand fluctuations more efficiently.
Behavioural change among energy users also needs to be incentivized.
The National Grid also emphasises that the energy system alone cannot deliver decarbonisation. Behavioural changes from end-consumers – at home and in industry – is vital to making the shift.
Renewable energy eats away at fossil fuels
However, at least 3GW of wind and 1.4GW of solar farms need to be built every year until 2050 to raise this level up further, with a view to renewable – or "zero marginal cost" – generation delivering up to 71% of energy output by 2030, and 80% in 2050.
A key challenge for the switch to renewables – in the UK and elsewhere – is intermittency: depending on the weather, renewables may either not produce enough energy to satisfy demand, or too much for the grid to absorb.
Storage of this excess capacity is a challenge for the energy transition.
Utility-scale and home-size batteries are options, but the installed capacity is still low. However, one area where battery volumes are growing rapidly is electric vehicles (EVs). The number of EVs on the road around the world is predicted to increase by 36% over the next decade, opening the doors for so-called "vehicle-to-grid' (V2G) charging.
What's the World Economic Forum doing about the transition to clean energy?
Moving to clean energy is key to combating climate change, yet in the past five years, the energy transition has stagnated.
Energy consumption and production contribute to two-thirds of global emissions, and 81% of the global energy system is still based on fossil fuels, the same percentage as 30 years ago. Plus, improvements in the energy intensity of the global economy (the amount of energy used per unit of economic activity) are slowing. In 2018 energy intensity improved by 1.2%, the slowest rate since 2010.
Effective policies, private-sector action and public-private cooperation are needed to create a more inclusive, sustainable, affordable and secure global energy system.
Benchmarking progress is essential to a successful transition. The World Economic Forum's Energy Transition Index, which ranks 115 economies on how well they balance energy security and access with environmental sustainability and affordability, shows that the biggest challenge facing energy transition is the lack of readiness among the world's largest emitters, including US, China, India and Russia. The 10 countries that score the highest in terms of readiness account for only 2.6% of global annual emissions.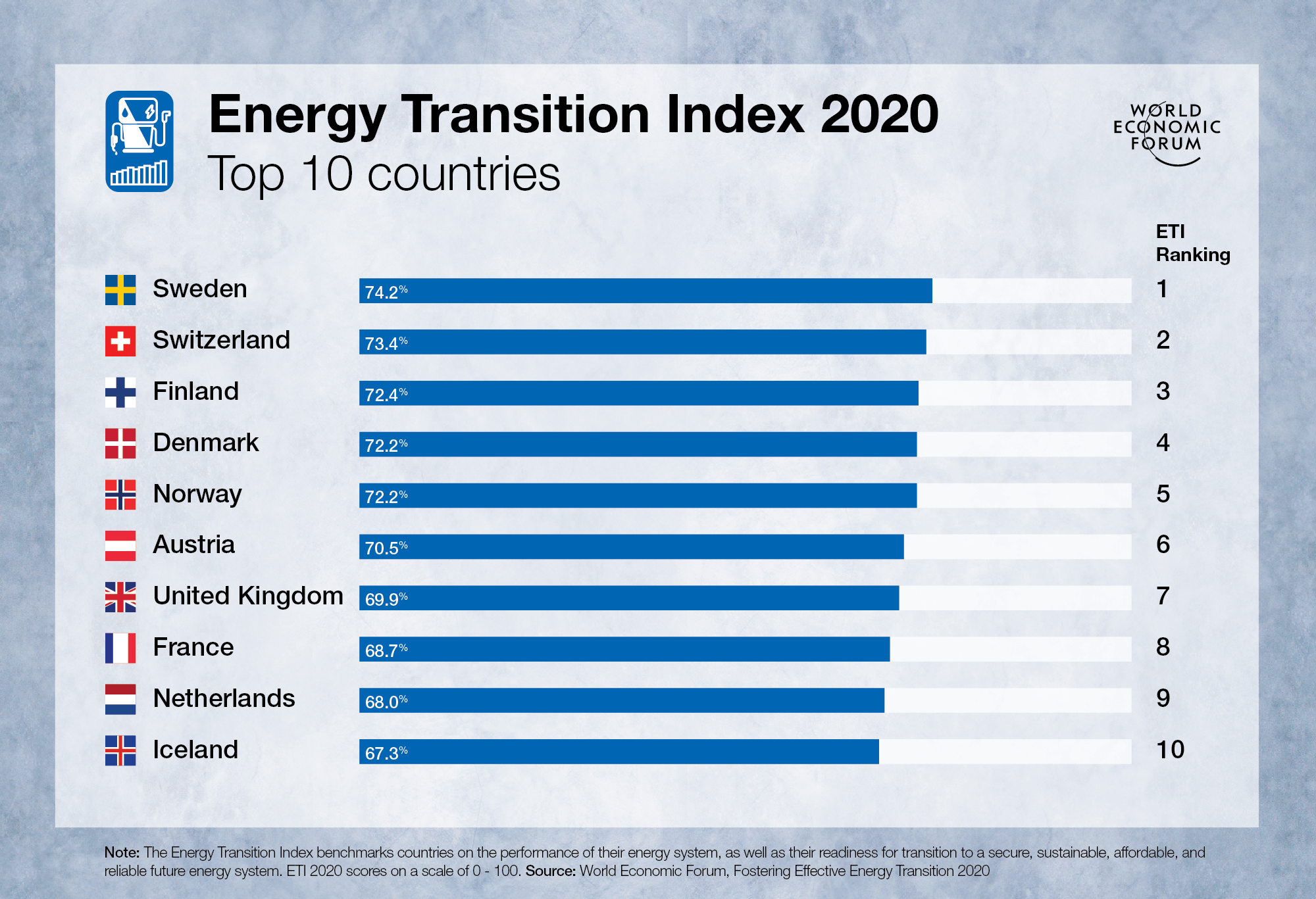 Additionally, the Mission Possible Platform (MPP) is working to assemble public and private partners to further the industry transition to set heavy industry and mobility sectors on the pathway towards net-zero emissions. MPP is an initiative created by the World Economic Forum and the Energy Transitions Commission.
Is your organisation interested in working with the World Economic Forum? Find out more here.
Managing energy demand flexibly
EVs could flexibly store excess renewable energy while plugged in, allowing the local network to draw on this stored energy at times of peak demand.
The National Grid sees around 45% of households actively providing V2G services by 2050. Up to 80% will use smart charging for their vehicles, so their EVs can automatically charge at times of low demand (for example during the night), thereby maximising network capacity.
EVs will be part of a much more flexible and decentralised energy system that will replace the monolithic, centralised power generation of old.
In the centralised model, more power must be generated when demand peaks. In a decentralised system, energy users – businesses and consumers – are linked together and their demand is managed proactively to balance out peaks and troughs ("demand response").
Rocket fuel to the rescue
Another lifeline for renewable storage is hydrogen.
Using a process of electrolysis from water, the first element in the periodic table can be generated without emissions, providing renewable energy is used in the process ("green" hydrogen).
The National Grid sees hydrogen meeting between 21% and 59% of 2050 energy needs, depending on the chosen scenario.
The gas also has a wide variety of applications in industry. As a replacement fuel for coal or natural gas, it can be deployed in sectors such as steel and cement, whose processes rely heavily on fossil fuels and can't be easily electrified. Similarly, hydrogen could be one way forward for long-haul shipping and aviation, for which electrification is not a viable option at the moment.
The catch with hydrogen is that, to date, most of the gas is still produced by methods that do emit carbon ("grey" hydrogen).
Although green hydrogen is the long-term goal, building scale will require investment in traditionally made hydrogen to meet the demand generated by regulatory incentives until electrolytic production picks up. In its report, the National Grid states that a minimum of 80TWh of hydrogen is required for shipping and heavy road transport alone.
To keep emissions at bay, the European Commission is investing in carbon-capture technology to sequester and store the CO2 generated by traditional hydrogen production ("blue" hydrogen).
Carbon capture, utilization and storage (CCUS) is not only a godsend for hydrogen production but can also help decarbonize existing power plants and heavy industry which can't easily transition to electricity or hydrogen. The captured CO2 can be compacted and stored, or used in industrial processes.
Behavioural change is vital
Against this backdrop, the National Grid stresses that energy consumers and their behaviour will be a decisive factor in terms of homing in on net zero.
This means: energy-efficiency measures across the board, switching to decarbonised technologies in industry; the proactive electrification of transport; low-carbon heating systems and smart energy management in residential and business settings.
While government incentives and disincentives may help with some of these, they will also depend on end users investing in their own future and that of the planet.