This daily round-up brings you a selection of the latest news updates on the COVID-19 pandemic, as well as tips and tools to help you stay informed and protected.
Top stories: Brazil cases pass 4 million; pandemic panel to ask 'hard questions'; the potential of contact-tracing apps.
1. How COVID-19 is affecting the globe
2. Pandemic panel to ask 'hard questions'
Helen Clark, former New Zealand Prime Minister, and former Liberian president Ellen Johnson Sirleaf also named the 11 members they've selected to help prepare a report. The final findings are set to be released next May.
"We will ask with the benefit of hindsight how WHO and national governments could have worked differently," Clark said. "Are there lessons to be learned in order not to repeat the experience of this pandemic?"
What is the World Economic Forum doing to manage emerging risks from COVID-19?
The first global pandemic in more than 100 years, COVID-19 has spread throughout the world at an unprecedented speed. At the time of writing, 4.5 million cases have been confirmed and more than 300,000 people have died due to the virus.
As countries seek to recover, some of the more long-term economic, business, environmental, societal and technological challenges and opportunities are just beginning to become visible.
To help all stakeholders – communities, governments, businesses and individuals understand the emerging risks and follow-on effects generated by the impact of the coronavirus pandemic, the World Economic Forum, in collaboration with Marsh and McLennan and Zurich Insurance Group, has launched its COVID-19 Risks Outlook: A Preliminary Mapping and its Implications - a companion for decision-makers, building on the Forum's annual Global Risks Report.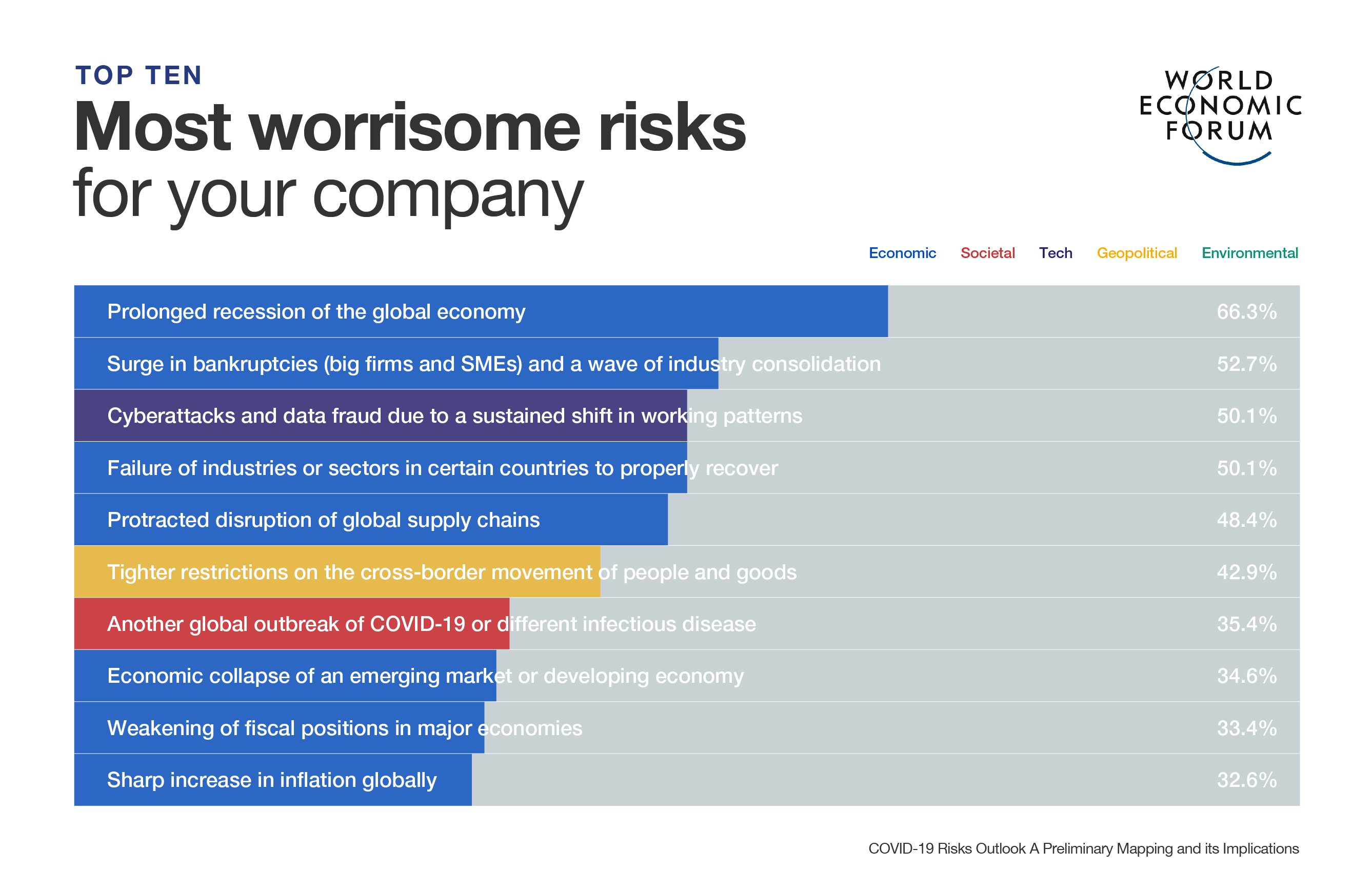 3. The potential of tracing apps?
A new study by Google and Oxford University suggests contact-tracing apps can reduce the spread of COVID-19, even if only a few people use them.
An app used by 15% of the population, coupled with a well-staffed contact-tracing workforce, could reduce infection rates by 15%, the study found. Deaths dropped by 11%, based on the statistical modelling used in the study.
With a 15% uptake of the apps alone, infections dropped 8% and deaths by 6%. The simulation was based on interactions at homes, offices, schools and social gatherings in three counties in Washington State, US.
"We see that all levels of exposure notification uptake levels in the UK and the US have the potential to meaningfully reduce the number of coronavirus cases, hospitalizations and deaths across the population," said Christophe Fraser, the study's co-lead author.
However, the researchers cautioned that contact tracing is not an intervention on its own, and that their modelling is a "dramatic simplification of the real world". The research is yet to be peer reviewed.