Political polarisation and online misinformation are a threat to public trust in vaccines and vaccination programmes.
A new study finds that public trust in vaccine safety is volatile and highly variable between countries.
Religious extremism and political unrest are key factors in reducing trust.
Political polarisation and online misinformation are threatening vaccination programmes worldwide, with public trust volatile and varying widely between countries, according to a global vaccine confidence study.
The study, which maps trends in vaccine confidence across 149 countries between 2015 and 2019, found that scepticism about the safety of vaccines tended to grow alongside political instability and religious extremism.
"It is vital with new and emerging disease threats such as the COVID-19 pandemic, that we regularly monitor public attitudes," said Heidi Larson, a professor at the London school of Hygiene & Tropical Medicine who led the research.
"Perceptions about vaccines are much more volatile than they used to be," she told a briefing. "Overall, there's a lot of confidence in the world about vaccines. But don't take it for granted. Confidence goes up and down ... it's highly variable."
What is the World Economic Forum doing to manage emerging risks from COVID-19?
The first global pandemic in more than 100 years, COVID-19 has spread throughout the world at an unprecedented speed. At the time of writing, 4.5 million cases have been confirmed and more than 300,000 people have died due to the virus.
As countries seek to recover, some of the more long-term economic, business, environmental, societal and technological challenges and opportunities are just beginning to become visible.
To help all stakeholders – communities, governments, businesses and individuals understand the emerging risks and follow-on effects generated by the impact of the coronavirus pandemic, the World Economic Forum, in collaboration with Marsh and McLennan and Zurich Insurance Group, has launched its COVID-19 Risks Outlook: A Preliminary Mapping and its Implications - a companion for decision-makers, building on the Forum's annual Global Risks Report.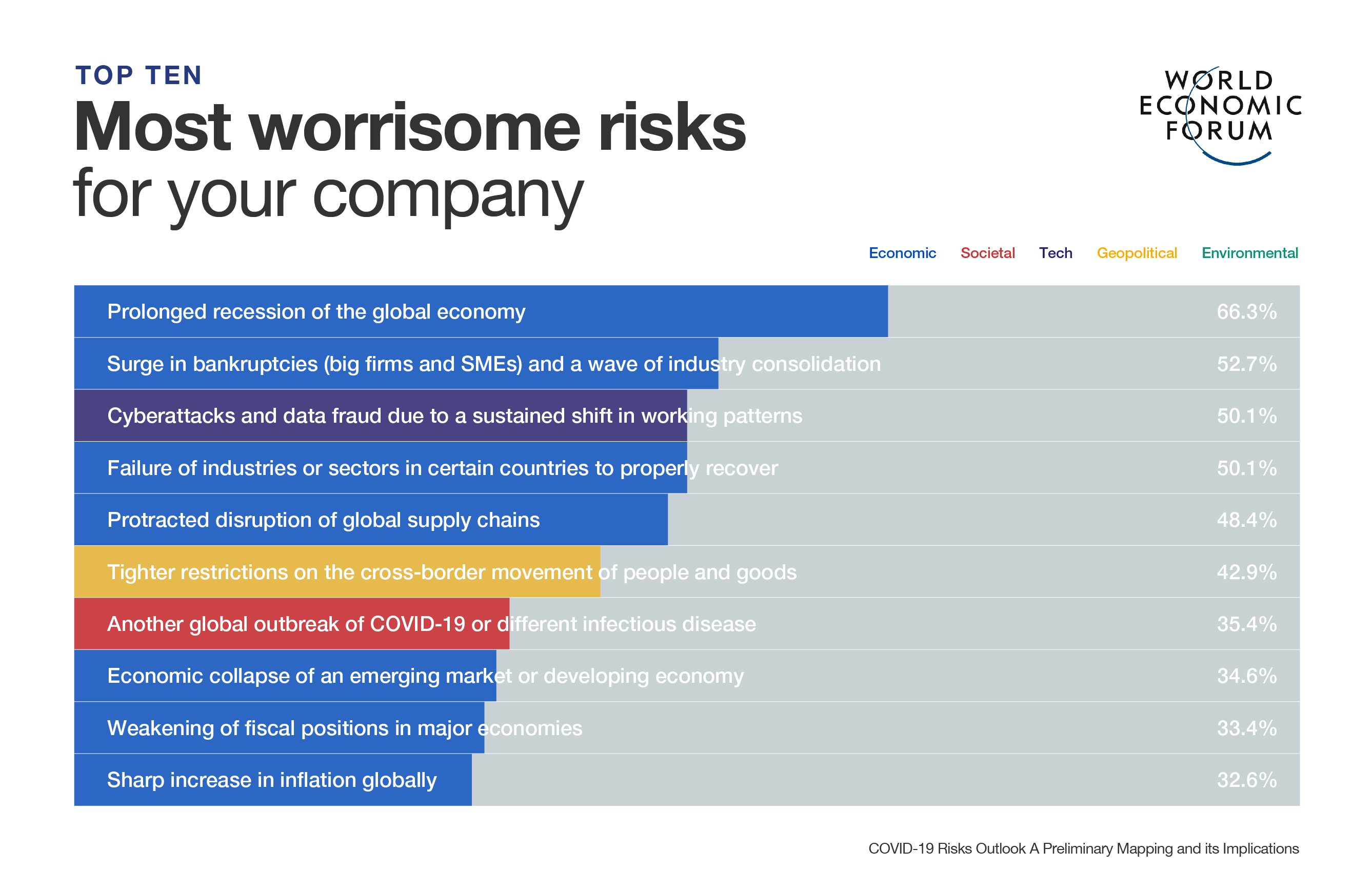 Published in the Lancet medical journal, Larson's findings are based on data from more than 284,000 adults asked in 2019 whether they see vaccines as important, safe and effective.
Larson said that with drugmakers and researchers around the world racing to develop vaccines against the COVID-19 pandemic, governments should be now be extra vigilant about assessing public trust in vaccines and responding rapidly to concerns.
"There's a lot of anxiety about the speed of vaccine development (for COVID-19)," she said. "But the public is not really keen on speed - they're more keen on thoroughness, effectiveness and safety."
The study's results show that vaccine confidence in Europe is low compared to other regions of the world, such as Africa, with the proportion of people strongly agreeing that vaccines are safe ranging from 19% in Lithuania to 66% in Finland.
Iraq, Liberia and Senegal had the highest proportion of respondents in 2019 who agreed vaccines are important.
But public trust in vaccines has risen in some European countries since 2015, including France, Italy, Ireland and Britain.
What is the World Economic Forum doing about access to vaccines?
The aim of Gavi is to make vaccines more accessible and affordable for all - wherever people live in the world.
Along with saving an estimated 10 million lives worldwide in less than 20 years,through the vaccination of nearly 700 million children, - Gavi has most recently ensured a life-saving vaccine for Ebola.
At Davos 2016, we announced Gavi's partnership with Merck to make the life-saving Ebola vaccine a reality.
The Ebola vaccine is the result of years of energy and commitment from Merck; the generosity of Canada's federal government; leadership by WHO; strong support to test the vaccine from both NGOs such as MSF and the countries affected by the West Africa outbreak; and the rapid response and dedication of the DRC Minister of Health. Without these efforts, it is unlikely this vaccine would be available for several years, if at all.
Read more about the Vaccine Alliance, and how you can contribute to the improvement of access to vaccines globally - in our Impact Story.
The study found six countries where vaccine confidence had dropped significantly since 2015.
In Indonesia, Pakistan, Serbia, Azerbaijan, Afghanistan and Nigeria, the proportion of people strongly disagreeing that vaccines are safe had increased significantly. This, Larson said, was linked to trends in political instability and religious extremism in these countries.
"Among some countries, there is more polarisation of sentiment. More people are going to the extremes of 'strongly disagree' or 'strongly agree'," she said.
Indonesia saw one of the largest falls in public trust worldwide between 2015 and 2019, triggered in part by Muslim leaders questioning the measles, mumps, and rubella vaccine, and by local healers promoting natural alternatives to vaccines.