This daily round-up brings you a selection of the latest news and updates on the COVID-19 coronavirus pandemic, as well as tips and tools to help you stay informed and protected.
Top stories: President-elect Biden's economic plan; Second year of the pandemic 'could even be tougher'; Restrictions extended and introduced across Europe.
1. How COVID-19 is affecting the globe
Cuba has registered record new daily COVID-19 infections for the last six days, with 550 recorded yesterday. The government has responded by tightening restrictions, including closing more schools and shutting down public transport.
A recovery in companies' earnings expected in the first half of this year is being pushed back as restrictions in several countries hit recovery hopes, investment banks have said.
World Bank President David Malpass has called on the private sector to help countries deal with the economic and health crises caused by the pandemic by backing a push for debt reduction.
A clinic in Prague, Czech Republic, has launched a mobile team to give COVID-19 vaccine shots in senior and social care homes.
2. President-elect Biden's economic plan to focus on COVID recovery
Brian Deese, who will head the National Economic Council in the new Democratic administration, said Biden will lay out a two-track economic plan.
The first, a 'rescue bucket', will include payments to help Americans weather the pandemic-induced downturn, and the second will be a longer-term recovery plan.
"What you are going to hear from the president-elect is a robust effort to get at that issue of ... relief and at the same time signal the need to begin working on those investments in the recovery," said Deese.
What is the World Economic Forum doing to manage emerging risks from COVID-19?
The first global pandemic in more than 100 years, COVID-19 has spread throughout the world at an unprecedented speed. At the time of writing, 4.5 million cases have been confirmed and more than 300,000 people have died due to the virus.
As countries seek to recover, some of the more long-term economic, business, environmental, societal and technological challenges and opportunities are just beginning to become visible.
To help all stakeholders – communities, governments, businesses and individuals understand the emerging risks and follow-on effects generated by the impact of the coronavirus pandemic, the World Economic Forum, in collaboration with Marsh and McLennan and Zurich Insurance Group, has launched its COVID-19 Risks Outlook: A Preliminary Mapping and its Implications - a companion for decision-makers, building on the Forum's annual Global Risks Report.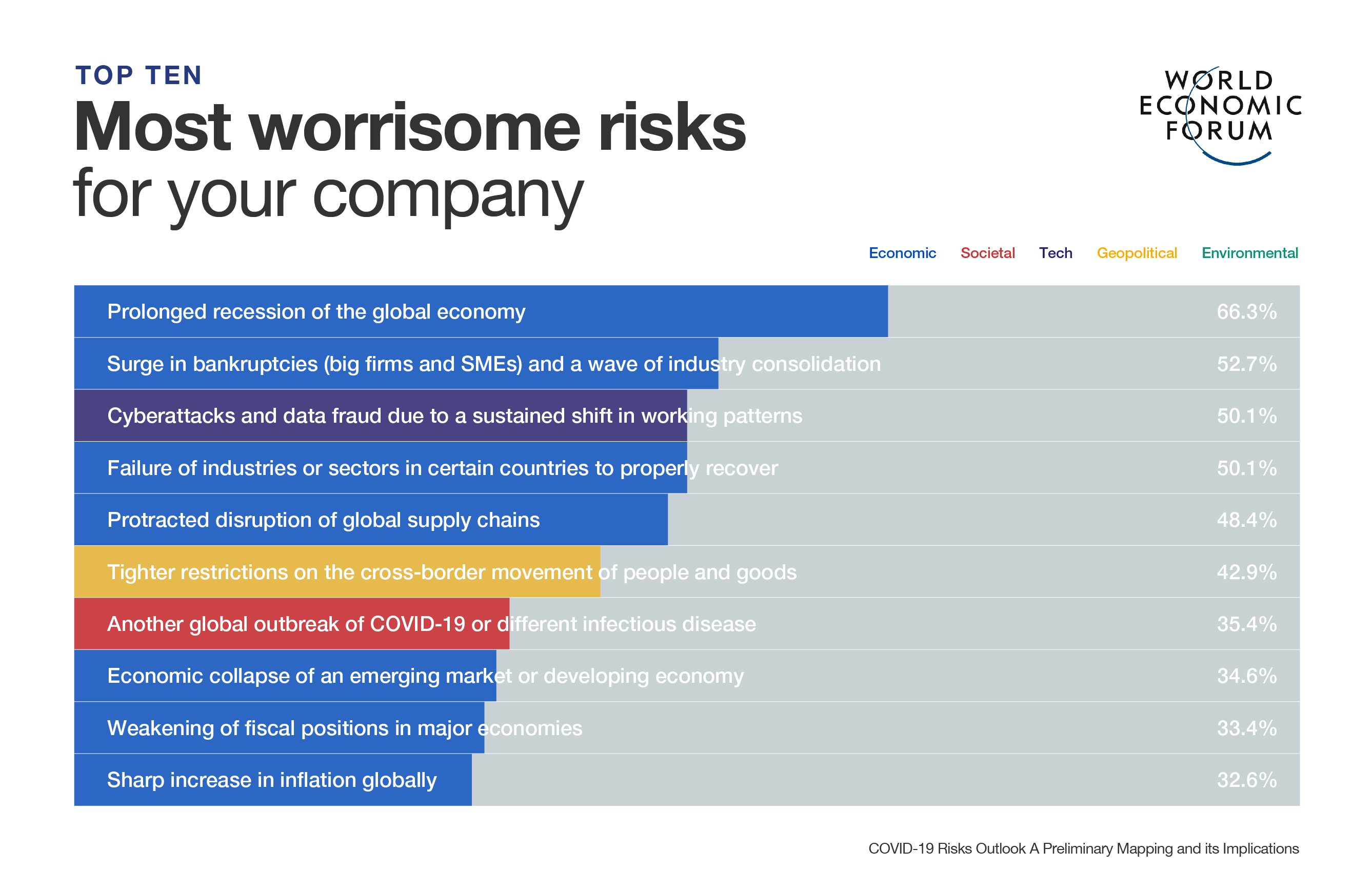 3. Second year of the pandemic 'could even be tougher'
"We are going into a second year of this, it could even be tougher given the transmission dynamics and some of the issues that we are seeing," he said during an event on social media.
The organization said five million new cases were reported globally last week.
"Certainly in the northern hemisphere, particularly in Europe and North America we have seen that sort of perfect storm of the season - coldness, people going inside, increased social mixing and a combination of factors that have driven increased transmission in many, many countries," Ryan said.