This daily round-up brings you a selection of the latest news and updates on the COVID-19 coronavirus pandemic, as well as tips and tools to help you stay informed and protected.
Top stories: Record daily case rise in Spain; new measures set to be introduced in the US; Portugal suspends UK flights.
1. How COVID-19 is affecting the globe
Oil prices have fallen, retreating from 11-month highs seen light week. They've been hit by concerns about demand in China, as new restrictions are introduced.
Amazon is set to open a pop-up COVID-19 vaccine clinic in its Seattle headquarters. They hope to vaccinate 2,000 eligible members of the public on the first day.
The French government is now recommending that people wear surgical masks in public because they offer better protection from COVID-19 transmission that fabric coverings.
What is the World Economic Forum doing to manage emerging risks from COVID-19?
The first global pandemic in more than 100 years, COVID-19 has spread throughout the world at an unprecedented speed. At the time of writing, 4.5 million cases have been confirmed and more than 300,000 people have died due to the virus.
As countries seek to recover, some of the more long-term economic, business, environmental, societal and technological challenges and opportunities are just beginning to become visible.
To help all stakeholders – communities, governments, businesses and individuals understand the emerging risks and follow-on effects generated by the impact of the coronavirus pandemic, the World Economic Forum, in collaboration with Marsh and McLennan and Zurich Insurance Group, has launched its COVID-19 Risks Outlook: A Preliminary Mapping and its Implications - a companion for decision-makers, building on the Forum's annual Global Risks Report.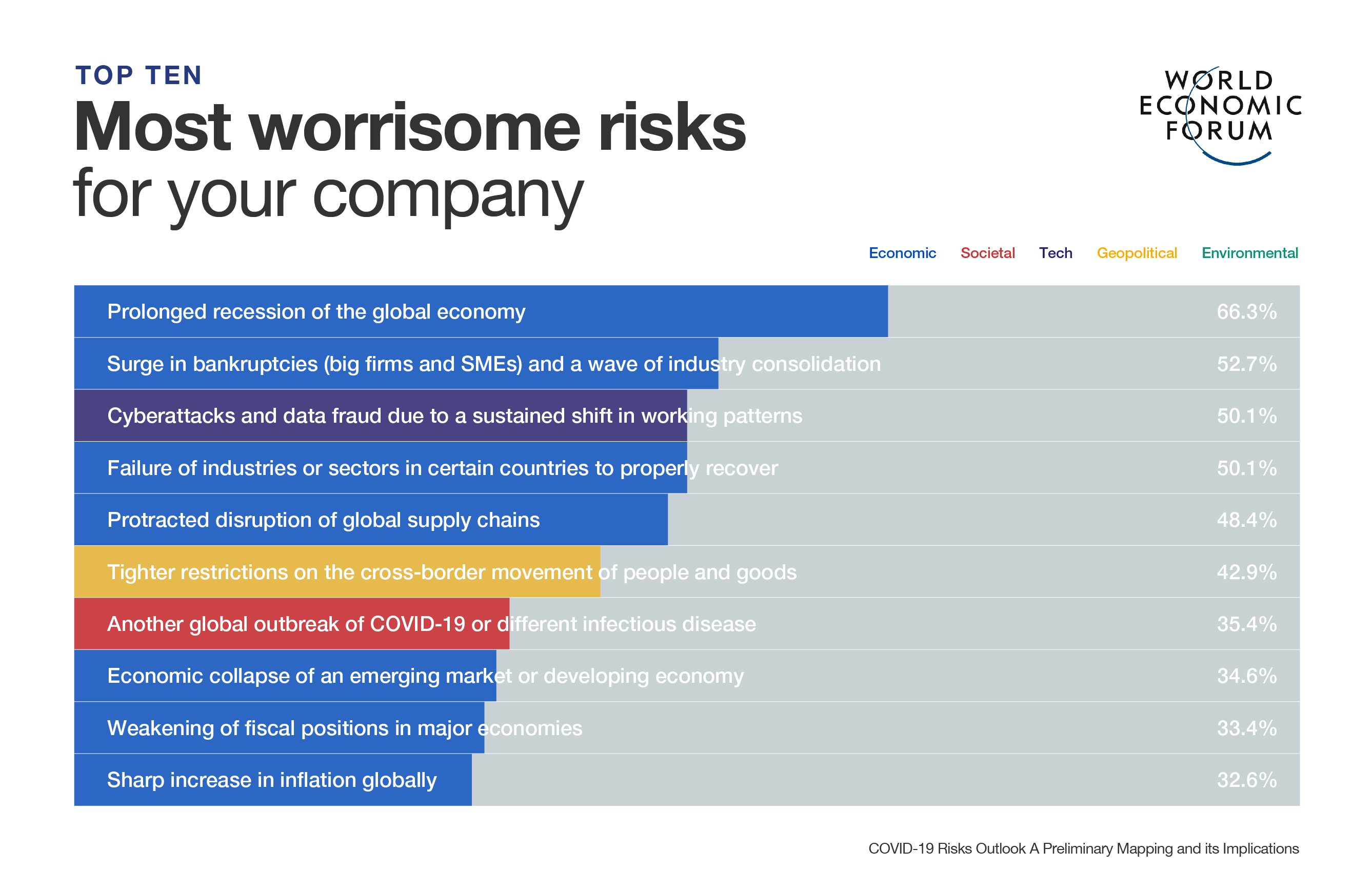 2. New measures set to be introduced in the US
President Biden issued an executive order yesterday that would require international air travellers to quarantine on arrival in the United States. It also called for a federal mask mandate on interstate transport.
The order says "to the extent possible' travellers must comply with applicable US Centers for Disease Control and Prevention (CDC) guidelines concerning international travel – the CDC recommends a 7-day quarantine period for almost all international arrivals.
The order came as President Biden said the US death toll could top 500,000 next month. "Things are going to continue to get worse before they get better," he told a White House event.
But, in better news for the US, Dr Anthony Fauci, the country's top infectious diseases expert, said that based on most recent seven-day averages, COVID-19 infections might be about to hit a plateau.
He also said that he expects current vaccines to be effective against recently discovered virus mutations.
"Bottom line: we're paying very close attention to it for our alternative plans if we have to ever modify the vaccine," he said. "But right now, from the reports we have ... it appears that the vaccines will still be effective against them."