The pandemic has exposed vulnerabilities in the working conditions that companies provide for employees.
Businesses must consider societal needs and ethical standards, not just short-term profits.
Companies with robust governance and a responsible business approach are likely to dominate their sectors after this recession.
The race to find COVID-19 vaccines is still far from over, yet there is cautious optimism that we will gradually return to normality during 2021. It is however already evident that companies with robust governance and a responsible approach to business have continued to thrive.
The economic impact of the coronavirus pandemic continues to surprise. According to the IMF, the global GDP contraction forecast for 2020 is more than double the estimates made at the height of the global financial crisis in 2009. Nonetheless, rising stock markets and a visible path to economic recovery inspired by the good news about vaccines suggests that the situation is not as dramatic as many had thought.
But, as the world eventually returns to normal, it will discover that 2020 has taught us a valuable lesson: we can no longer rely on ways of doing business that aim simply to preserve the status quo. Corporates and investors alike have to move with the times and adapt to new realities, including environmental and social factors. This is no longer a matter of fashion but a matter of survival and the mainstream vision shared by companies, governments and the public across the globe.
The pandemic has exposed vulnerabilities in corporate disaster preparedness and the working conditions that companies provide for employees. In effect, how companies respond to a range of corporate responsibility issues will have lasting repercussions for their productivity during the recovery. Ultimately, this will have an impact on their ability to compete, as well as their standing across their markets.
The events of recent months have shown that many current management operating models no longer enable managers to effectively address the challenges of a crisis on this scale. There is no shortage of examples of well-known and established companies revealing their feet of clay. In contrast, robust and lesser-known firms have proved to be remarkably resilient as a result of having more responsible and advanced approaches to doing business.
In many ways, the slump once again underscores the dynamic nature of the business environment. Nobody has the luxury to take their privileged market positions for granted. It also shows that the UN's Sustainable Development Goals (SDGs) should play a core role in corporate governance systems and form an integral part of corporate strategies.
McKinsey urges companies to reimagine their business models and make themselves more robust. There are four strategic areas to focus on, including recovering revenue, rebuilding operations, rethinking the organization, and accelerating digital solutions. This is easier said than done, but this is the path that everyone would eventually have to follow.
Companies should also invest more in R&D to create successful, long-term and sustainable solutions. It is of the utmost priority that businesses consider societal needs and ethical standards, not just short-term profits.
As an example of this, phosphate fertilizer producer PhosAgro, where I chair the Board of Directors, became the first Russian company in the history of the UN's Food and Agriculture Organization to be selected to implement a global soil protection initiative. In 2020, we jointly started the Soil Doctors Programme to develop soil testing kits and distribute them to 5,000 farmers in developing countries. We have also launched a regional network of soil laboratories in the Middle East and North Africa. The global network of soil laboratories that evaluate fertilizers' quality and safety and monitors soil health has thus been expanded to more than 650 laboratories around the world.
Military strategists have long extolled resilience as the most effective response to strategic surprises. Recent research into more than 1,000 publicly traded companies showed that the most resilient of them "moved early, ahead of the downturn: they entered ahead, they dipped less, and they came out of it with guns blazing". Another report shows that such companies in 2020 typically increased their EBITDA margin by 5%. In contrast, the rest have lost 19% on the same measure – a gap of nearly 25%. By any standards, this is a significant number that separates companies on those who invested in resilience and those who did not.
Currently, we are already seeing reshuffling going on across different sectors. The ongoing second wave of the virus and fears of a third one might deliver even more dramatic changes and serve as a litmus test for many companies. At the same time, it is evident that stock market outperformance depends on companies focusing on the environmental, social, and corporate governance factors (ESG) that have a material impact on their business, such as commitment to a circular economy.
For many, earlier investments in ESG have paid off handsomely and allowed companies to invest in leading-edge capacities during times of uncertainty. Therefore, companies with robust governance and a responsible business approach are likely to dominate their sectors after this recession.
The benefits of investing in ESG were well known long before the pandemic. In 2014, a study found that companies that developed organizational processes to measure and communicate performance on ESG issues outperformed a carefully matched control group over a 16-year time horizon. The current pandemic revealed that commitment to ESG factors correlates with management's overall approach to governance and strategic decisions.
What is the World Economic Forum doing to manage emerging risks from COVID-19?
The first global pandemic in more than 100 years, COVID-19 has spread throughout the world at an unprecedented speed. At the time of writing, 4.5 million cases have been confirmed and more than 300,000 people have died due to the virus.
As countries seek to recover, some of the more long-term economic, business, environmental, societal and technological challenges and opportunities are just beginning to become visible.
To help all stakeholders – communities, governments, businesses and individuals understand the emerging risks and follow-on effects generated by the impact of the coronavirus pandemic, the World Economic Forum, in collaboration with Marsh and McLennan and Zurich Insurance Group, has launched its COVID-19 Risks Outlook: A Preliminary Mapping and its Implications - a companion for decision-makers, building on the Forum's annual Global Risks Report.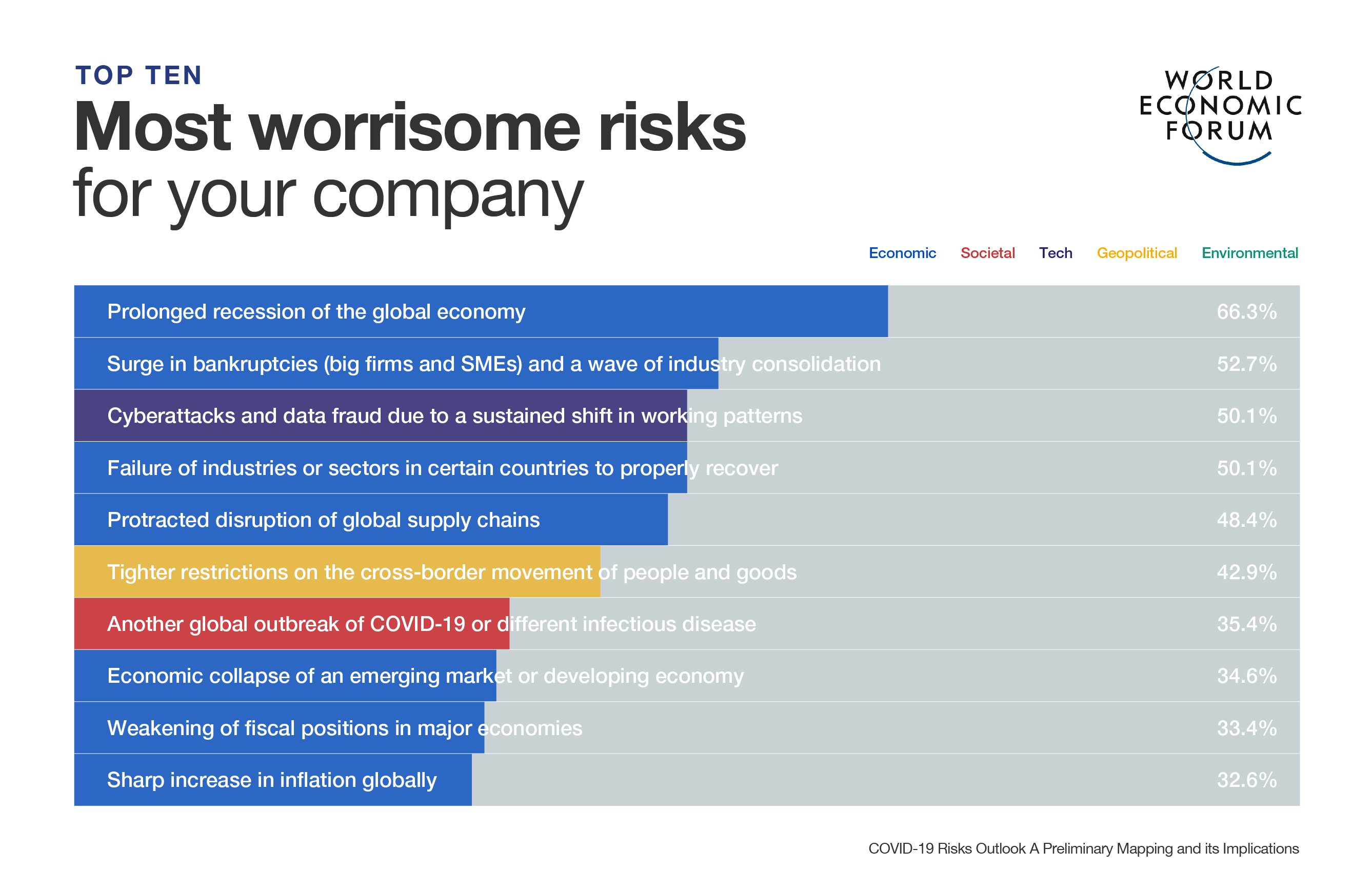 Growing demand for responsible approaches to businesses and the influence of ESG will likewise accelerate the transition to a circular economy. Today, corporations have no choice but to galvanize investments into sustainability while ensuring they deliver on their ESG policies.
Simultaneously, developing effective corporate measures against disruption on the current scale requires complex and long-term strategies that rely on a systems-level approach from companies and governments worldwide. The transition to a circular economy and corporate resilience during times of uncertainty can only be achieved by prioritizing responsible business approaches to deliver long-term environmental and economic benefits.