On the 1-year anniversary of the WHO's assessment of COVID-19 as a pandemic, this climate innovation company sees two opportunities for addressing widening inequality exacerbated by the global health crisis.
Achieving an equitable vaccine rollout and ensuring healthy environments – particularly in schools – are pivotal to the global recovery.
A year ago, our lives fundamentally changed when the World Health Organization (WHO) officially declared COVID-19 a global pandemic. Since then, we have lost 2.6 million lives. We have also seen the pandemic take a disproportionate toll on women, Black, Latinx, and indigenous communities worldwide.
Vaccines have shown us a light at the end of the tunnel. Yet implementation speed, access and understanding varies in communities around the world, while equality gaps have widened and environments for many communities challenge their prospects for recovery.
We must act now to address disparities and enable an equitable recovery – and in so doing, create a new, better normal.
A virus with unequal impact
People who have historically faced systemic inequality are the same groups who are dealing with disproportionate health and economic impacts of the global pandemic.
Research from the United States Centers for Disease Control and Prevention (CDC) shows that Black, Latinx, and indigenous Americans experience much higher fatality rates due to COVID-19 than other racial groups. In Brazil's São Paulo state, studies show non-whites are 62% more likely to lose their lives to COVID-19 than their white counterparts. This trend has played out in countries around the world, according to the United Nations, which cites higher-risk jobs, overcrowding, environmental risks, limited access to healthcare, and economic inequality as factors.
The pandemic has also pushed many low-income people into poverty, with women suffering disproportionately. In the US, participation of women in the workplace has hit a 33-year low. According to a United Nations report, projections point to a 9.1% increase in global poverty rates among women, far higher than previous projections due to the pandemic and its fallout.
Uneven global vaccine rollout will exacerbate inequality
Tragically, these are often the same communities that are now facing the greatest hurdles to getting access to vaccines.
WHO reports that in the majority of low- and middle-income countries' vaccination programmes have not even started. In the US, as inoculations pick up pace, Latinx and Black Americans continue to be vaccinated at much lower rates than other populations. In low-income and rural communities, the obstacles are greatest, including lack of access to information, technology, healthcare, and transportation.
Allowing people to fall behind in the vaccine rollout due to their race, gender or economic situation only exacerbates social and economic inequality. It could also slow the pandemic recovery.
WHO Vaccine Equity Declaration
To support a more equitable approach, the WHO Vaccine Equity Declaration, signed by Trane Technologies among a host of other organizations and individuals, pledges to help ensure that within the first 100 days of this year, vaccination of health workers and older people will get underway in all countries. Trane is also partnering with governments, community leaders, pharmaceutical companies, non-governmental organizations and healthcare providers to help with vaccine rollouts.
These partnerships are facilitating mass vaccination sites and last-mile vaccine delivery in urban and rural communities across the US, Europe and Asia. For example, we are working with an international public health organization to supply critical cold chain solutions for vaccine distribution in developing and developed countries. And we are collaborating with Novant Health in North Carolina on cold storage and efficient logistics for multiple mass vaccination sites, with a focus on reaching under-served communities.
Beyond vaccines to the air we breathe
Reaching all communities with the vaccine is a critical step in the pandemic recovery. Yet billions of people around the world do not have access to healthy environments. The United Nations reports that "more than 80 percent of people living in urban areas are exposed to air quality levels that exceed WHO guidelines, with low- and middle-income communities suffering from the highest exposures, both indoors and outdoors." This can increase exposure to contaminants and pathogens like COVID-19 as well as other health risks.
Children and students fall through the cracks
Nowhere is this problem more pressing than in schools. Aging school buildings with sub-par environments have long been a problem for low-income neighbourhoods. Students of all races and ethnicities are affected, yet a US Environmental Protection Agency (EPA) study found that more than a quarter of Black students in the country attend public schools worst affected by air pollution.
Beyond the risk of viruses and other contaminant spread, studies show that poor indoor environments can negatively impact student performance. And when schools close or go virtual, children with limited access to technology, the internet, or even nutritious food at home, fall through the cracks.
What is the World Economic Forum doing to manage emerging risks from COVID-19?
The first global pandemic in more than 100 years, COVID-19 has spread throughout the world at an unprecedented speed. At the time of writing, 4.5 million cases have been confirmed and more than 300,000 people have died due to the virus.
As countries seek to recover, some of the more long-term economic, business, environmental, societal and technological challenges and opportunities are just beginning to become visible.
To help all stakeholders – communities, governments, businesses and individuals understand the emerging risks and follow-on effects generated by the impact of the coronavirus pandemic, the World Economic Forum, in collaboration with Marsh and McLennan and Zurich Insurance Group, has launched its COVID-19 Risks Outlook: A Preliminary Mapping and its Implications - a companion for decision-makers, building on the Forum's annual Global Risks Report.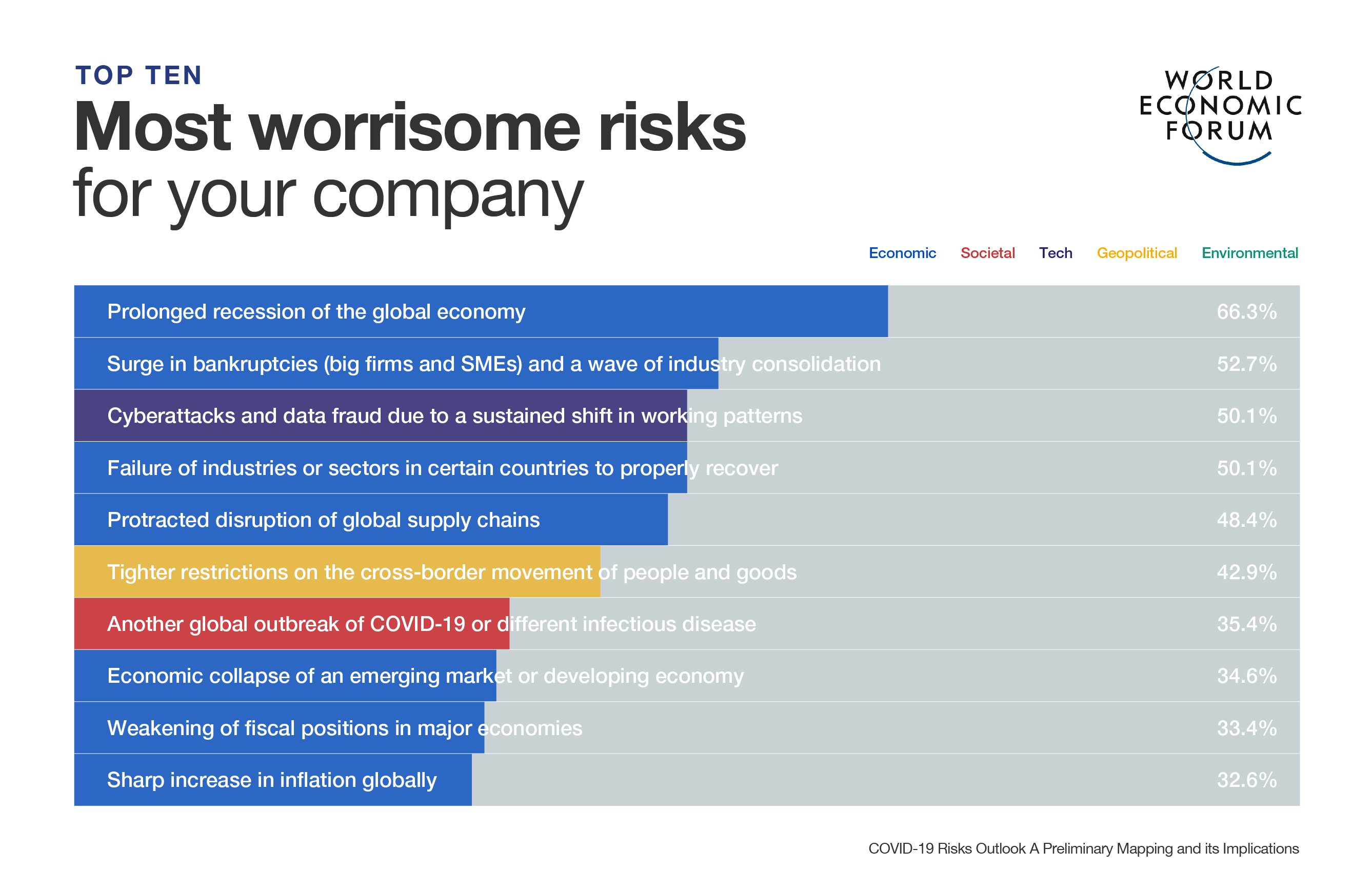 Healthy environments for learning
All children should have equal access to healthy, safe classrooms. Yet many schools lack the funding and know-how to create them. Trane is working with many schools and districts to help assess their indoor environments to create healthier and safer environments for learning. We are also leaning into collaborations with outside experts, the International WELL Building Institute, and technology providers to help improve indoor spaces for homes, schools and other public and commercial buildings.
Social and economic inequality has long been one of the biggest, most intractable issues humanity faces. The global pandemic has put a spotlight on this unacceptable status quo. Now is the time to collaborate, innovate and take action to challenge what's possible, and ensure an equitable recovery and a new, better normal for all.