Study of conversations shows interactions almost never end when both individuals want.
It also uncovered a 46% discrepancy between the actual and desired duration of conversations.
More interactions than ever are taking place online during the COVID-19 pandemic.
Ending video conversations deftly is becoming an increasingly important skill.
OK. OK. Bye. You hang up. No, you hang up.
We've all been there, trying to end a phone conversation or video call in both a timely and polite and professional way.
What is the World Economic Forum doing to manage emerging risks from COVID-19?
The first global pandemic in more than 100 years, COVID-19 has spread throughout the world at an unprecedented speed. At the time of writing, 4.5 million cases have been confirmed and more than 300,000 people have died due to the virus.
As countries seek to recover, some of the more long-term economic, business, environmental, societal and technological challenges and opportunities are just beginning to become visible.
To help all stakeholders – communities, governments, businesses and individuals understand the emerging risks and follow-on effects generated by the impact of the coronavirus pandemic, the World Economic Forum, in collaboration with Marsh and McLennan and Zurich Insurance Group, has launched its COVID-19 Risks Outlook: A Preliminary Mapping and its Implications - a companion for decision-makers, building on the Forum's annual Global Risks Report.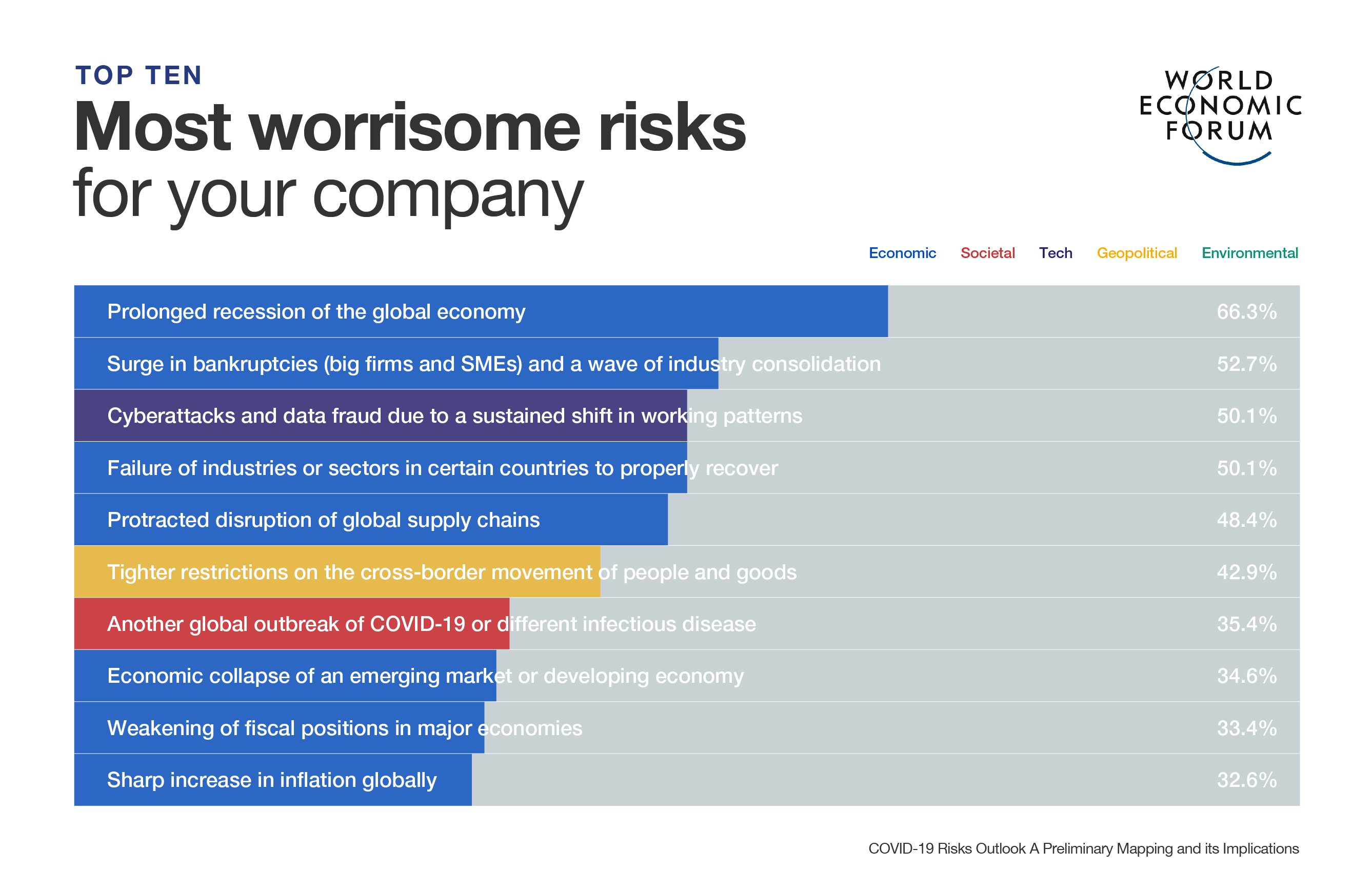 In a study of conversations, published in Proceedings of the National Academy of Sciences, Adam Mastroianni and other researchers concluded that interactions almost never ended when both individuals wanted them to, and rarely ended when even one person wanted them to.
And it didn't matter if people were interacting people they knew really well, or with complete strangers, they still felt the same mismatch. The study found a 46% discrepancy between the actual and desired duration of conversations.
"The more we learn about conversation — about how it begins and ends, runs and stalls, delights and disappoints — the better positioned we will be to maximize its benefits," the researchers wrote.
A separate investigation, led by Géraldine Fauville of the University of Gothenburg, looked at the signs of 'Zoom Fatigue', including 'mirror anxiety', feeling physically trapped, 'hyper gaze' from a grid of staring faces, and the cognitive load from producing and interpreting non-verbal cues.
It found that Zoom fatigue affected women more than men, with women typically having longer meetings and shorter breaks between meetings than men.
So if you're stuck in a conversation you don't want to be in, how do you end it?
Web site Mashable has come up with eight ways to virtually hang up, including the "hard stop" where you wrap things up bluntly, yet politely, and the "techno-devious" which involves pretending your internet is cutting out. It also suggests letting your device's battery die as a way to exit an interaction or scheduling something else immediately when you want the online meeting to end.
Business coach David Finkel advocates meeting only when it's really necessary, not being afraid to cancel a meeting and sticking to an agenda, as a way to make everyone feel more comfortable with the parameters of a conversation.
While, in The Atlantic, Joe Pinsker says "white lies" -- including patchy Wi-Fi, dinner time or another Zoom call can function as a "social lubricant" -- keeping politeness intact while also allowing people to end conversations when they want.
And if you're finding it awkward, you can bet the other people are too.
"These studies suggest that ending conversations is a classic 'coordination problem' that humans are unable to solve because doing so requires information that they normally keep from each other," Adam Mastroianni and his colleagues write. "As a result, most conversations appear to end when no one wants them to."