This daily round-up brings you a selection of the latest news and updates on the COVID-19 coronavirus pandemic, as well as tips and tools to help you stay informed and protected.
Top stories: Britain distributing COVID-19 vaccines to COP26 delegates; Ex-UK PM Brown accuses West of 'moral outrage' over vaccine stockpiling; New Zealand reports first death from Delta COVID variant.
1. How COVID-19 is affecting the globe
Confirmed cases of COVID-19 have passed 220.6 million globally, according to Johns Hopkins University. The number of confirmed deaths stands at more than 4.56 million. More than 5.46 billion vaccination doses have been administered globally, according to Our World in Data.
Israel is set to present data from its COVID-19 booster shot programme to the US Food and Drug Administration, which is weighing up White House plans to begin the US's own booster drive.
The Vietnamese ministry of health has said all adult residents in Ho Chi Minh City and capital Hanoi must have received at least one dose of a COVID-19 vaccine by 15 September.
Moderna said on Friday that it's seeking approval from the EU drugs regulator for a booster shot of its COVID-19 vaccine.
New Zealand has reported its first death from the Delta COVID-19 variant. The woman was in her 90s and had a number of underlying health conditions, officials said in a statement.
Spain's two-week COVID-19 contagion rate fell below 200 cases per 100,000 inhabitants for the first time in over two months, according to official data last week.
India's leading COVID-19 last-mile responders
Each of our Top 50 social enterprise last mile responders and multi-stakeholder initiatives is working across four priority areas of need: Prevention and protection; COVID-19 treatment and relief; inclusive vaccine access; and securing livelihoods. The list was curated jointly with regional hosts Catalyst 2030's NASE and Aavishkaar Group. Their profiles can be found on www.wef.ch/lastmiletop50india.
Top Last Mile Partnership Initiatives to collaborate with: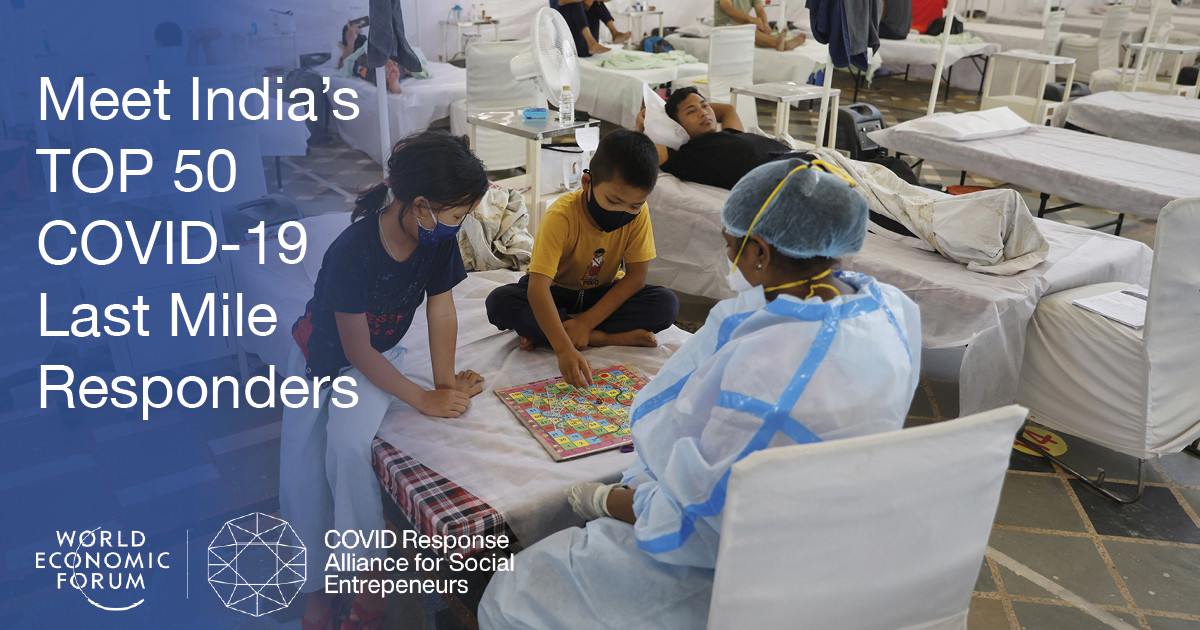 2. Ex-UK PM Brown accuses West of 'moral outrage' over COVID-19 vaccine stockpiling
Former British Prime Minister Gordon Brown has accused rich countries of committing a 'moral outrage' by stockpiling supplies of COVID-19 vaccines, while poor countries continue to go without.
Brown, who is a United Nations special envoy, called on US President Joe Biden and other Group of Seven leaders to urgently ship vaccines from warehouses in America and Europe to Africa.
"We are in a new 'arms' race – to get vaccines into people as quickly as possible – but this is an arms race where the West have a stranglehold on the vaccine supplies," Brown said.
By Christmas, the West is set to have 1 billion surplus doses even if every European and American adult has received a booster shot and all children over 12 are injected, he said.
3. Britain distributing COVID-19 vaccines to COP26 delegates
Britain has begun delivering COVID-19 vaccines to delegates attending the COP26 conference who cannot access a vaccine at home.
The COP26 conference, which was delayed last year, takes place from 31 October to 12 November. Typically delegates from more than 190 countries attend the talks, but with many countries still grappling with the novel coronavirus, climate and health experts have said poorer nations struggling to access COVID-19 vaccines could find sending delegates difficult.
"Vaccines are shipping and vaccination will begin next week and through mid-September before second jabs in October well ahead of COP26," British COP26 Envoy John Murton said on Twitter on Friday.