This daily round-up brings you a selection of the latest news and updates on the COVID-19 coronavirus pandemic, as well as tips and tools to help you stay informed and protected.
Top stories: COVID-19 cases and deaths dropping across Americas; Singapore investigating 'unusual surge' in COVID-19 cases; Australia eases some COVID-19-related travel restrictions.
1. How COVID-19 is affecting the globe
Confirmed cases of COVID-19 have passed 245 million globally, according to Johns Hopkins University. The number of confirmed deaths stands at more than 4.97 million. More than 6.92 billion vaccination doses have been administered globally, according to Our World in Data.
Some border cities in northeastern China have started to tighten COVID-19 measures after an outbreak of COVID-19 cases, that's affecting a number of areas.
Australia has eased its COVID-19-related travel advice for several countries, including the United States, Britain and Canada as it prepares to reopen its borders next week.
Merck has signed an agreement with the UN-backed Medicines Patent Pool that will allow more companies to manufacture generic versions of its experimental oral antiviral COVID-19 treatment.
Novavax has announced it has completed the real-time submission of an application for the authorization of its COVID-19 vaccine candidate in the United Kingdom.
New daily confirmed COVID-19 cases in Poland have risen to their highest levels since April, with 8,361 reported yesterday.
Sweden will start to offer COVID-19 booster shots to people aged 65 or older, as well as many care workers, the government said yesterday. It plans to gradually extend third jabs to most Swedes.
2. COVID-19 infections and deaths dropping across Americas
COVID-19 appears to be retreating across most of North, Central and South America, the Pan American Health Organization (PAHO) reported yesterday. Last week, the continent's death and case figures were the lowest in over a year, the organization said.
Many of the larger Caribbean islands are seeing downward trends, including Cuba, the site of a major months-long COVID-19 outbreak. However, Paraguay saw a doubling of coronavirus cases in the last week and Belize a sharp jump in COVID-related deaths, the PAHO said in a briefing.
"We have reason to be optimistic, but we must remain vigilant," PAHO Assistant Director Jarbas Barbosa said.
India's leading COVID-19 last-mile responders
Each of our Top 50 social enterprise last mile responders and multi-stakeholder initiatives is working across four priority areas of need: Prevention and protection; COVID-19 treatment and relief; inclusive vaccine access; and securing livelihoods. The list was curated jointly with regional hosts Catalyst 2030's NASE and Aavishkaar Group. Their profiles can be found on www.wef.ch/lastmiletop50india.
Top Last Mile Partnership Initiatives to collaborate with: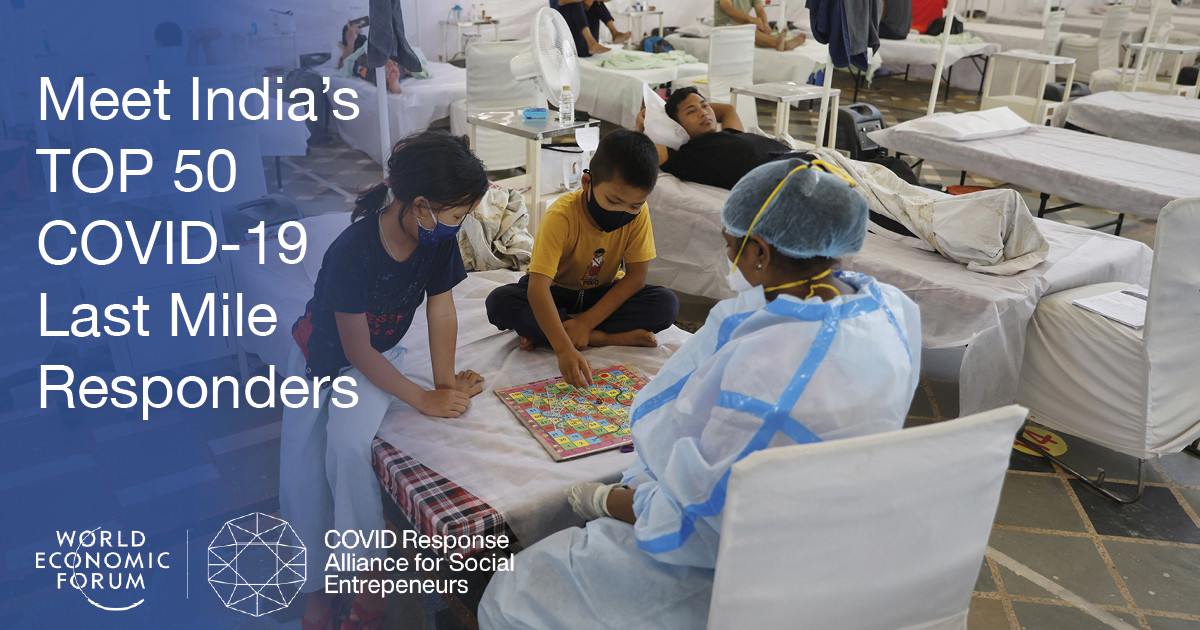 3. Singapore probing unusual surge in COVID-19 cases
Singapore is looking into an 'unusual surge' of 5,324 new COVID-19 infections, its health ministry has announced. It's the highest such figure since the start of the pandemic.
"The infection numbers are unusually high today, mostly due to many COVID-positive cases detected by the testing laboratories within a few hours in the afternoon," the health ministry said in a statement.
"The Ministry of Health is looking into this unusual surge in cases within a relatively short window, and closely monitoring the trends for the next few days," it added in Wednesday's statement.
Intensive care utilization rate is nearly 80%, and last week the country extended some social curbs for around a month to tackle a rise in cases and ease pressure on the health system.