This weekly round-up brings you some of the key environment stories from the past seven days.
Top stories: China set to publish nationwide methane action plan; Germany accelerates renewable ambitions; US Interior Department approves new offshore wind project.
1. Environment stories from around the world
Indonesia is preparing regulation to help finance mangrove restoration work, as part of its carbon-neutrality plans, a senior government official told Reuters last Friday.
The UK is set to invest £20 million ($27 million) a year in tidal power via its renewable energy auction scheme. The announcement on Wednesday is part of the country's drive to produce all its electricity from renewable sources by 2035.
Australia's weather bureau said on Tuesday a La Nina weather phenomenon had developed in the Pacific Ocean for the second year in a row that could bring above average rainfall across the country's centre, north and east.
Singapore is hoping to realize at least 2 million tonnes of carbon capture potential by 2030 as part of a broader effort to make its Jurong Island oil refinery hub more sustainable.
Schools and colleges are set to reopen in New Delhi on Monday after being closed for nearly 15 days due to a spike in air pollution, the government has said.
A new study suggests that climate change might be causing more albatrosses to 'divorce'. The birds, which are known to mate for life, are becoming more promiscuous as warmer waters make them hunt further afield and could also be raising levels stress hormones, a researcher told the BBC.
2. China to publish nationwide methane action plan
China is set to examine methane emissions in key industries - including coal mining, agriculture and petroleum - and publish a nationwide methane emissions control plan, the country's environment ministry announced on Thursday.
It comes after China and the United States unveiled a deal earlier n November to increase cooperation in tackling climate change - including in cutting methane emissions.
"The formulation of a methane action plan is... an important work of China's active response to climate change strategy, and an important measure to implement the Sino-U.S. joint declaration," Lu Xinming, a vice-director of the climate change department at the Ministry of Ecology and Environment (MEE), told a news briefing.
China's methane emissions were 55.29 million tonnes in 2014, accounting for 10.4% of total greenhouse gases emission in the country, latest official data has revealed.
What's the World Economic Forum doing about the transition to clean energy?
Moving to clean energy is key to combating climate change, yet in the past five years, the energy transition has stagnated.
Energy consumption and production contribute to two-thirds of global emissions, and 81% of the global energy system is still based on fossil fuels, the same percentage as 30 years ago. Plus, improvements in the energy intensity of the global economy (the amount of energy used per unit of economic activity) are slowing. In 2018 energy intensity improved by 1.2%, the slowest rate since 2010.
Effective policies, private-sector action and public-private cooperation are needed to create a more inclusive, sustainable, affordable and secure global energy system.
Benchmarking progress is essential to a successful transition. The World Economic Forum's Energy Transition Index, which ranks 115 economies on how well they balance energy security and access with environmental sustainability and affordability, shows that the biggest challenge facing energy transition is the lack of readiness among the world's largest emitters, including US, China, India and Russia. The 10 countries that score the highest in terms of readiness account for only 2.6% of global annual emissions.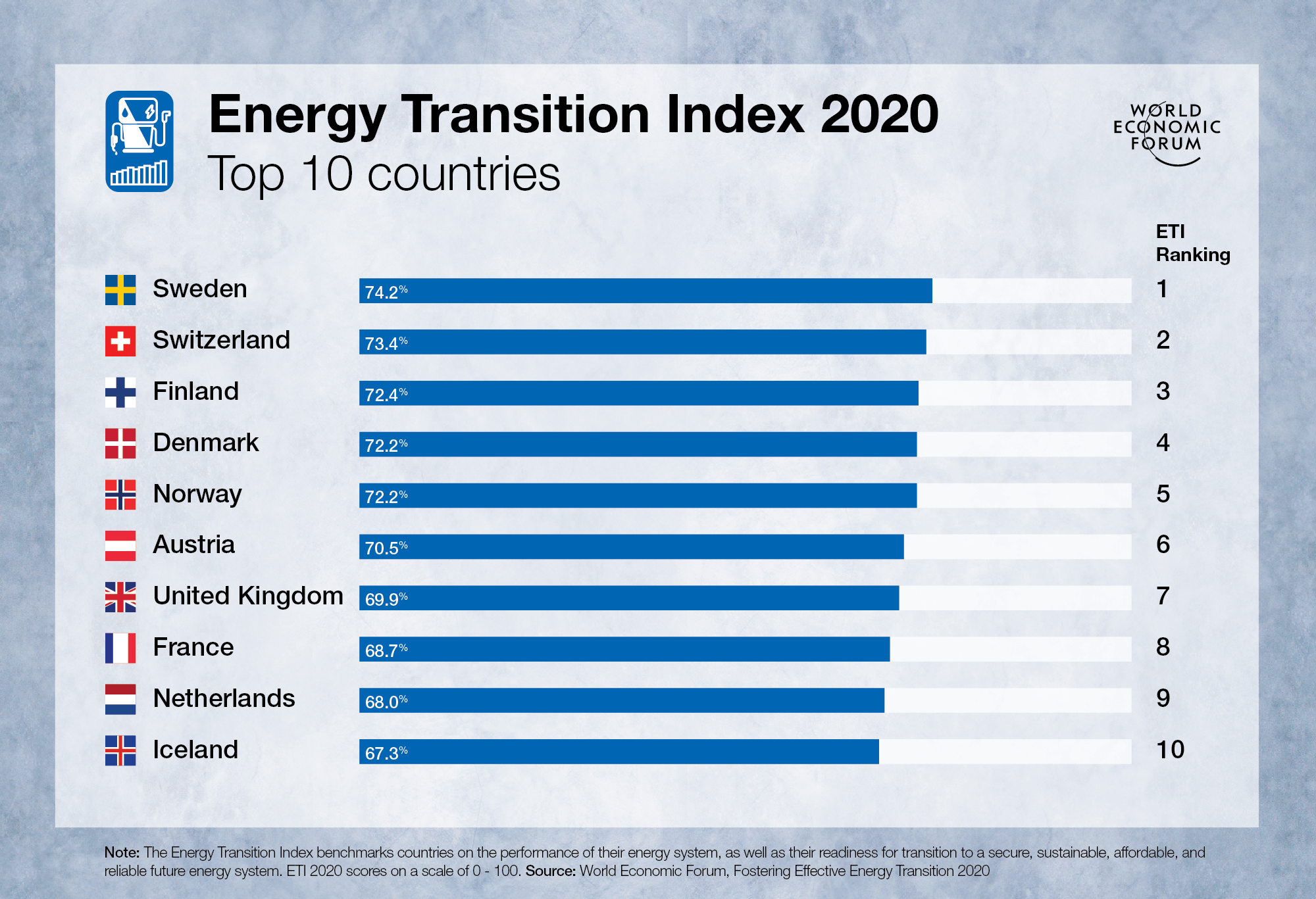 Additionally, the Mission Possible Platform (MPP) is working to assemble public and private partners to further the industry transition to set heavy industry and mobility sectors on the pathway towards net-zero emissions. MPP is an initiative created by the World Economic Forum and the Energy Transitions Commission.
Is your organisation interested in working with the World Economic Forum? Find out more here.
3. Germany accelerates renewables plans
The country will aim for renewables to account for 80% of the country's gross electricity demand by 2030 - compared with a previous goal of 65% - by installing 200 gigawatts (GW) of solar and at least 30 GW of offshore wind capacity by then.
And, the government hopes to ideally bring forward Germany's coal exit to 2030 from a previous target of 2038 at the latest.
The new coalition - formed of the Social Democrats, Greens and Liberal Democrats - announced a range of other measures including bolder carbon emissions pricing and more support for hydrogen.