6 ways that battery analytics can help decarbonize our economy
To meet climate commitments we need to use more batteries across sectors including industry, transport and buildings.
Battery analytics provides data about the state of health and the remaining useful lifetime of a battery.
This can help to reduce risk, improve efficiency and increase trust in batteries.
To meet the commitments in the Paris Agreement to decarbonize our economies, it is projected that we need to install 257 GWh more battery capacity per year until 2050 across industry, transport, and buildings. Unlike most other power plant technologies, batteries can not only supply energy but also store it. And they can respond to the need to do so within milliseconds. This makes them useful in a range of sectors in an electrified world.
To take advantage of this, however, we need to dramatically increase the overall efficiency of battery production, function and lifetime. Degradation of a battery is a technical risk that can translate directly into financial risk. Progress has already been made in making batteries more efficient, with a staggering drop in price (over 75% since 2021). This was mainly driven by advances in technology and economies of scale in production.
Battery analytics is an additional tool that could help to improve the efficiency of batteries, and investors' confidence about using them. It is the data-driven analysis of the state of health and remaining useful lifetime of a battery, which provides reliable data to different stakeholders, including asset owners, partners and financial service providers. There are six concrete ways in which battery analytics could contribute to an electrified world.
1. Accelerate battery development
Battery improvement and development from cell to module to battery pack design and validation requires a lot of resources and time for manual testing. We can improve the battery design and validation process with software tools (for example, virtual cell models), which allow us to reduce testing, ensure the correct battery design and speed up the development cycle.
2. More efficient use of resources
Today, it is still best practice to replace batteries based on predefined contractual agreements – this is mostly due to the lack of better methods and more information. Battery analytics can improve efficiency by fitting the battery size to the application, and allowing asset holders to change the battery only when they really need to. Initial experience shows that this can extend the operational useful lifetime of batteries by up to 50%.
Batteries are currently often operated with significant security buffers, depending on how they are being used. Battery health diagnostics make the current and predicted impact of specific operations on battery health available. This optimizes the operating strategy and decreases the need for capacity buffers, avoiding CO2 emissions within production (studies estimate that battery production emits between ~60 to ~120kg CO2e per kWh), and improved overall resource use.
3. Reduce risk and facilitate trust
Although batteries have been around for some time, they are still a relatively new technical asset in the portfolios of car manufacturers, utilities, and financial institutions or insurers. The complex technical nature of batteries and the lack of large-scale historic data increases the risk for all parties involved. And risk typically has a price, raising risk-premiums on all ends and sometimes destroying business cases.
Reliable and trustworthy battery analytics data that is agreed on by all involved parties can reduce asymmetric information, allay safety concerns, reduce risk-premiums, and create greater trust. This not only makes using batteries more economical and safer, but also enables new business models and economic pathways.
4. Enable new business models and economic pathways
Even early on, electric vehicle manufacturers experimented with models that remove the financial risk of batteries for customers. For example, for a long time, Renault retained the ownership of the batteries of their Zoë model cars. And recently, financial providers have started to provide battery-as-a-service business models, taking the assets on their own balance sheet. These business models have the potential to significantly speed up the adoption of batteries in a number of sectors. However, these business models need accurate data on battery health and useful lifetime in order to scale up. Here, battery analytics is the ultimate enabler for such business models.
What's the World Economic Forum doing about the transition to clean energy?
Moving to clean energy is key to combating climate change, yet in the past five years, the energy transition has stagnated.
Energy consumption and production contribute to two-thirds of global emissions, and 81% of the global energy system is still based on fossil fuels, the same percentage as 30 years ago. Plus, improvements in the energy intensity of the global economy (the amount of energy used per unit of economic activity) are slowing. In 2018 energy intensity improved by 1.2%, the slowest rate since 2010.
Effective policies, private-sector action and public-private cooperation are needed to create a more inclusive, sustainable, affordable and secure global energy system.
Benchmarking progress is essential to a successful transition. The World Economic Forum's Energy Transition Index, which ranks 115 economies on how well they balance energy security and access with environmental sustainability and affordability, shows that the biggest challenge facing energy transition is the lack of readiness among the world's largest emitters, including US, China, India and Russia. The 10 countries that score the highest in terms of readiness account for only 2.6% of global annual emissions.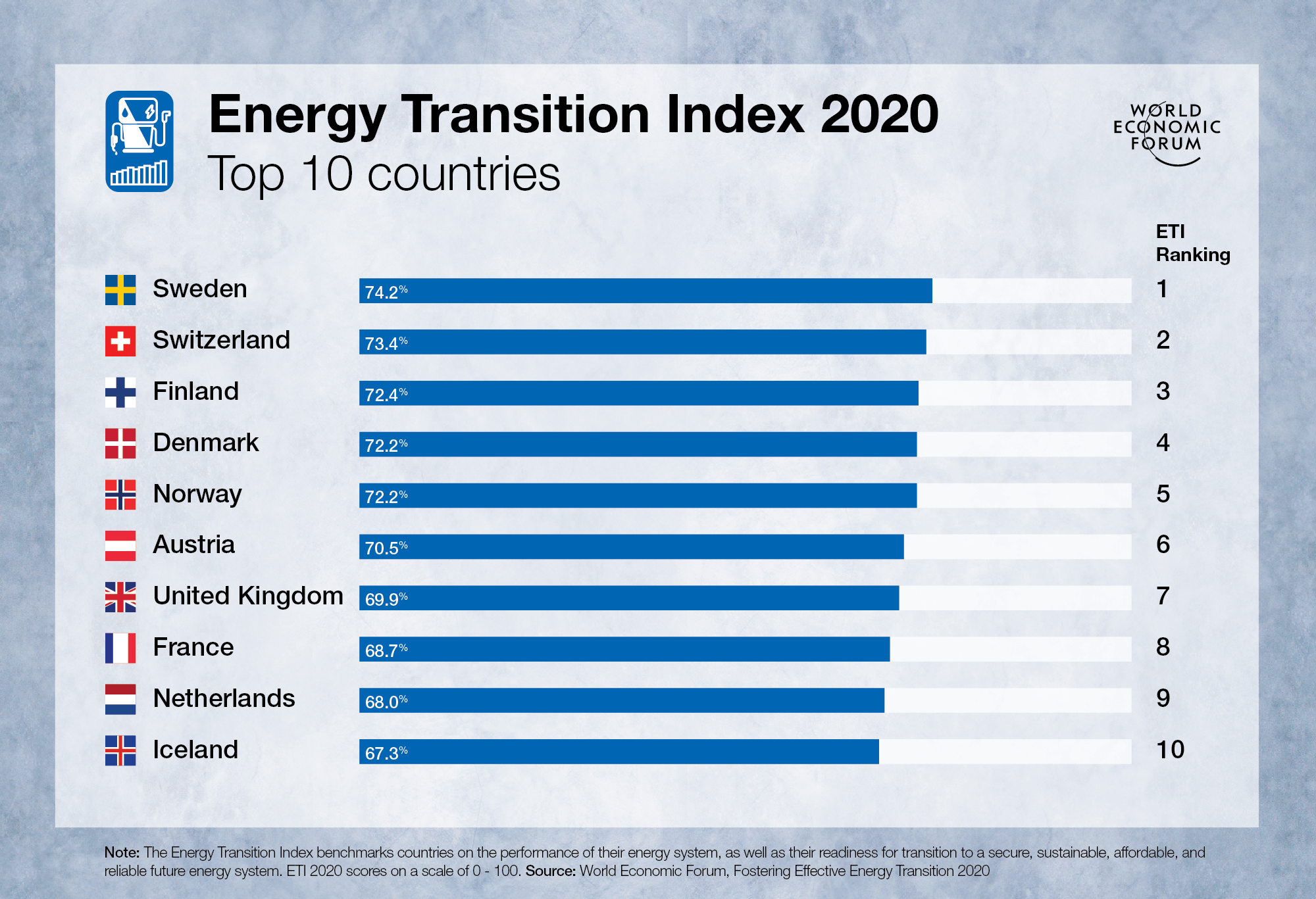 Additionally, the Mission Possible Platform (MPP) is working to assemble public and private partners to further the industry transition to set heavy industry and mobility sectors on the pathway towards net-zero emissions. MPP is an initiative created by the World Economic Forum and the Energy Transitions Commission.
Is your organisation interested in working with the World Economic Forum? Find out more here.
5. Help owners to resell, reuse and recycle
Knowing the health of the battery can help owners to resell, reuse and recycle. For example, a study by Autovista Group TÜV Rheinland and TWAICE found that driving behaviour can impact the resale value of a mid-range electric vehicle by about $500. Battery analytics could help to ensure a fair sale price. Additionally, they can help owners to decide whether to resell, reuse or recycle, eliminating guesswork and replacing it with detailed battery data.
6. Foster partnerships and collaboration across industries
Battery analytics can become an important catalyst for the fast, economical, and resource-efficient roll-out of batteries. But it needs many players to work together across industries and share reliable battery data to succeed.