How Nigeria is using the pandemic to build a sustainable energy future
The pandemic offers an opportunity to accelerate access to clean energy across Africa - and Nigeria is taking advantage.
The country's plans include building 5 million new solar home installations and mini-grids.
This strategy could also promote greater economic resilience and hundreds of thousand of new jobs across the country.
This blog is part of the 'Seizing the moment' series by the Energy Access workstream of the Global Future Council on Energy. In this series, we explore how countries and regions are using the window of opportunity that has opened through the COVID-19 pandemic to recover better with sustainable energy.

COVID-19 has changed the world as we know it. As business as usual has been thrown out the window, new opportunities are emerging that could pave the way to a more prosperous future for all – and this is particularly true for energy access. As countries continue to rebuild from the pandemic, clean energy investment can support them to 'Recover Better' and use this unique moment to reset their economies and close gaps in energy access.
The pandemic has highlighted the deep divide in Africa on energy access progress. The latest data on Sustainable Development Goal 7 (SDG7) – which aims to secure access to affordable, reliable, sustainable and modern energy for all by 2030 – shows that progress in Africa is not yet on track to meet global targets. An estimated 565 million people still lack access to electricity, while a further 900 million lack clean cooking solutions. The pandemic risks setting progress even further behind.
In the new Recover Better with Sustainable Energy Guide from Sustainable Energy for All (SEforALL), we have identified key enablers that countries across Africa should adopt as they continue their economic recovery. From increased GDP, job creation, affordable energy provision and improved agriculture, gender and health outcomes – the benefits have never been clearer from investing in clean, sustainable energy.
One country that has quickly recognized this opportunity is Nigeria.
A unique opportunity
Nigeria has a population of more than 196 million, with an estimated 85 million people lacking access to electricity and 176 million people without access to clean cooking fuels or technologies. The COVID-19 recovery therefore offers a particularly unique moment for the country to reset and accelerate progress on delivering sustainable energy for all.
Nigeria's recently released economic recovery plan has energy access embedded within it, and many of the commitments put forward in the plan would have been unimaginable just six months ago. For example, as an oil and gas-rich nation, Nigeria's decision to eliminate fossil fuel subsidies is a major step forward. With the price of oil the lowest it has been for 18 years, now is the time for countries to float liquid fuel prices, which, if anything, will result in a short-term benefit for consumers. When the price rises again, governments must refrain from re-introducing the subsidy, especially when we consider that with just a 1.2% global increase in green investment and a mere 0.4% decrease in fossil fuel investments, valuable jobs will be created and significant progress made on the Paris Agreement on climate change.
A key provision in Nigeria's plan is a commitment from the federal government to deliver and maintain 5 million new solar connections under a 'solar power strategy'. This strategy is expected to support 250,000 new jobs and impact up to 25 million beneficiaries through the installation of 5 million solar home systems and mini-grids. The plan also supports the upstream value chain by promoting the large-scale assembly of solar components in Nigeria.
The World Bank Group's Lighting Africa programme has in many ways contributed to laying the foundation for a vibrant household solar market in Nigeria through its market development programme activities that also includes support for MFIs to provide financing to consumers and retailers in rural areas. A major milestone was achieved in June when the Standards Organization of Nigeria adopted the IEC / Lighting Global quality standards. These standards will play a critical role in providing consumers, the supply chain, financial instructions and investors with the confidence and reassurance that they need to invest and embrace off-grid solutions.
The Nigerian Government is also addressing clean cooking in its plan with a commitment to implement the National Liquified Petroleum Gas (LPG) expansion programme to support the transition from traditional fuels for cooking – such as kerosene and wood – to cleaner LPG fuel. The project will engage with the private sector to support the transition.
Earlier this month, Yemi Osinbajo, Vice President of the Federal Republic of Nigeria, reinforced the country's commitment to accelerate the transition to clean, affordable, reliable and renewable energy; these were, he said, the "first steps to new jobs and a cleaner, healthier environment".
Strong foundations
Nigeria already has a strong set of institutions and partnerships ready to support turning this commitment into reality. The country's Rural Electrification Agency (REA) has played a leading role in the pandemic, using its knowledge, network and infrastructure to help deploy off-grid energy solutions that can provide lifesaving electricity access to the more remote health clinics across the country.
REA also leads the Nigeria Electrification Project, which is aimed at increasing electricity access to households and micro, small and medium enterprises (MSMEs), as well as students and patients at federal universities and university teaching hospitals. The World Bank has provided a $350 million facility and the African Development Bank an additional $200 million facility to the Nigerian government for off-grid development as part of the Nigeria Electrification Project (NEP). This investment is expected to leverage over $81 billion in additional funding from the private sector – and in the wake of COVID-19, these investments will become even more important to help speed and scale progress.
What's the World Economic Forum doing about the transition to clean energy?
Moving to clean energy is key to combating climate change, yet in the past five years, the energy transition has stagnated.
Energy consumption and production contribute to two-thirds of global emissions, and 81% of the global energy system is still based on fossil fuels, the same percentage as 30 years ago. Plus, improvements in the energy intensity of the global economy (the amount of energy used per unit of economic activity) are slowing. In 2018 energy intensity improved by 1.2%, the slowest rate since 2010.
Effective policies, private-sector action and public-private cooperation are needed to create a more inclusive, sustainable, affordable and secure global energy system.
Benchmarking progress is essential to a successful transition. The World Economic Forum's Energy Transition Index, which ranks 115 economies on how well they balance energy security and access with environmental sustainability and affordability, shows that the biggest challenge facing energy transition is the lack of readiness among the world's largest emitters, including US, China, India and Russia. The 10 countries that score the highest in terms of readiness account for only 2.6% of global annual emissions.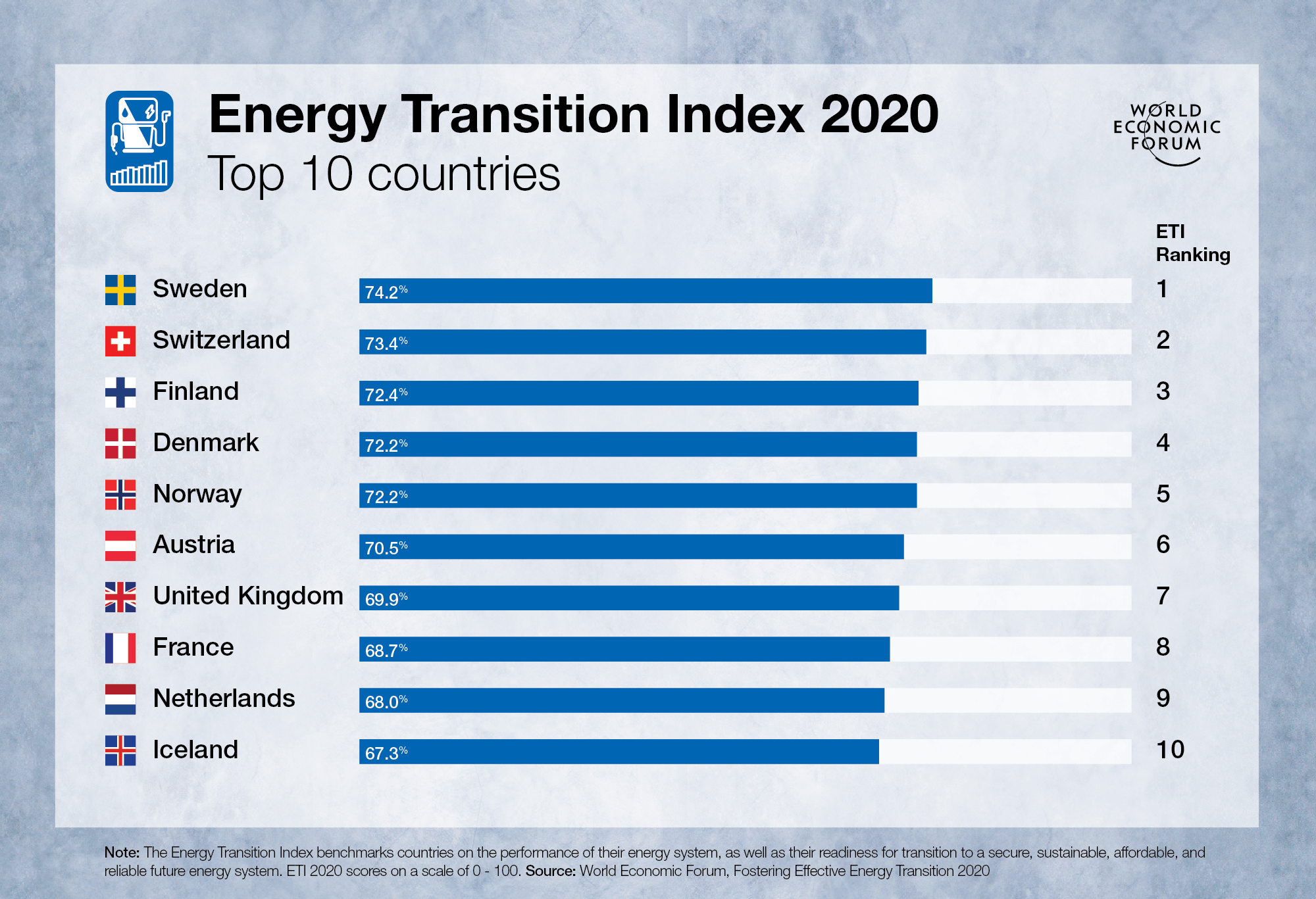 Additionally, the Mission Possible Platform (MPP) is working to assemble public and private partners to further the industry transition to set heavy industry and mobility sectors on the pathway towards net-zero emissions. MPP is an initiative created by the World Economic Forum and the Energy Transitions Commission.
Is your organisation interested in working with the World Economic Forum? Find out more here.
Nigeria has also explored another important measure: moving towards cost-reflective electricity tariffs. The instinct may be to undercut the cost of electricity to the consumer as a quick-fix solution to mitigating the economic challenges of the pandemic or gain political traction. However, this can undermine the long-term financial stability of, and investments into, the energy sector. In the long run, allowing cost-reflective tariffs allows utilities to perform better, improve the reliability of their service and increase investments in energy access and clean energy. The Nigerian government has made commitments to increase tariffs to cost-reflective levels through its Power Sector Recovery Program (PRSP), an important foundation for an economically viable – and investment-ready – energy sector.
A moment like this will not come again. Countries that follow Nigeria's example and invest in sustainable energy as part of an ambitious 'recover better' strategy will be rewarded with resilient economic growth, new jobs, and sustainable energy for all in the long-term.