Japan's transition to become a decarbonized society
Japan is taking on the huge challenge to reduce greenhouse gas emissions to net-zero by 2050.
The dual emergency of COVID-19 and climate change has accelerated the need for systemic global action.
Japan's government will convene the public and private sector and wider society to create a sustainable and resilient economy.
The world is now facing two global crises: the coronavirus pandemic and climate change. As we stand at this turning point for civilization, it's essential that we redesign our socioeconomic systems to be sustainable and resilient. That is why Japan is now taking on the "Three Transitions" challenge towards: a decarbonized society, a circular economy, and a decentralized society.
In October 2020, Prime Minister Suga declared that by 2050, Japan aims to reduce greenhouse gas emissions to net-zero. The administration will focus on realizing a "green society," because "proactive climate change measures bring transformation of industrial structures as well as our economy and society, leading to dynamic economic growth," Suga stated.
Furthermore, in November last year, the Japanese House of Representatives and the House of Councillors declared a climate emergency; indicating that tackling climate change is not a partisan issue. It means that Japan's climate policies are unwavering regardless of who holds power. I believe that this policy stability and continuity is Japan's strength.
As a long-standing advocate of raising the government's climate goals and revising the export policy on coal-fired power plants, I strongly believe that this declaration of carbon neutrality is a turning point. We cannot just sit and wait for future innovations if we are to achieve this goal by 2050. Existing decarbonization technologies, such as renewable energy and electric vehicles should be mainstream in society. The next 10 years leading up to 2030 will be decisive in our efforts to achieve carbon neutrality by 2050. Japan's "transition to decarbonisation" efforts are outlined below.
What's the World Economic Forum doing about the transition to clean energy?
Moving to clean energy is key to combating climate change, yet in the past five years, the energy transition has stagnated.
Energy consumption and production contribute to two-thirds of global emissions, and 81% of the global energy system is still based on fossil fuels, the same percentage as 30 years ago. Plus, improvements in the energy intensity of the global economy (the amount of energy used per unit of economic activity) are slowing. In 2018 energy intensity improved by 1.2%, the slowest rate since 2010.
Effective policies, private-sector action and public-private cooperation are needed to create a more inclusive, sustainable, affordable and secure global energy system.
Benchmarking progress is essential to a successful transition. The World Economic Forum's Energy Transition Index, which ranks 115 economies on how well they balance energy security and access with environmental sustainability and affordability, shows that the biggest challenge facing energy transition is the lack of readiness among the world's largest emitters, including US, China, India and Russia. The 10 countries that score the highest in terms of readiness account for only 2.6% of global annual emissions.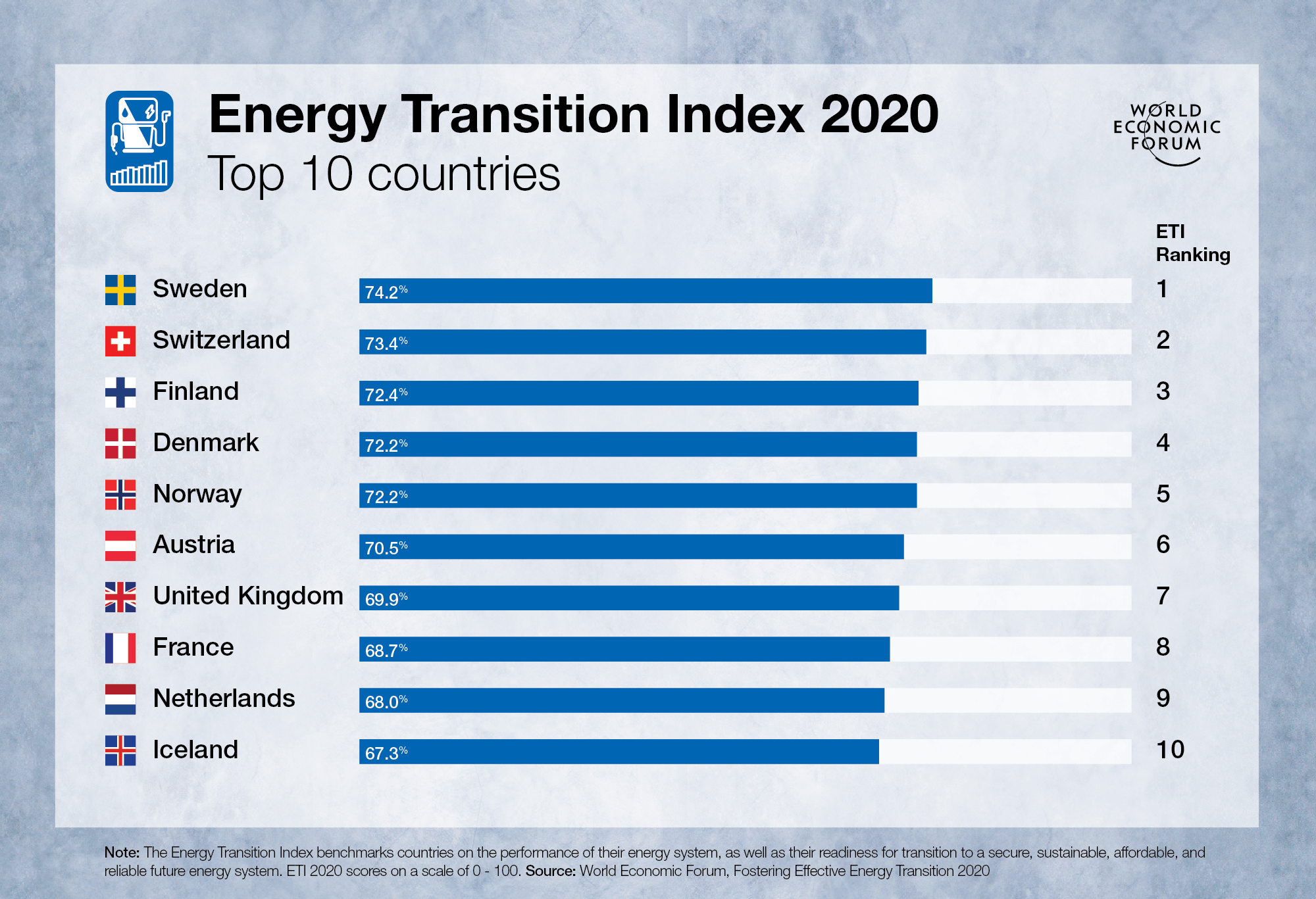 Additionally, the Mission Possible Platform (MPP) is working to assemble public and private partners to further the industry transition to set heavy industry and mobility sectors on the pathway towards net-zero emissions. MPP is an initiative created by the World Economic Forum and the Energy Transitions Commission.
Is your organisation interested in working with the World Economic Forum? Find out more here.
1. Creating a legal framework
Firstly, we will write the goal of 2050 carbon neutrality into law as we revise the Act on Promotion of Global Warming Countermeasures. This will give the legal basis for the policy and ensure its continuity.
The carbon pricing scheme will also be discussed by the Ministry of the Environment and the Ministry of Economy, Trade and Industry at the instruction of Suga. This is a major step forward for the Ministry of the Environment, which has long been considering the best way to establish a carbon pricing system. It is a symbolic move, reflecting Suga's statement that "proactive climate change measures will lead to growth."
Furthermore, we are currently reviewing our Plan for Global Warming Countermeasures to include specific steps toward achieving carbon neutrality by 2050. We aim to inform the United Nations of Japan's efforts toward 2030 by COP26.
2. Public and private sector collaboration
The second point relates to initiatives led by local governments and the private sector. The number of Japanese zero carbon cities, or local governments, committing to achieving zero carbon emissions by 2050 has jumped from four (when I was appointed Minister of the Environment) to over 200, representing a population of more than 90 million.
In order to realize these zero carbon commitments we will help local governments develop projects and build capacity by providing both hard and soft incentives to decarbonize regions. In an encouraging move, Tokyo and the prefecture of Saitama have already introduced an emission trading system.
We will not wait until 2050 to achieve these goals – by introducing packages of available technologies for the next five years until 2025, we want to trigger a regional decarbonization domino effect where one region after another is decarbonized. The Council for National and Local Decarbonization initiated by Suga will serve to highlight best regional practices of decarbonization.
The private sector is also accelerating its efforts, with Japan's ESG investments multiplying sixfold over the past three years. Japan also has the highest number of businesses which are supporters of the Task Force on Climate-related Financial Disclosures (TCFD) – a framework to report climate-related financial information.
The decarbonization in corporate management is also spreading, as more than 80 Japanese companies have introduced an internal carbon pricing system to promote investments and measure progress towards decarbonization by setting a monetary value on carbon emissions. We will support such corporate efforts and promote ESG financing, including those by regional financial institutions aimed at achieving the SDGs.
3. Enabling society to make positive changes
In order to achieve carbon neutrality by 2050, systemic socioeconomic changes are needed, such as lifestyle changes in clothing, food, housing and transportation. Efforts are already underway in Japan to make renewable energy and electric vehicles mainstream.
In the supplementary budget bill we've just added a measure of doubling incentives for electric vehicles serving as "moving batteries", powered by 100% renewable electricity. This is the first Japanese initiative supporting the joint introduction of electric vehicles and renewable energy. In addition from 2021, national parks managed by the Ministry of the Environment will provide free parking spaces with charging stations for electric vehicles.
By enhancing climate action and improving the continuity and predictability of our policies, we want to show the world that Japan is committed to decarbonization. We can make a difference if we join forces to overcome the two global crises. Let us work together to redesign our society to be sustainable and resilient.