COVID-19: What you need to know about the coronavirus pandemic on 1 October
This daily round-up brings you a selection of the latest news and updates on the COVID-19 coronavirus pandemic, as well as tips and tools to help you stay informed and protected.
Top stories: Australia to ease border restrictions for residents; Warning over lack of vaccines for Africa's health workers; Singapore reports highest one-day increase in cases.
1. How COVID-19 is affecting the globe
Confirmed cases of COVID-19 have passed 233.7 million globally, according to Johns Hopkins University. The number of confirmed deaths stands at more than 4.78 million. More than 6.24 billion vaccination doses have been administered globally, according to Our World in Data.
From 4 October, primary school pupils in areas of France with a low COVID-19 infection rate will no longer need to wear protective face masks.
Malaysia has given conditional approval for the Sinovac COVID-19 vaccine to be used for young people aged between 12 and 17.
Malaysia has also announced that it will be mandatory for all federal government employees to be vaccinated against COVID-19 - with the only exemptions on health grounds.

Greece will introduce a nighttime curfew and ban music at bars, cafes and restaurants in its second-biggest city, Thessaloniki. The move comes after an increase in COVID-19 cases.
Egypt has received 1.6 million doses of the Pfizer/BioNTech COVID-19 from the United States through the COVAX vaccine-sharing facility.
Singapore has recorded its highest one-day increase in confirmed COVID-19 cases since the start of the pandemic - 2,478.
India's leading COVID-19 last-mile responders
Each of our Top 50 social enterprise last mile responders and multi-stakeholder initiatives is working across four priority areas of need: Prevention and protection; COVID-19 treatment and relief; inclusive vaccine access; and securing livelihoods. The list was curated jointly with regional hosts Catalyst 2030's NASE and Aavishkaar Group. Their profiles can be found on www.wef.ch/lastmiletop50india.
Top Last Mile Partnership Initiatives to collaborate with: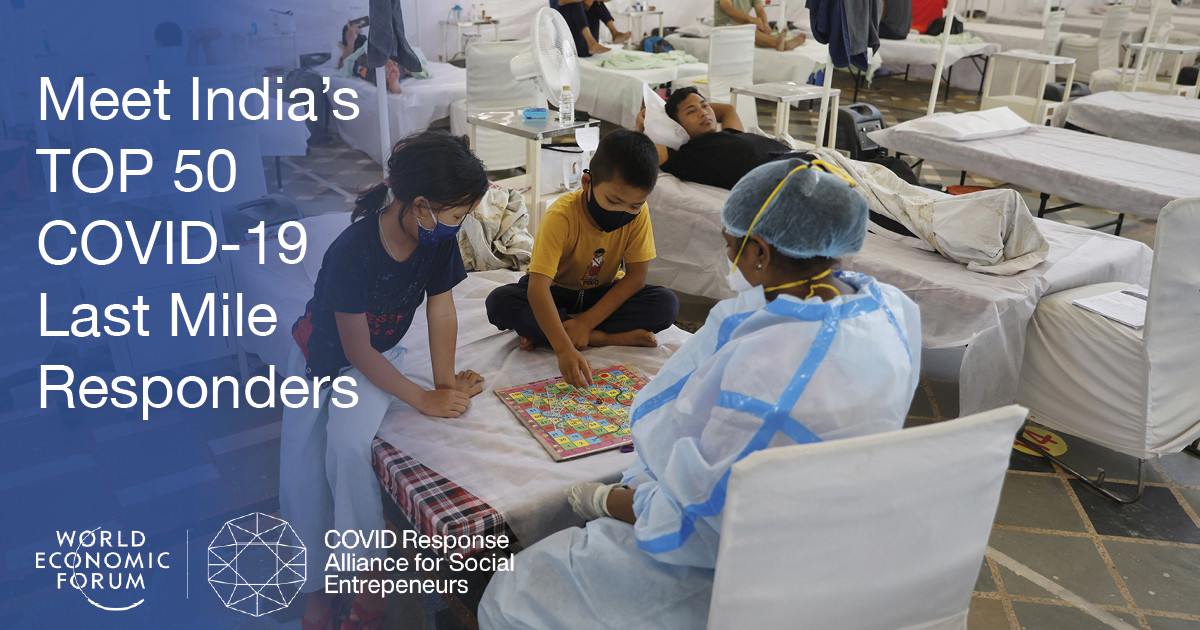 2. Australia to ease border restrictions for residents
Australian Prime Minister Scott Morrison has announced that an 18-month ban on Australians travelling abroad will be lifted from October. The ban has been in place since March 2020, with only a limited number of people permitted to leave for critical business or humanitarian reasons.
Reopening the international border for citizens and permanent residents will be linked to the establishment of home quarantine in Australia's eight states and territories, Morrison said, meaning that some parts of the country will reopen sooner than others.
"It's time to give Australians their lives back. We've saved lives," Morrison said during a televised media conference. "We've saved livelihoods, but we must work together to ensure that Australians can reclaim the lives that they once had in this country."
Further changes are expected to allow foreign travellers to enter Australia.
3. Healthcare workers in Africa at risk because of slow vaccine roll-out: WHO
The two organizations called for the distribution of doses to those at risk to be sped up.
The WHO had called for vaccinating at least 10% of health workers in every country by September 30 - a target met by nearly 90% of high-income countries, the United Nations health agency said.
"Despite the promises, we are not seeing the delivery. And this is a health and a human rights crisis," the chief executive officer of the ICN, Howard Catton, said. "Today nurses and health workers are still going to work knowing that they are at higher risk, but not having the protection of vaccine."
Meanwhile, some rich countries were already administering booster shots and vaccines to youth, he said.