COVID-19: What you need to know about the coronavirus pandemic on 24 September
This daily round-up brings you a selection of the latest news and updates on the COVID-19 coronavirus pandemic, as well as tips and tools to help you stay informed and protected.
Top stories: WHO backs COVID-19 antibody treatment; Sweden eyes more booster doses; South Korea reports highest ever daily increase in COVID-19 cases.
1. How COVID-19 is affecting the globe
Confirmed cases of COVID-19 have passed 230.6 million globally, according to Johns Hopkins University. The number of confirmed deaths stands at more than 4.72 million. More than 6.03 billion vaccination doses have been administered globally, according to Our World in Data.
Viet Nam has pushed backed the reopening of the resort island of Phu Quoc to foreign visitors until November. It comes as insufficient vaccine supplies mean they failed to hit targets to vaccinating locals.
Novavax and its partner, the Serum Institute of India, have applied to the World Health Organization for emergency use listing of Novavax's COVID-19 vaccine.
Yemen has received its third batch of COVID-19 vaccines through the COVAX global vaccine-sharing scheme.
2. WHO-backing for COVID-19 treatment
The treatment has already been granted US emergency use authorization. It's currently under review in Europe, while Britain approved it last month.
While acknowledging costs associated with the treatment, the WHO panel said that given the recorded benefits of the therapy, "the recommendations should provide a stimulus to engage all possible mechanisms to improve global access to the intervention and associated testing".
In a separate statement, the WHO called on Regeneron to lower prices and distribute the treatment equitably worldwide, especially in low- and middle-income countries. The agency also urged the firms to transfer tech to help make biosimilars.
India's leading COVID-19 last-mile responders
Each of our Top 50 social enterprise last mile responders and multi-stakeholder initiatives is working across four priority areas of need: Prevention and protection; COVID-19 treatment and relief; inclusive vaccine access; and securing livelihoods. The list was curated jointly with regional hosts Catalyst 2030's NASE and Aavishkaar Group. Their profiles can be found on www.wef.ch/lastmiletop50india.
Top Last Mile Partnership Initiatives to collaborate with: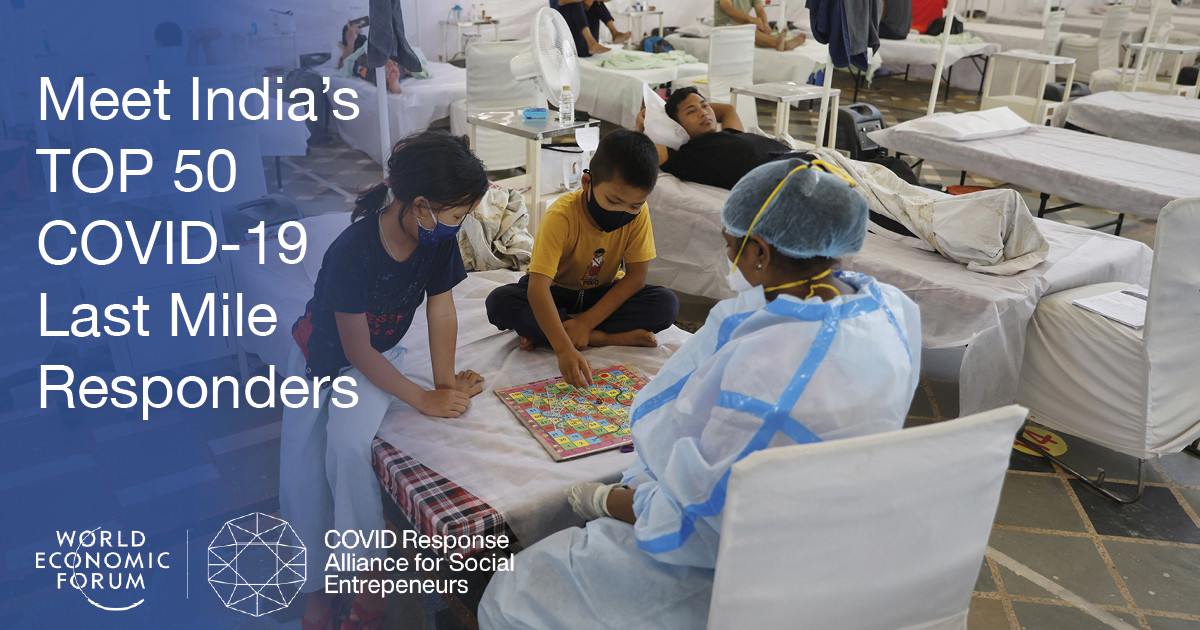 3. Sweden eyes giving more booster shot
Sweden has vaccinated 83% of the population aged over 16 with one dose and 76% with two doses. The country's public health agency recently identified some 40,000 people in need of a third dose, but said on Thursday more could soon be eligible.
"There are signals from abroad that indicate the protection from the vaccination is fading after some time, especially in those who are older," Public Health Agency official Sara Byfors told a news conference. "It is important to meet that with a third dose."