COVID-19: What you need to know about the coronavirus pandemic on 27 October
This daily round-up brings you a selection of the latest news and updates on the COVID-19 coronavirus pandemic, as well as tips and tools to help you stay informed and protected.
Top stories: 'Serious acceleration' needed to tackle surging European cases; antibody immunity might wane over time; new restrictions across Europe.
1. How COVID-19 is affecting the globe
Slovakia hopes to avoid stricter restrictions through its plan for nationwide testing, its Prime Minister said yesterday. "Today, we had only two options, either general testing, or complete lockdown," Igor Matovic told reporters.
More English cities are facing the country's strictest restrictions, with Warrington and Nottingham both entering the Tier 3 alert level. People from different households are not allowed to socialize inside or out, and pubs and bar that do not serve food are shut.
A survey in Brazil has looked at the personality traits associated with low compliance with COVID-19 restrictions. Lower levels of empathy and higher levels of callousness, deceitfulness, and risk-taking were all found to be linked.
2. Antibody immunity might wane over time
Antibody prevalence fell from 6% at the end of June to just 4.4% of the population in September, according to scientists at Imperial College London, who have been tracking antibody levels since the first wave of infections.
"We can see the antibodies and we can see them declining and we know that antibodies on their own are quite protective," Wendy Barclay, Head of Department of Infectious Disease at Imperial College London told reporters.
"On the balance of evidence I would say, with what we know for other coronaviruses, it would look as if immunity declines away at the same rate as antibodies decline away, and that this is an indication of waning immunity at the population level."
What is the World Economic Forum doing to manage emerging risks from COVID-19?
The first global pandemic in more than 100 years, COVID-19 has spread throughout the world at an unprecedented speed. At the time of writing, 4.5 million cases have been confirmed and more than 300,000 people have died due to the virus.
As countries seek to recover, some of the more long-term economic, business, environmental, societal and technological challenges and opportunities are just beginning to become visible.
To help all stakeholders – communities, governments, businesses and individuals understand the emerging risks and follow-on effects generated by the impact of the coronavirus pandemic, the World Economic Forum, in collaboration with Marsh and McLennan and Zurich Insurance Group, has launched its COVID-19 Risks Outlook: A Preliminary Mapping and its Implications - a companion for decision-makers, building on the Forum's annual Global Risks Report.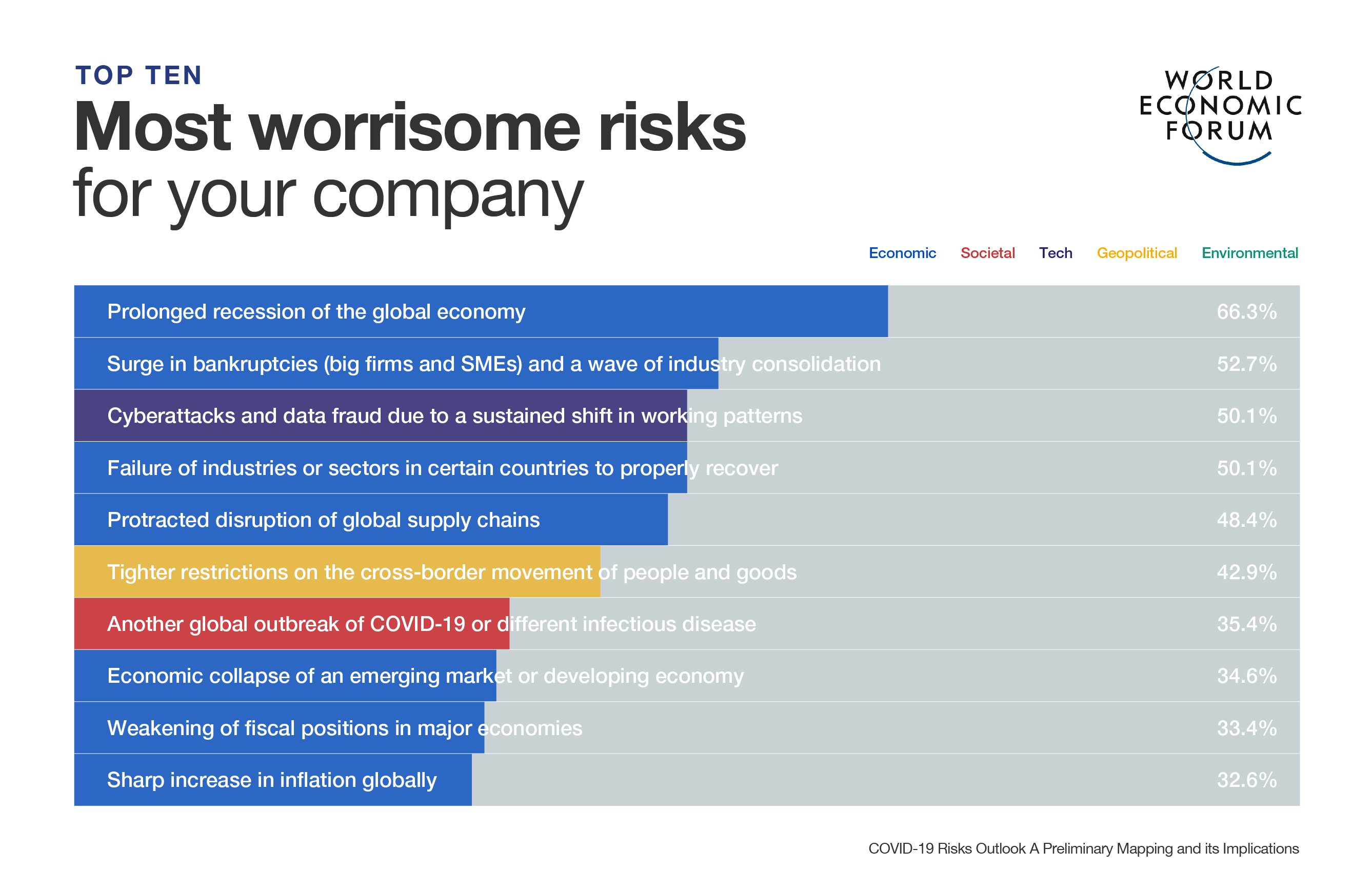 3. WHO: Europe needs 'serious acceleration' in fight against coronavirus
"Right now we are well behind this virus in Europe, so getting ahead of it is going to take some serious acceleration in what we do," Dr Mike Ryan, Executive Director of the WHO's Health Emergencies Programme, told a media briefing.
He paid tribute to health systems and medical workers, who are keeping death rates low and have increased clinical capacity and knowledge in fighting the disease.
"But we are seeing a large number of cases, we are seeing widespread disease, we are seeing very very high positivity rates and an increasing lack of capacity to do any effective form of contact-tracing, which is further going to drive the disease into the darkness," he said.
"And many countries are now facing the spectre of shutdowns in the coming weeks."