COVID-19: What you need to know about the coronavirus pandemic on 8 November
This daily news round-up brings you a selection of the latest news and updates on the COVID-19 coronavirus pandemic, as well as tips and tools to help you stay informed and protected.
Top stories: UK to roll out COVID-19 antiviral drug trial; US COVID-19 travel restrictions eased from today; New COVID-19 curbs in Greece.
1. How COVID-19 is affecting the globe
Confirmed cases of COVID-19 have passed 249.8 million globally, according to Johns Hopkins University. The number of confirmed deaths has now passed 5.04 million. More than 7.25 billion vaccination doses have been administered globally, according to Our World in Data.
New Zealand is set to ease COVID-19 restrictions in Auckland, with lockdown measures likely phased out by the end of the month, Prime Minister Jacinda Ardern said.
Indonesia will begin to give COVID-19 booster shots to the general public once 50% of the population has been fully vaccinated, its health minister has said. It's expected that the 50% mark will be hit at the end of next month.
Costa Rican children aged 5 and older must get COVID-19 vaccinations, according to a new health ministry mandate.
Authorities in Greece have announced new measures that restrict access to cafes and restaurants, state services, banks and shops to those who are either vaccinated or have a negative test. It comes as new COVID-19 cases have hit a new daily high almost every day in November.
2. UK to roll out COVID-19 antiviral drug trial
It comes as the UK last week became the first country in the world to approve the pill, with the government announcing in October that it had secured 480,000 courses of the Merck drug, with another 250,000 courses of a Pfizer antiviral pill also ordered.
Asked about the molnupiravir approval, Hopkins told BBC television: "That is great news and it will start to be rolled out through a drug trial in the end of this month/the beginning of December."
Hopkins said all the trials so far had been done with the unvaccinated, so this would help understand how it will work in the wider vaccinated population.
"The new Pfizer drug is probably not going to be licensed until the new year some time," she added. "It is still likely to be a couple of months away."
India's leading COVID-19 last-mile responders
Each of our Top 50 social enterprise last mile responders and multi-stakeholder initiatives is working across four priority areas of need: Prevention and protection; COVID-19 treatment and relief; inclusive vaccine access; and securing livelihoods. The list was curated jointly with regional hosts Catalyst 2030's NASE and Aavishkaar Group. Their profiles can be found on www.wef.ch/lastmiletop50india.
Top Last Mile Partnership Initiatives to collaborate with: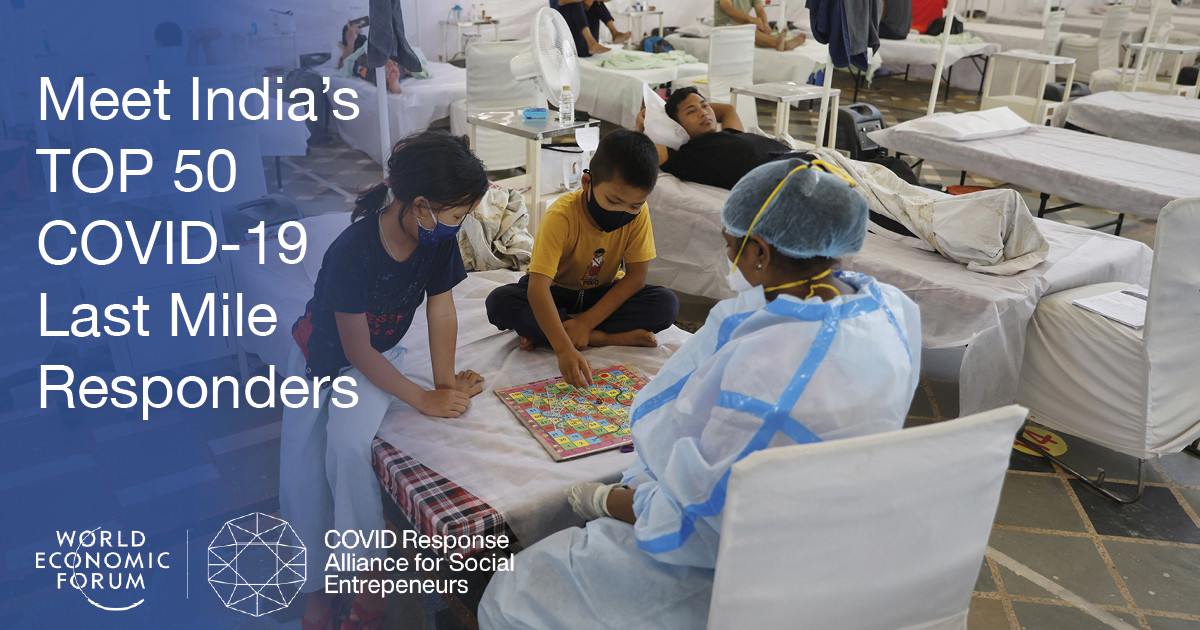 3. Delays expected as US COVID-19 travel restrictions ease
President Joe Biden's administration "expects pent-up demand for travel, which means longer than normal wait times for travellers," the official said. The government was boosting staffing to pre-pandemic levels but "long lines are expected in the initial days".
The US is lifting travel restrictions for fully vaccinated air travellers from 33 countries and at its land borders with Mexico and Canada. The restrictions, put in place in early 2020 during the pandemic, barred most non-US citizens who within the last 14 days had been in any of the 33 counties.