COVID-19: What you need to know about the coronavirus pandemic on 27 May
World Health Organization warns of rapid spread in Latin America.
South Korea sees new spike in cases.
California starts to ease lockdown.
1. How COVID-19 is affecting the globe
Confirmed coronavirus cases have reached almost 5.6 million worldwide, according to Johns Hopkins University. More than 350,000 people have died from the virus, while almost 2.3 million have recovered.
2. The Americas are now the epicentre as deaths surge in Latin America
"Our region has become the epicentre of the COVID-19 pandemic," Carissa Etienne, WHO director for the Americas and head of the Pan American Health Organization, said.
Brazil's daily death rate became the world's highest on Monday. Also of concern to WHO officials are outbreaks accelerating in Peru, Chile, El Salvador, Guatemala and Nicaragua.
What is the World Economic Forum doing to manage emerging risks from COVID-19?
The first global pandemic in more than 100 years, COVID-19 has spread throughout the world at an unprecedented speed. At the time of writing, 4.5 million cases have been confirmed and more than 300,000 people have died due to the virus.
As countries seek to recover, some of the more long-term economic, business, environmental, societal and technological challenges and opportunities are just beginning to become visible.
To help all stakeholders – communities, governments, businesses and individuals understand the emerging risks and follow-on effects generated by the impact of the coronavirus pandemic, the World Economic Forum, in collaboration with Marsh and McLennan and Zurich Insurance Group, has launched its COVID-19 Risks Outlook: A Preliminary Mapping and its Implications - a companion for decision-makers, building on the Forum's annual Global Risks Report.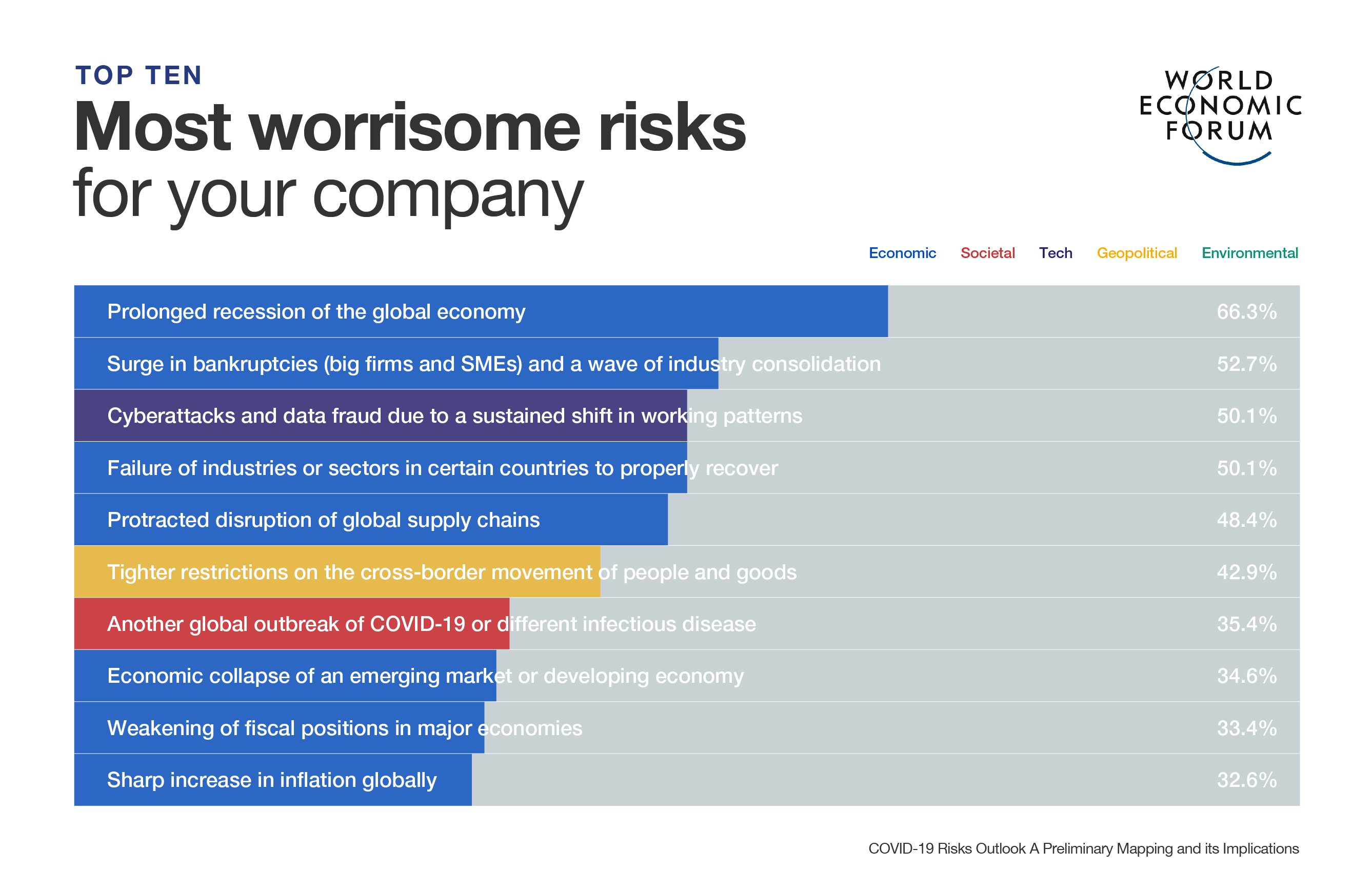 3. South Korea reports new spike in cases
South Korea reported the highest daily number of new cases in 49 days on Wednesday, as one of the country's largest e-commerce companies battled an outbreak linked to a now-shuttered logistics facility.
The Korea Centers for Disease Control and Prevention (KCDC) reported 40 new cases as of midnight Tuesday, bringing the country's total number to 11,265. A day earlier the country recorded 19 new cases.
So far, at least 36 cases have been linked to an outbreak at the logistics centre operated by e-commerce firm Coupang Corp in Bucheon, west of Seoul, the KCDC said. It was not immediately clear how many of the cases were reported in the last 24 hours.
"We are very nervous about community infections and we are keeping a close eye on the situation," vice health minister Kim Kang-lip said at a briefing.
4. California eases pandemic restrictions

California, the most populous US state, took another step on Tuesday toward ending sweeping lockdowns imposed to contain the coronavirus pandemic, allowing barber shops and hair salons in most counties to operate for the first time in more than two months.

Although 47 of California's 53 counties have qualified to reopen barber shops and hair salons, they will remain closed in two of its largest and best-known cities: Los Angeles and San Francisco.
"(California) is flattening the curve. Expanding testing. And carefully re-opening businesses," Governor Gavin Newsom said on Twitter. "But we MUST continue to take this seriously."
5. With more homeworking, companies warned about cybersecurity
The lockdown is putting immense pressure on organizations' cybersecurity operations, experts write for Agenda.
"As organizations are making extraordinary efforts to protect their workers and serve their customers during the pandemic, exposure to cyberthreats is increasing significantly."
"Security bugs and privacy-abusing practices are not new, but have been exacerbated by the growing demand for cost-effective and just-in-time solutions, along with the pressure to digitize and innovate quickly to keep ahead of competition, increase operational efficiencies, improve customer experience and improve business decisions with enhanced analytics," the authors write.