The world's most vulnerable must be protected: WHO briefing
The World Health Organization held a media briefing on 19 June, to update the public on the COVID-19 coronavirus pandemic.
Ahead of World Refugee Day, calls were made to protect the world's most vulnerable populations during the pandemic.
COVID-19 continues to "gather pace," said WHO officials, and remains a threat.
Filippo Grandi, United Nations High Commissioner for Refugees, joined the WHO's media briefing on 19 June, ahead of World Refugee Day on 20 June.
He and Dr Tedros Adhanom Ghebreyesus, WHO Director-General, reiterated calls to protect the world's most vulnerable people during the pandemic. With 80 million refugees and internally displaced people globally, there is a significant population to keep safe.
The WHO remains very concerned about the potential for widespread transmission in refugee camps, explained Dr Tedros. Both he and Mr Grandi called for global collaboration and unity in the fight against the pandemic.
"The key issue that we've been impressing on governments is that refugees, displaced people, people on the move, must be included in national health responses," explained Grandi. Whatever measures governments are taking for national populations must also include refugees, he added.
And, any socio-economic responses and recovery plans must also include displaced people.
Guests from Lebanon and Ethiopia also stressed the challenges faced by refugee populations and the agencies and people working to protect them during the pandemic. From access to water for personal hygiene to the ongoing financial crisis in Lebanon, the risks and issues are varied and extensive, they explained.
Mr Chuol Puok Jock, currently leading COVID-19 response in Gambella region, Ethiopia, and Dr Iman Shankiti, WHO representative in Lebanon, both highlighted the collaboration and multi-agency work that's currently being undertaken to tackle these issues.
What is the World Economic Forum doing to manage emerging risks from COVID-19?
The first global pandemic in more than 100 years, COVID-19 has spread throughout the world at an unprecedented speed. At the time of writing, 4.5 million cases have been confirmed and more than 300,000 people have died due to the virus.
As countries seek to recover, some of the more long-term economic, business, environmental, societal and technological challenges and opportunities are just beginning to become visible.
To help all stakeholders – communities, governments, businesses and individuals understand the emerging risks and follow-on effects generated by the impact of the coronavirus pandemic, the World Economic Forum, in collaboration with Marsh and McLennan and Zurich Insurance Group, has launched its COVID-19 Risks Outlook: A Preliminary Mapping and its Implications - a companion for decision-makers, building on the Forum's annual Global Risks Report.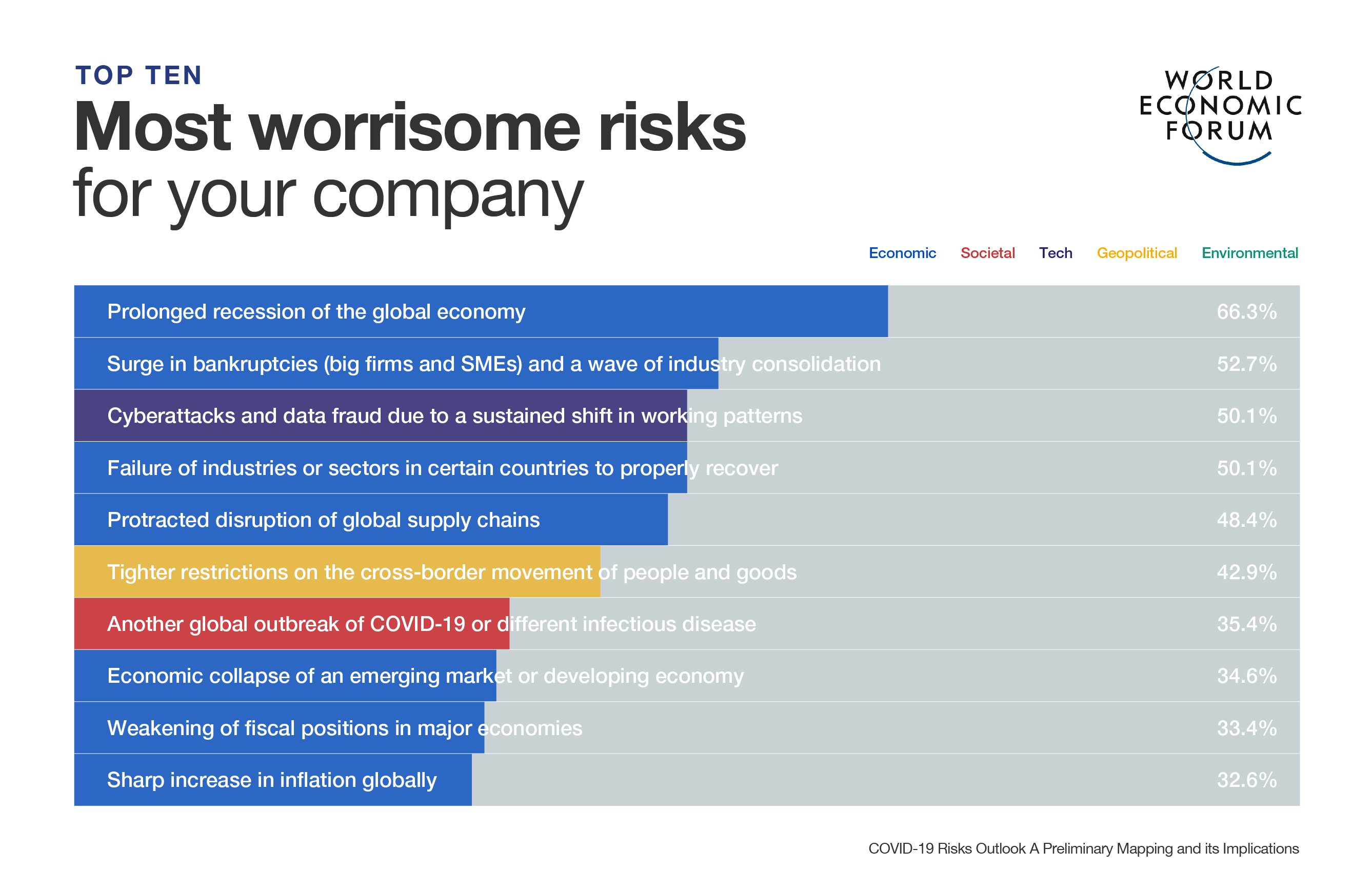 Dr Tedros also reminded the challenges facing the entire global population and called on countries to remain vigilant.
"The pandemic is accelerating," he said. More than 150,000 new cases were reported to the WHO yesterday - the most in a single day so far.
"The world is in a new and dangerous phase," he said. People are tired of being stuck at home and countries want to open up their societies and economies, he explained. But we must continue to focus on the basics, from testing and tracing to maintaining physical distancing and cleaning of hands.