COVID-19: What you need to know about the coronavirus pandemic on 23 December
This daily news round-up brings you a selection of the latest news and updates on the COVID-19 coronavirus pandemic, as well as tips and tools to help you stay informed and protected.
Top stories: Studies suggest Omicron variant leads to milder illness; Australia brings back restrictions as new infections surge; US approves Pfizer COVID-19 pill for home use.
1. How COVID-19 is affecting the globe
Confirmed cases of COVID-19 have passed 277.1 million globally, according to Johns Hopkins University. The number of confirmed deaths has now passed 5.37 million. More than 8.85 billion vaccination doses have been administered globally, according to Our World in Data.
Australia reintroduced COVID-19 curbs such as mandated mask wearing indoors, capacity limits and QR code check-ins to cover most of the population on Thursday as daily infections hit a fresh record, fuelled by the highly infectious Omicron variant. The changes for 17 million people two days before Christmas mark a reversal of the country's plans for a permanent reopening.
India's capital New Delhi has banned Christmas parties and other celebrations ahead of New Year to contain a possible surge in the Omicron coronavirus variant, as the city reported the country's highest number of cases along with Maharashtra state. India has reported no deaths from the variant so far. Its health minister has said most known cases are asymptomatic.
Nigeria destroyed more than a million doses of expired AstraZeneca vaccines on Wednesday in a bid to assure a wary public that they have been taken out of circulation. The destruction came more than a week after health authorities said some COVID-19 doses donated by Western nations had a shelf life that left only weeks to administer the shots.
2. Two studies suggest lower risk of hospitalization with Omicron versus Delta
"Overall, we find evidence of a reduction in the risk of hospitalization for Omicron relative to Delta infections, averaging over all cases in the study period," the researchers said of the study, which analyzed data from PCR-test confirmed cases in England between December 1 and December 14.
Scientists are racing to answer questions about the virulence and severity of Omicron to help governments respond to the variant, which is spreading at breakneck speed.
The British research follows a South African study on Wednesday which found that people diagnosed with Omicron in South Africa between October 1 and November 30 were 80% less likely to be admitted to hospital than those diagnosed with another variant in the same period.
Imperial College researchers said the risk of any visit to hospital with Omicron was between 20% and 25% lower than with Delta.
What is the World Economic Forum doing to manage emerging risks from COVID-19?
The first global pandemic in more than 100 years, COVID-19 has spread throughout the world at an unprecedented speed. At the time of writing, 4.5 million cases have been confirmed and more than 300,000 people have died due to the virus.
As countries seek to recover, some of the more long-term economic, business, environmental, societal and technological challenges and opportunities are just beginning to become visible.
To help all stakeholders – communities, governments, businesses and individuals understand the emerging risks and follow-on effects generated by the impact of the coronavirus pandemic, the World Economic Forum, in collaboration with Marsh and McLennan and Zurich Insurance Group, has launched its COVID-19 Risks Outlook: A Preliminary Mapping and its Implications - a companion for decision-makers, building on the Forum's annual Global Risks Report.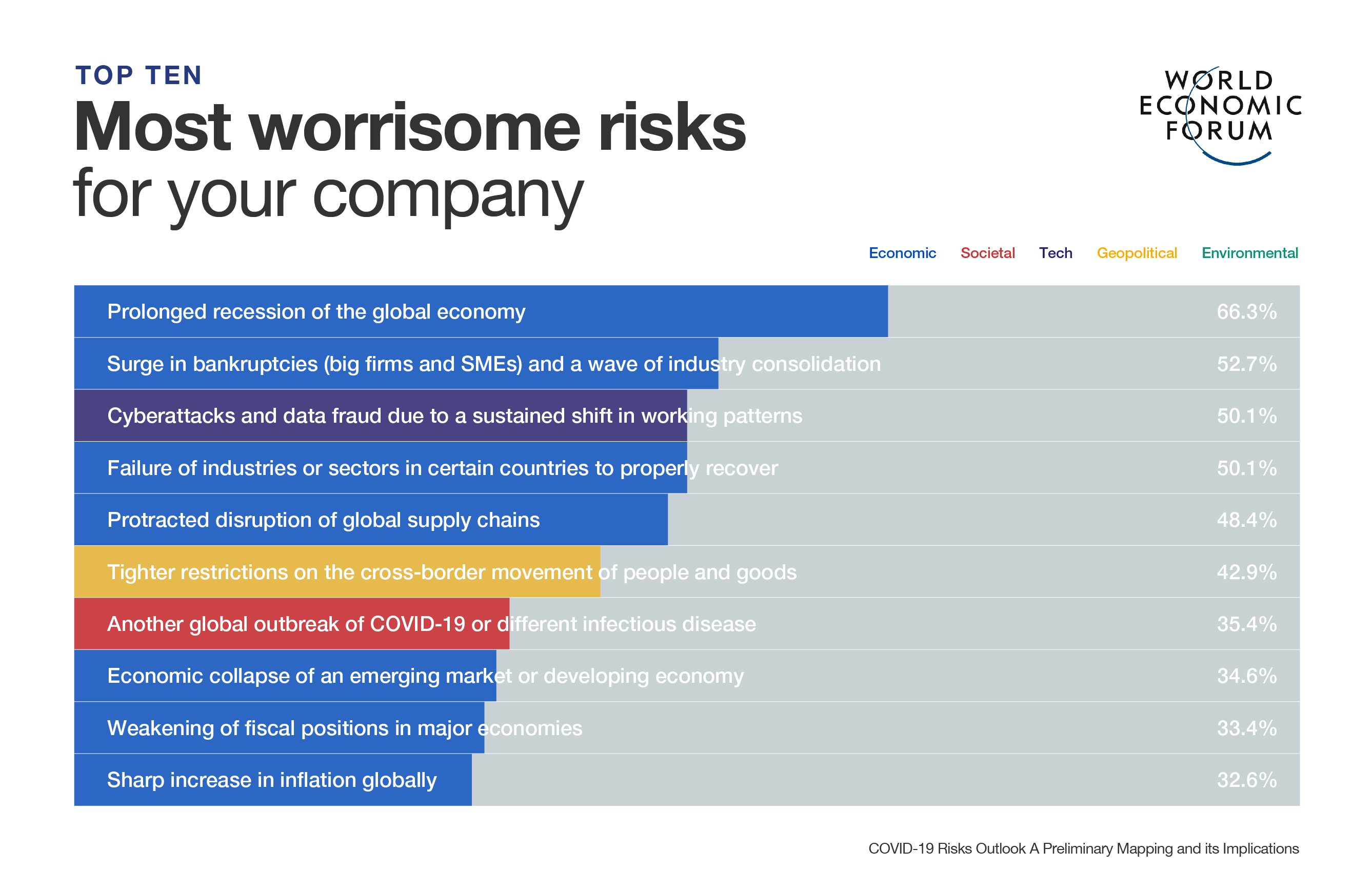 3. US authorizes Pfizer oral COVID-19 treatment, first for at-home use
Pfizer's antiviral regimen, Paxlovid, was nearly 90% effective in preventing hospitalizations and deaths in patients at high risk of severe illness, according to data from the company's clinical trial. Recent lab data suggests the drug retains its effectiveness against Omicron, Pfizer said.
Pfizer raised its 2022 production projections to 120 million courses of treatment from 80 million and said it was ready to start immediate delivery in the United States. The treatment's two-drug regimen includes a new medicine and a second older antiviral called ritonavir.
The US government will have 265,000 treatment courses available by January and supply will ramp up in subsequent months, White House COVID-19 response coordinator Jeff Zients told a briefing. The government expects to receive the 10 million courses it has ordered within six months.
"Paxlovid's approval is a major milestone that marks another step towards making COVID-19 a much more manageable infection," said Amesh Adalja, a senior scholar at the Johns Hopkins Institute for Health Security.