Do you agree with school closures? How public support for lockdown restrictions is changing
Support for cancelling or postponing operations is falling in most jurisdictions, according to YouGov.
Support for school closures peaked in March and has fallen dramatically since.
Cancelling large events is a popular policy, with support in all countries surveyed.
There's strong support for measures to bolster working from home.
Support for restrictions on inbound flights has dropped, particularly in European countries.
COVID-19 has pushed governments to take unprecedented measures, restricting where we can go, who we can see and whether our children can attend school. As some countries begin to lift restrictions and reopen their borders and economies, here's a look at five key measures and how far they're supported, based on YouGov data.
What is the World Economic Forum doing to manage emerging risks from COVID-19?
The first global pandemic in more than 100 years, COVID-19 has spread throughout the world at an unprecedented speed. At the time of writing, 4.5 million cases have been confirmed and more than 300,000 people have died due to the virus.
As countries seek to recover, some of the more long-term economic, business, environmental, societal and technological challenges and opportunities are just beginning to become visible.
To help all stakeholders – communities, governments, businesses and individuals understand the emerging risks and follow-on effects generated by the impact of the coronavirus pandemic, the World Economic Forum, in collaboration with Marsh and McLennan and Zurich Insurance Group, has launched its COVID-19 Risks Outlook: A Preliminary Mapping and its Implications - a companion for decision-makers, building on the Forum's annual Global Risks Report.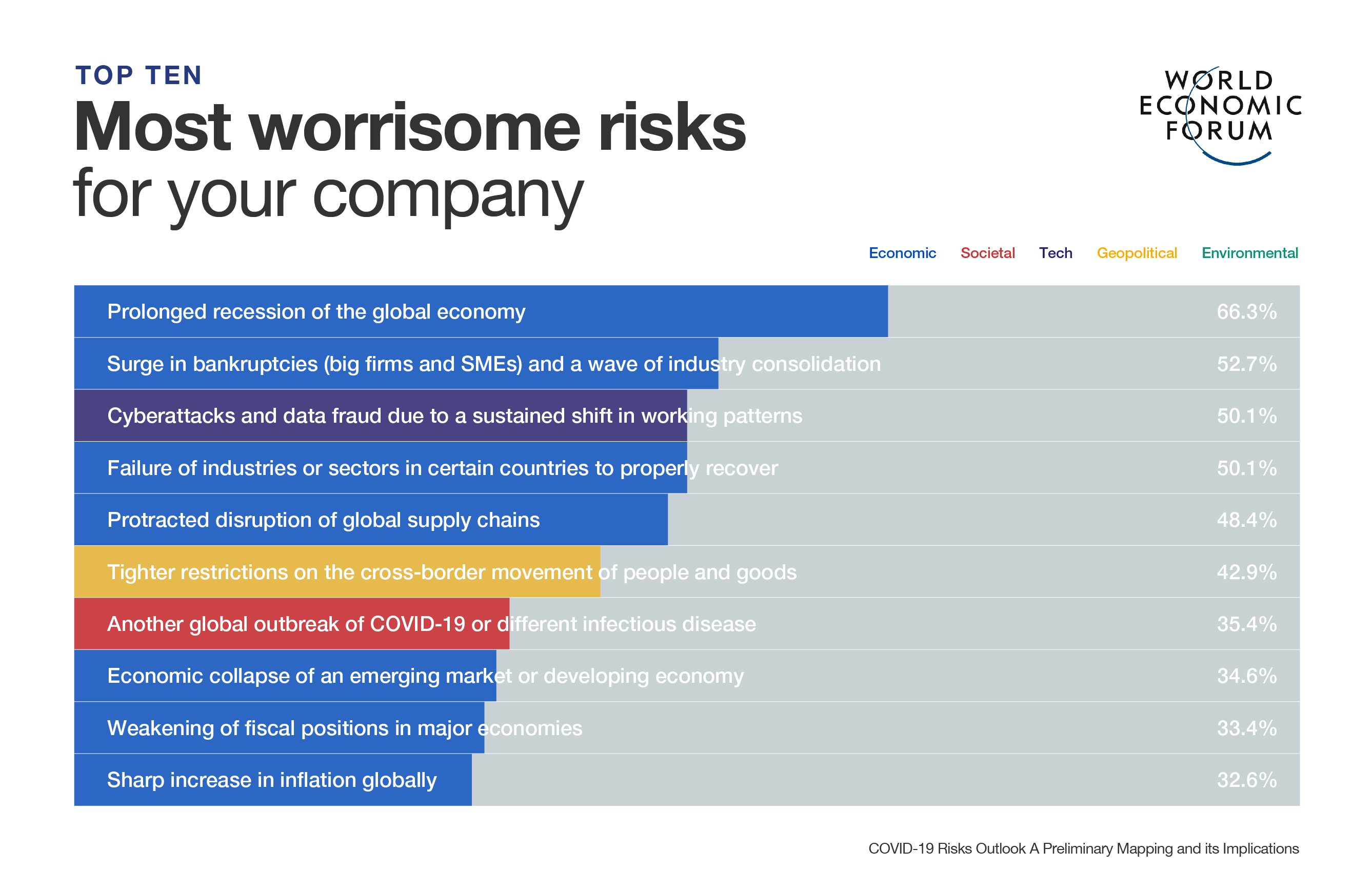 Support for temporarily closing schools remains highest in Malaysia, the Philippines and Viet Nam, data from YouGov shows. It's fallen steeply in the US and UK, France, Germany and Italy, after peaking in March at more than 80% of people surveyed, and now stands below 50% in all of those countries.
Coronavirus lockdown measures have partially or fully closed schools for more than 90% of the world's student population across 186 countries and territories, according to UNESCO.
In Germany and the UK, schools are partially open, while in Italy they remain shut until September.
Support for home working peaked in March in many jurisdictions and remains above 70% in Singapore and the UK, the survey shows. In all areas surveyed, support for this measure is above 50%.
3. Cancelling routine hospital procedures
The latest available data shows support for cancelling or postponing operations is low, ranging from just 5% in France to 40% in Viet Nam. And in many of the countries tracked support has fallen – for example, France's number has dropped from 55% in March.
One study showed COVID-19 could result in more than 28 million cancelled or postponed operations, creating a backlog that would take the best part of a year to clear. Most of those are procedures for benign diseases, the research shows, with 82% of benign surgeries cancelled or put off around the world, 38% of cancer surgeries, and 25% of elective caesarean sections.
4. Cancellation of large events
Bans on large events enjoy widespread support, with around 50% of people or more supporting such measures in every country surveyed.
Such measures have led to the cancellation of wedding parties and of larger scale concerts, including the UK's Glastonbury festival, which was due to celebrate its 50th anniversary year.
5. Restricting inbound flights
Support for restrictions on inbound flights has dropped, particularly in European countries. While the chart shows that support in Europe for these measures was initially high, it has waned as lockdowns went on, and now fewer than half of people surveyed said they want inbound flights to be stopped.
Travel and tourism are among the sectors worst hit by the pandemic. Now, some countries – including Italy and Germany – are starting to lift restrictions. Others – including Denmark and the Baltics – are opting for "travel bubbles," putting together a list of countries from which travellers can enter.