These transparent face masks let you see the person behind the PPE
Due to COVID-19, face masks are required or recommended in many public places by governments around the world.
But some are concerned they can take some of the empathy out of doctor-patient relationships.
One company has designed a transparent, breathable mask to try to solve the problem.
Face masks, it seems, will be part of our lives for the foreseeable future. They're compulsory on public transport in many places, and in some countries, like Italy and Spain, a majority of people report always wearing one when outside of their home. And, of course, they've been crucial for medical professionals.
Spurred on by these issues, one company had a clear idea for a solution: the Hello Mask.
Switzerland's Federal Institute of Technology Lausanne (EPFL) and Laboratories for Materials Science and Technology (Empa) started researching how to make surgical masks transparent after receiving feedback from medics treating Ebola outbreaks in 2015.
"One of them told me how frustrated and heartbroken she was about having to care for desperately ill patients without being able to show empathy because of the surgical mask – not even a simple smile," said Dr Klaus Schönenberger, Director of EPFL's EssentialTech Center in a YouTube video to announce the product.
Empa had already developed a transparent fabric, but the challenge was to make it breathable and capable of filtering out viruses and bacteria.
The mask is disposable, biodegradable and made from biomass material. The research centres have founded a start-up company – which has raised $1 million in seed funding – to help put their invention into production. It is expected to be available from next year – with the medical profession front of the queue.
Other companies have been working to create transparent face masks. Allysa Dittmar, the co-founder of one of those firms, US mask maker Clear Mask, is deaf, and she explained in a TV interview the fear and disorientation people can feel when confronted by clinicians wearing facemasks.
"I remember being wheeled into the operating room and all the doctors and nurses were wearing standard surgical masks. I could not understand anything that was going on. I had no ability to communicate whatsoever. I didn't even feel human," she said.
What is the World Economic Forum doing to manage emerging risks from COVID-19?
The first global pandemic in more than 100 years, COVID-19 has spread throughout the world at an unprecedented speed. At the time of writing, 4.5 million cases have been confirmed and more than 300,000 people have died due to the virus.
As countries seek to recover, some of the more long-term economic, business, environmental, societal and technological challenges and opportunities are just beginning to become visible.
To help all stakeholders – communities, governments, businesses and individuals understand the emerging risks and follow-on effects generated by the impact of the coronavirus pandemic, the World Economic Forum, in collaboration with Marsh and McLennan and Zurich Insurance Group, has launched its COVID-19 Risks Outlook: A Preliminary Mapping and its Implications - a companion for decision-makers, building on the Forum's annual Global Risks Report.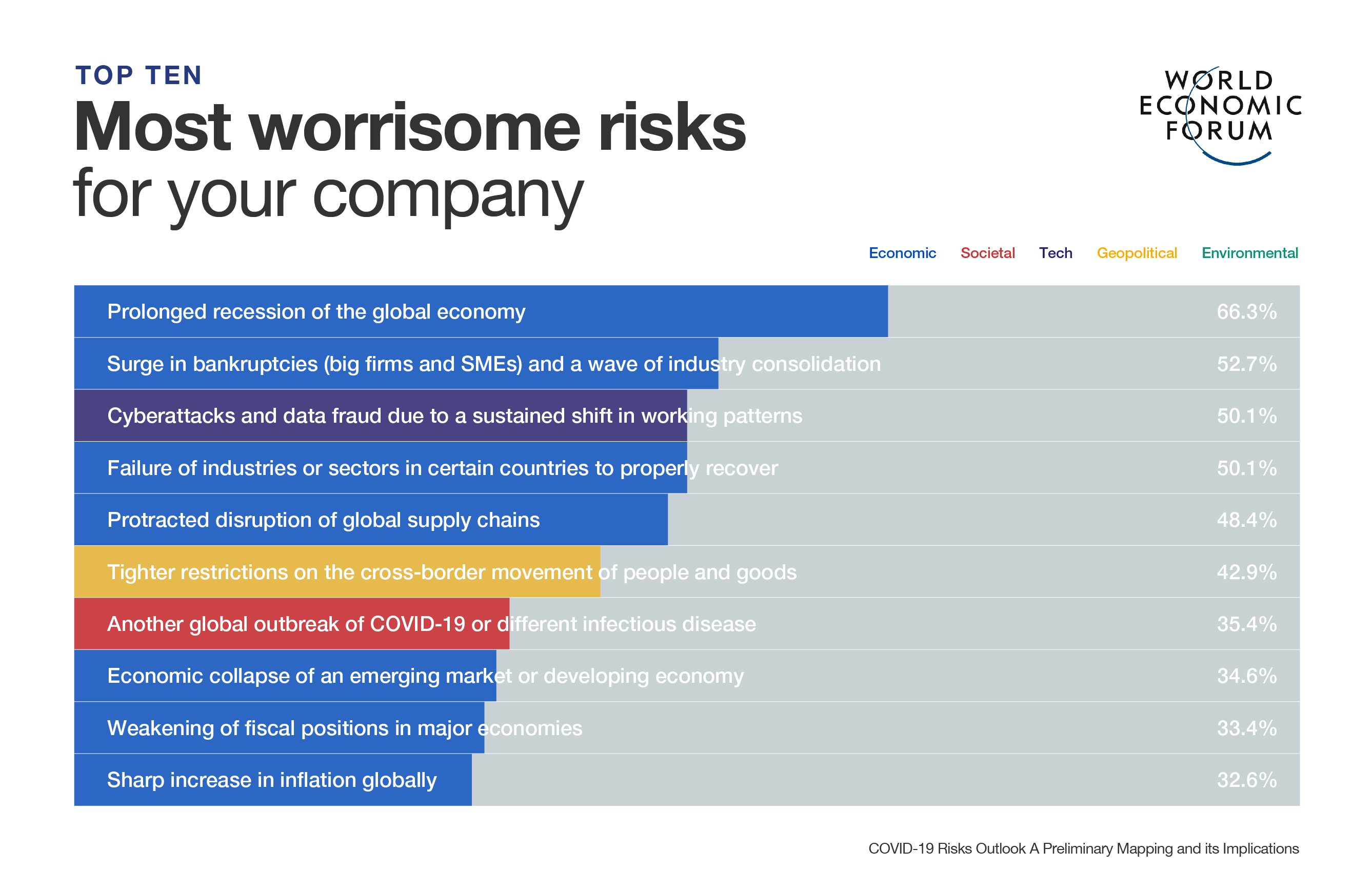 It adds masks should only ever be used as part of a comprehensive strategy for tackling the virus that includes tracking, isolating, testing and caring for cases and tracing contacts.