With the Tropical Forest Alliance meeting in Jakarta this week, we're delving into the problem of deforestation – how every sector, from big business to indigenous tribes, can tackle it.
In September 2015, as international leaders were preparing to meet in New York for the historic adoption of the UN's Sustainable Development Goals, which enshrined the goal to halt deforestation, haze from forest fires swathed much of Indonesia. The fires had been lit to clear forest, and were fuelled by exceptionally dry weather conditions. They represented an environmental disaster with lasting and significant health consequences.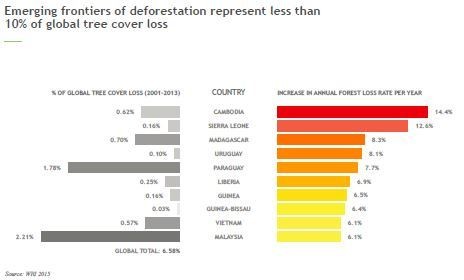 Estimates of the rate of tropical deforestation vary substantially between the two main sources of global data – the FAO Global Forest Resources Assessments and the Global Forest Watch – but both concur that we are still losing tropical forest cover at a rate exceeding 7 million hectares per year, contributing to around 12% of global greenhouse gas emissions.
The chart below shows observed tree cover loss by region for the years between 2001 and 2013, as well projected deforestation in each region (if business continues as usual) for the period of 2010 to 2030.
Sources: Global Forest Watch, FAO and WWF Living Forests Report 2015
Historically, much of the forest loss is attributed to the expansion of commercial agriculture. Four commodities stand out in particular: palm oil, beef products, soy, and paper and pulp. That's why in 2010 the board of the Consumer Goods Forum – an industry network of some 400 of the largest global retailers, manufacturers and service providers in the consumer industry – approved a resolution to eliminate deforestation from those four commodity supply chains by 2020.
Since 2010, the number of companies pledging to reduce deforestation has grown rapidly, and they have been joined by many other stakeholders in the unprecedented support created through the New York Declaration on Forests of 2014, and the recognition of the central role of forests in the 2015 Paris Agreement on climate change.
This chart shows the percentage of Forest 500 companies that have commodity-specific commitments to reducing deforestation.
So how can we make sure we follow through on these commitments and halt deforestation? Since the problem is caused by and affects multiple sectors and actors around the world, solutions can only be achieved through collaboration by governments, companies, local communities and civil-society organizations. They must create new partnerships with one another that champion a better model of rural development, one that seizes the opportunity to lift millions out of poverty and meet demand for agricultural and forest commodities, without destroying natural capital in the process.
The Tropical Forest Alliance 2020 (TFA 2020) was developed as a platform to support the creation of such partnerships and public-private collaborations. TFA 2020 is a global public-private partnership in which partners take voluntary actions, individually and collectively, to reduce the tropical deforestation associated with the sourcing of forest-risk commodities. Since its inception in 2012, TFA 2020 has grown significantly into a global public-private alliance with 68 partners, including eight governments, 27 private-sector companies and 33 non-governmental organizations and institutions.
On 10-11 March, the TFA 2020 holds its first General Assembly in Jakarta, Indonesia. More than 120 partners of TFA 2020 will participate in the meeting, representing government, business, civil society, international organizations and local communities. It's also where the first annual report of TFA 2020 will be launched, including a more detailed assessment of the strategic context for the platform.
Top of the agenda will be how to create truly sustainable supply chains – specifically, how to use investments to increase agricultural productivity, restore degraded land and reduce waste. If captured, these opportunities can lead to higher economic, environmental and social returns for families and businesses engaged in production. They can also secure resilient and higher incomes for millions of smallholders in tropical countries, upon whom global food production relies.