Now that the business case for diversity has been made, the corporate world is making solid progress towards greater LGBT equality in the workplace.
Today in the United States, 75% of companies have non-discrimination policies that explicitly reference gender identity, and 93% have policies that cover sexual orientation. The percentage of Fortune 500 companies offering domestic partner benefits has increased from 14% in 1999 to 64% in 2015. Of those Fortune 500 businesses, 40% offer transgender-inclusive healthcare coverage – up from zero in 2002.
A large amount of research over the past decades has found that diversity has a positive impact not only on productivity, collaboration, innovation and creativity, but also on reputation, recruitment and the retention of staff. Businesses now engage in sustained efforts to acknowledge today's increasingly diverse workforce and to implement policies aimed at creating safe and productive environments for all staff.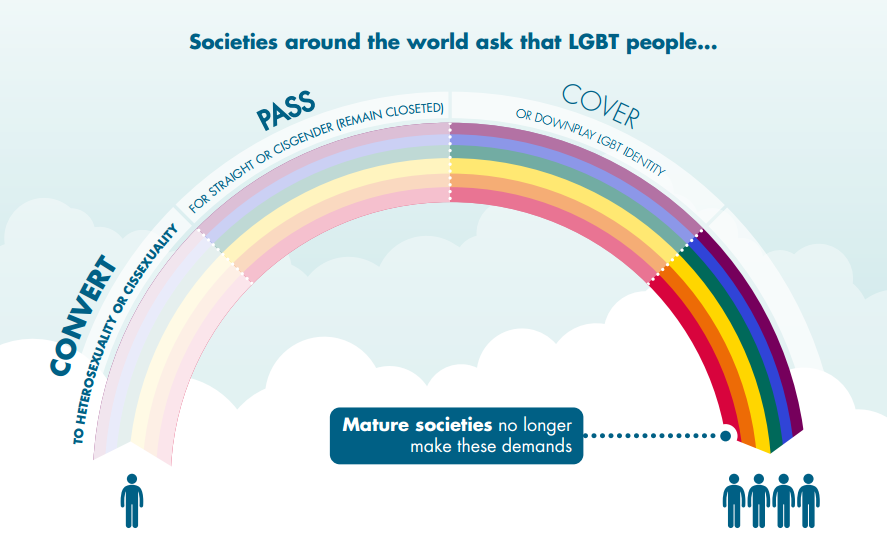 LGBT-supportive policies are linked to fewer cases of discrimination and more open corporate cultures. These, in turn, are linked to greater job commitment, better workplace relationships, improved mental health and increased productivity among LGBT employees. Promoting inclusivity isn't just a moral imperative for companies, it's a smart business decision.
1. 'Diversity by default' isn't enough
With staff who work in over 120 countries and speak more than 140 languages, the World Bank Group has always been diverse "by default". But despite efforts to build a diverse workforce and promote an inclusive workplace, the international financial institution is still steps away from being an equal playing field; its culture has lagged behind its policies in terms of fully accepting LGBT staff.
To fully harness the power of its diverse staff, our biggest challenge is not to push numbers up but to foster greater understanding of what an inclusive workplace is. It is not about "being diverse" but about leveraging that diversity beyond race, gender or ethnicity; creating work environments where different voices are encouraged and heard.
2. Put numbers on the table
In an institution largely made of economists, numbers are worth a thousand words. In 2011, GLOBE, the World Bank's LGBT employee resource group, embarked on its first Workplace Climate Survey, building on other examples, such as the Human Rights Campaign's Corporate Equality Index. At the time, there was no data available on the challenges faced by LGBT staff members working for the World Bank Group. The survey helped shed light on issues that had been overlooked and allowed the development of proposals that would help create an inclusive workplace for all. It also provided a platform from which GLOBE could contribute to the conversation on diversity.
3. Leaders can lend a hand
Between 2011 and 2016, institutional support for the LGBT agenda was extremely limited and so were efforts to respond to the organizational issues relating to LGBT staff. But the tone of the conversation improved tremendously over the past year, thanks in large part to the support of senior staff members. Two areas in particular benefited from leadership support:
In 2016, employee resource groups were formally recognized (GLOBE among them) and each awarded a budget of US$10,000 for the fiscal year.
Parental benefits were updated to include a new child planning benefit, as part of the effort to explore and implement solutions that further strengthen the World Bank's employment value proposition. The benefit provides financial assistance to staff who are planning to have a child, either naturally through legal adoption.
These critical steps forward in the conversation on LGBT inclusion – and in particular the recognition that family models are changing – shouldn't hide the fact that deep challenges remain. According to the survey, the number of closeted staff remains high (in particular women, younger employees and staff on more precarious contract); visibility of LGBT staff remains low, as the workplace environment is still perceived as unsafe (for women in particular, further confirming the existence of a "double-outsider status" based both on gender and sexual orientation); LGBT staff in country offices continue to feel isolated, especially in countries with anti-LGBT laws; representation of transgender staff is still too low to shed light on their unique situation; and experiences of discrimination continue to be common and derogatory comments and homophobic jokes are on the rise and remain unanswered, thus signaling a failure in accountability.
For GLOBE, the next big push will have to be at that level, to ensure that managers across the institution have the tools and training to respond to the many challenges faced by LGBT staff in our offices around the world, and that a zero-tolerance policy on discrimination and harassment is finally strictly implemented.