Facebook boasts the world's largest open floor plan at its headquarters in California. Image: REUTERS/Robert Galbraith
Stay up to date:
Workforce and Employment
Would you work better in a treehouse? Image: Microsoft
GoDaddy employees can get around on go-karts. But does it help them work faster? Image: godaddy.com
A 9-acre roof garden – the perfect antidote to too much time staring at a screen? Image: Mark Zuckerberg, Facebook CEO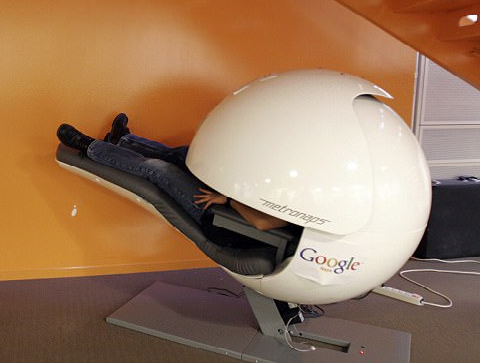 Workers in Google's London HQ can take naps in a sleep pod Image: Reuters
License and Republishing
World Economic Forum articles may be republished in accordance with the Creative Commons Attribution-NonCommercial-NoDerivatives 4.0 International Public License, and in accordance with our Terms of Use.
The views expressed in this article are those of the author alone and not the World Economic Forum.
Global Agenda
The Agenda
Weekly
A weekly update of the most important issues driving the global agenda
Subscribe
You can unsubscribe at any time using the link in our emails. For more details, review our privacy policy.
More on

Workforce and Employment

See all