The world has moved on since an office with beanbags and a ping-pong table was the height of workplace cool.
The meeting rooms combine fresh air and beautiful views with wi-fi and benches with power sockets.
Concern about staff wellbeing and productivity seems to have taken over from some of the more eye-catching, novelty features previously seen in innovative workplaces; Google's famous slides and the go-karts at GoDaddy, for example.
And Microsoft is not the only firm to foster a greater connection with nature when designing new offices.
Facebook boasts the world's largest open floor plan at its headquarters in California. It also has a 9-acre roof garden, complete with walking trails and outdoor spaces to sit and work.
"We wanted our space to create the same sense of community and connection among our teams that we try to enable with our services across the world," explained Facebook's CEO Mark Zuckerberg.
For the rationale behind its treehouses Microsoft has turned to the work of Harvard scientist Eva Selhub, who talks about how being outdoors can relieve stress, stimulate creativity and even help overcome mental fatigue.
Nature "stimulates reward neurons in your brain. It turns off the stress response, which means you have lower cortisol levels, lower heart rate and blood pressure, and improved immune response," Selhub explains in Microsoft's blog.
And forests have a particular impact on people. "Trees and plants secrete aromatic chemicals that impact our cognition, mental state, and even our immunity," she says.
Meanwhile, Google has a simpler idea for overcoming mental fatigue: sleep.
Its new London HQ contains a running track as well as sleeping pods where workers can take naps to recharge their batteries.
Better workplaces are all about staff retention, according to insurance company, Acuity, which has consistently found itself on Fortune's list of the 100 best companies to work for. It offers a ferris wheel and a climbing wall amongst its office pursuits.
"We understand if we don't treat our people well, they won't stay. And if they don't stay, we are losing the knowledge and on-the-job training that help us serve our customers in the best possible way," the firm wrote when explaining its ethos.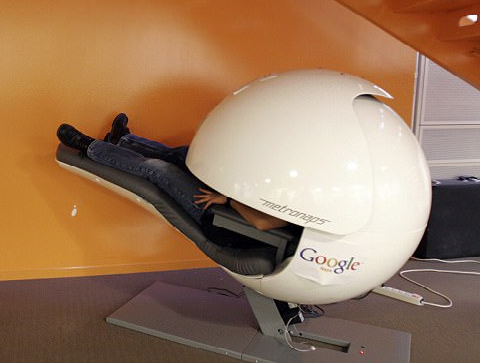 Of course, expensively designed offices with on-site perks aren't the only way to make staff happy and healthier.
While a short exercise break every hour is a way of invigorating staff at some firms, including the creative agency Overit, which claims it makes staff fitter as well as more successful, what people want at work – exercise, fresh air, or a short nap – is largely subjective.
Workers may well be happier and more productive with such features as part of their working life. But it also begs the question whether such features are blurring the boundaries between work and leisure.