What's the World Economic Forum doing about the transition to clean energy?
Moving to clean energy is key to combating climate change, yet in the past five years, the energy transition has stagnated.
Energy consumption and production contribute to two-thirds of global emissions, and 81% of the global energy system is still based on fossil fuels, the same percentage as 30 years ago. Plus, improvements in the energy intensity of the global economy (the amount of energy used per unit of economic activity) are slowing. In 2018 energy intensity improved by 1.2%, the slowest rate since 2010.
Effective policies, private-sector action and public-private cooperation are needed to create a more inclusive, sustainable, affordable and secure global energy system.
Benchmarking progress is essential to a successful transition. The World Economic Forum's Energy Transition Index, which ranks 115 economies on how well they balance energy security and access with environmental sustainability and affordability, shows that the biggest challenge facing energy transition is the lack of readiness among the world's largest emitters, including US, China, India and Russia. The 10 countries that score the highest in terms of readiness account for only 2.6% of global annual emissions.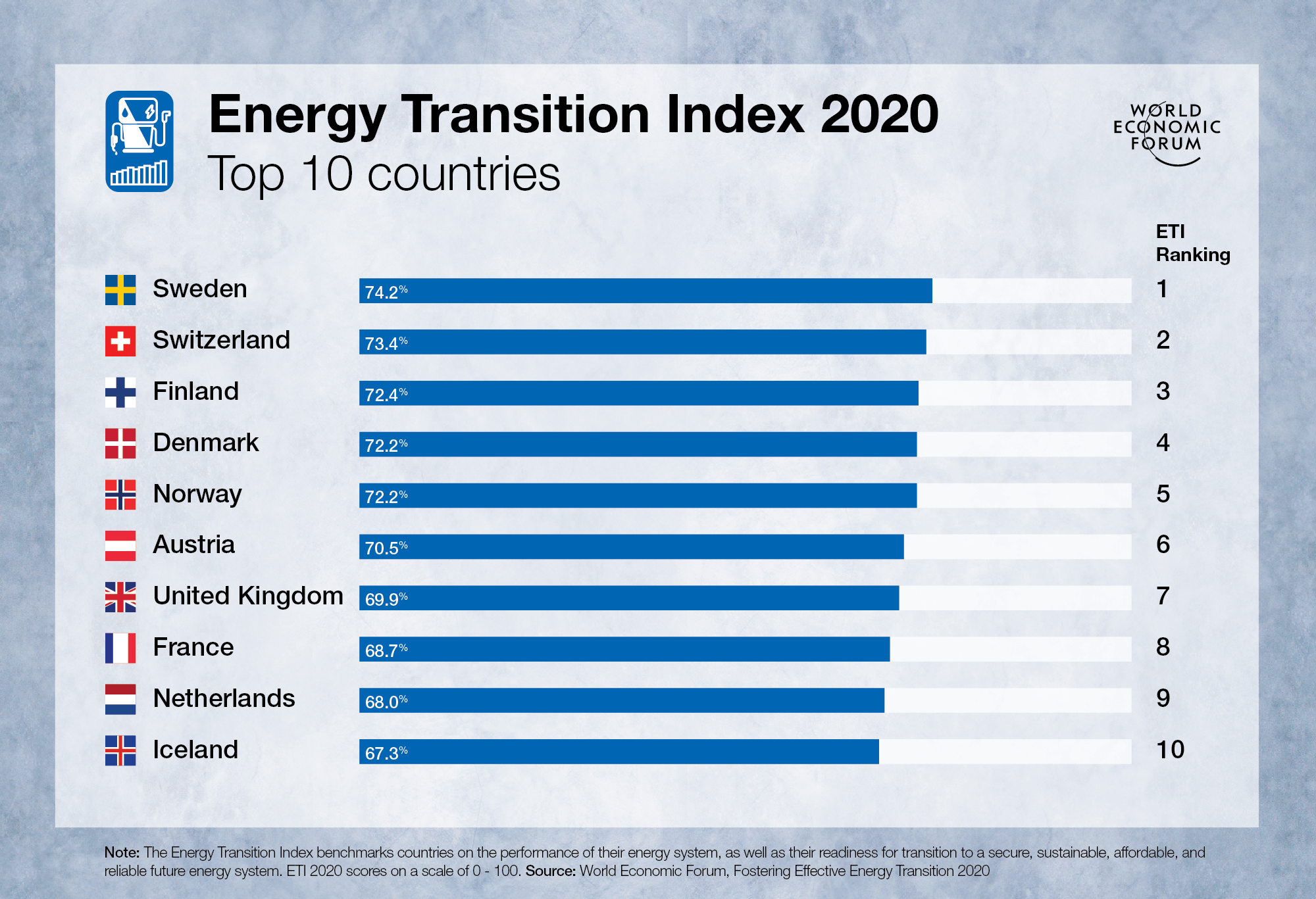 Additionally, the Mission Possible Platform (MPP) is working to assemble public and private partners to further the industry transition to set heavy industry and mobility sectors on the pathway towards net-zero emissions. MPP is an initiative created by the World Economic Forum and the Energy Transitions Commission.
Is your organisation interested in working with the World Economic Forum? Find out more here.
Multiple innovative funding solutions have been employed to help these often cash-strapped institutions update facility infrastructure and realize the benefits of modernized, energy-efficient equipment. For example, as part of a usage-based model, outside capital has been used to purchase and take ownership of new energy efficient equipment. With this outsourced solution, it allows the public entity to pay for its actual usage of this equipment – akin to their other utility bills. Such creative solutions allow these institutions to focus their capital capabilities on mission-critical priorities within the communities they serve.

A recent example of a project involving outside capital with significant environmental and social benefits is a school district in the western suburbs of Chicago, Illinois. With 1.4 million square feet of school facilities, the district is comprised of 23 schools with over 14,000 students from pre-kindergarten through high school. The school district recently began a large-scale energy upgrade on essential facility infrastructure, which upon completion, is estimated to reduce their energy dependency by 50-60%, thus reducing their carbon footprint by approximately 50%.