For the energy transition to be sustainable and effective, decision-makers need to take a system value approach.
This means looking beyond the bottom line to consider the broader social, economic and environmental value of our decisions.
The World Economic Forum's Electricity Industry Action Group has developed a new system value framework designed to do just that.

The need for energy continues to rise and the demand for electricity as a preferred source is growing at an even greater pace. COVID-19 has reiterated the importance of electricity as an essential life service – and the 'grid' has proven resilient in keeping the power flowing to critical infrastructure, such as hospitals, key industries, data centres and households. We now have a rare opportunity to ensure a sustainable energy future by accelerating the clean energy transition and fast-tracking our decarbonization efforts.
This can be facilitated through focused grid investments and by leveraging recovery and stimulus plans. Enhancing flexibility, reliability and efficiency to integrate more renewables into the energy mix, building interconnections and ensuring power quality are some of the key areas that will drive the transformation of the grid. Innovative technologies and digitalization will be key enablers in support of this effort.
Forum's new system value framework
The COVID-19 pandemic has brought with it an added dimension of complexity. Even as societies address the crisis, the world is rapidly evolving towards a 'new norm', and the energy transition is central to this journey. For this shift to be effective, efficient and sustainable, governments, companies, financial institutions and other relevant stakeholders need to adopt a 'system value' approach that incorporates a more holistic set of parameters to guide policy, regulatory measures and business decisions.
The traditional focus on the levelized cost of energy (LCOE) can no longer be the sole driving criteria. We must look beyond cost and consider the broader social, economic and environmental value of our investments and appropriate technology choices.
That is why Hitachi ABB Power Grids, together with the World Economic Forum's Electricity Industry community of CEOs and supported by Accenture, have created a new system value framework.

This framework comprises multiple dimensions, each of which represents an outcome that delivers value, such as economic impact, jobs or climate change mitigation. For example, security of power supply and resiliency – both physical and cyber – must be taken into account across the value chain. Another example is the flexibility required (through digitalization and technology deployment) to manage new supply and demand complexities across the power value chain in real-time, from generation through to transmission, distribution and consumption.
System value dimensions and prioritization can vary with geography, based on factors like local needs and energy transition maturity. The flexible system value framework provides a common baseline guidance to support policy-makers, regulators, investors, utilities, technology providers, consumers and others, fostering cross-sector applications and public-private dialogue.
We must adapt and adopt policies and regulations that enable the deployment of technology and facilitate new business models to support secure, sustainable and scalable energy infrastructure such as power grids. Above all, we need to act with a greater sense of purpose, collaborating across stakeholder groups and geographies and deploying new business models, in order to foster scale and speed.
Let us all work together on powering the world without consuming the earth.
What's the World Economic Forum doing about the transition to clean energy?
Moving to clean energy is key to combating climate change, yet in the past five years, the energy transition has stagnated.
Energy consumption and production contribute to two-thirds of global emissions, and 81% of the global energy system is still based on fossil fuels, the same percentage as 30 years ago. Plus, improvements in the energy intensity of the global economy (the amount of energy used per unit of economic activity) are slowing. In 2018 energy intensity improved by 1.2%, the slowest rate since 2010.
Effective policies, private-sector action and public-private cooperation are needed to create a more inclusive, sustainable, affordable and secure global energy system.
Benchmarking progress is essential to a successful transition. The World Economic Forum's Energy Transition Index, which ranks 115 economies on how well they balance energy security and access with environmental sustainability and affordability, shows that the biggest challenge facing energy transition is the lack of readiness among the world's largest emitters, including US, China, India and Russia. The 10 countries that score the highest in terms of readiness account for only 2.6% of global annual emissions.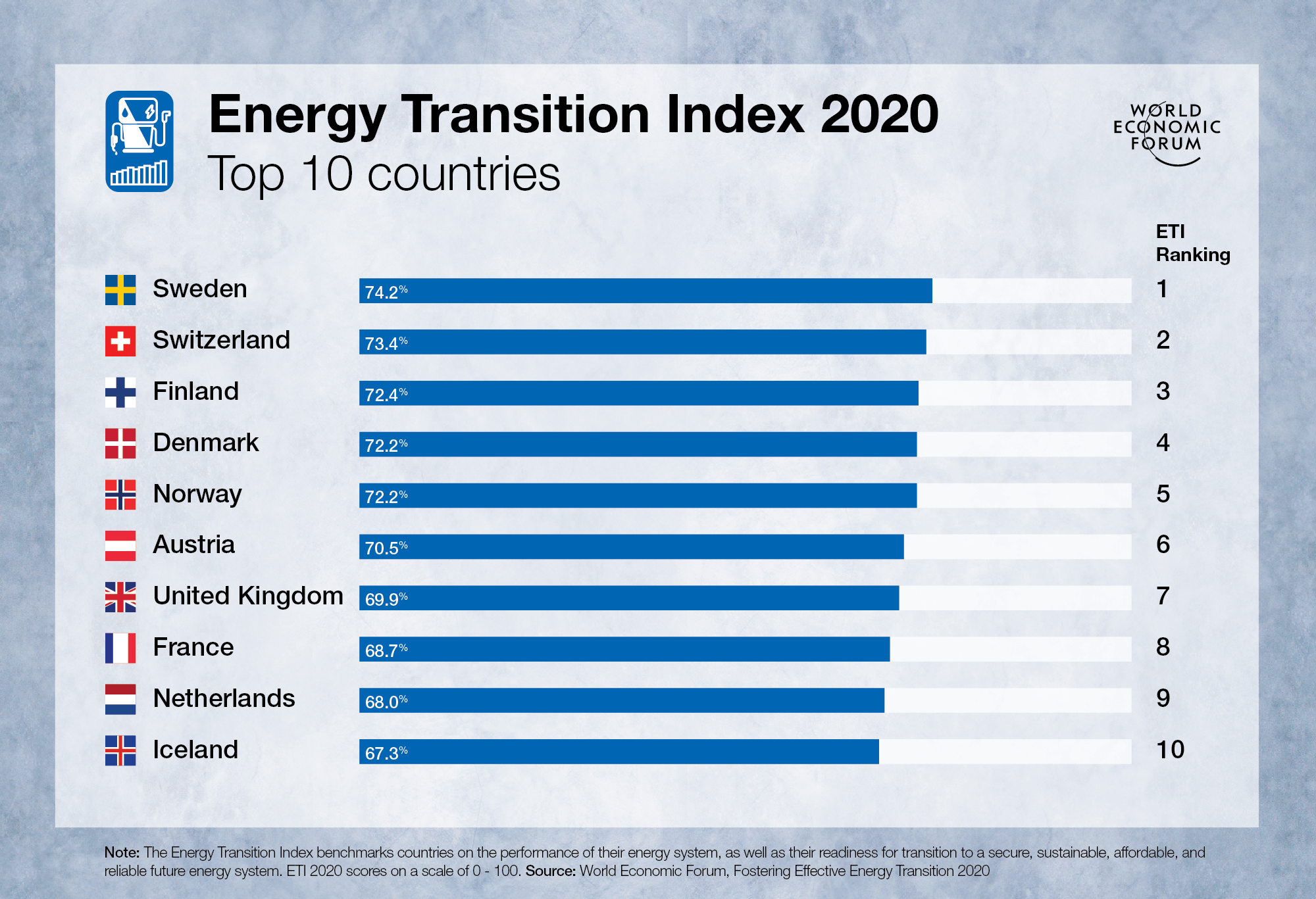 Additionally, the Mission Possible Platform (MPP) is working to assemble public and private partners to further the industry transition to set heavy industry and mobility sectors on the pathway towards net-zero emissions. MPP is an initiative created by the World Economic Forum and the Energy Transitions Commission.
Is your organisation interested in working with the World Economic Forum? Find out more here.