Health and safety could drive travel bookings after the pandemic.
The quality of health response during the pandemic could impact a destination's competitiveness.
Health and hygiene have always played a crucial part in global travel and tourism competitiveness. Now COVID-19 is turning them into even more important factors, and could be reshaping the map of the most popular travel destinations in the process.
According to a new report by Pacific Asia Travel Association (PATA), in collaboration with the Global Health Security Index, TCI Research, Tripadvisor and the World Economic Forum, future travellers are likely to gravitate towards destinations that are seen to be clean, healthy, and safe, and to have managed the pandemic relatively well. These emerging travel patterns don't just show us what a near-term or mid-term reopening of tourism could be like. They could also have long-lasting consequences for the entire travel and tourism sector as they alter the competitiveness of individual destinations.
What is the World Economic Forum doing to manage emerging risks from COVID-19?
The first global pandemic in more than 100 years, COVID-19 has spread throughout the world at an unprecedented speed. At the time of writing, 4.5 million cases have been confirmed and more than 300,000 people have died due to the virus.
As countries seek to recover, some of the more long-term economic, business, environmental, societal and technological challenges and opportunities are just beginning to become visible.
To help all stakeholders – communities, governments, businesses and individuals understand the emerging risks and follow-on effects generated by the impact of the coronavirus pandemic, the World Economic Forum, in collaboration with Marsh and McLennan and Zurich Insurance Group, has launched its COVID-19 Risks Outlook: A Preliminary Mapping and its Implications - a companion for decision-makers, building on the Forum's annual Global Risks Report.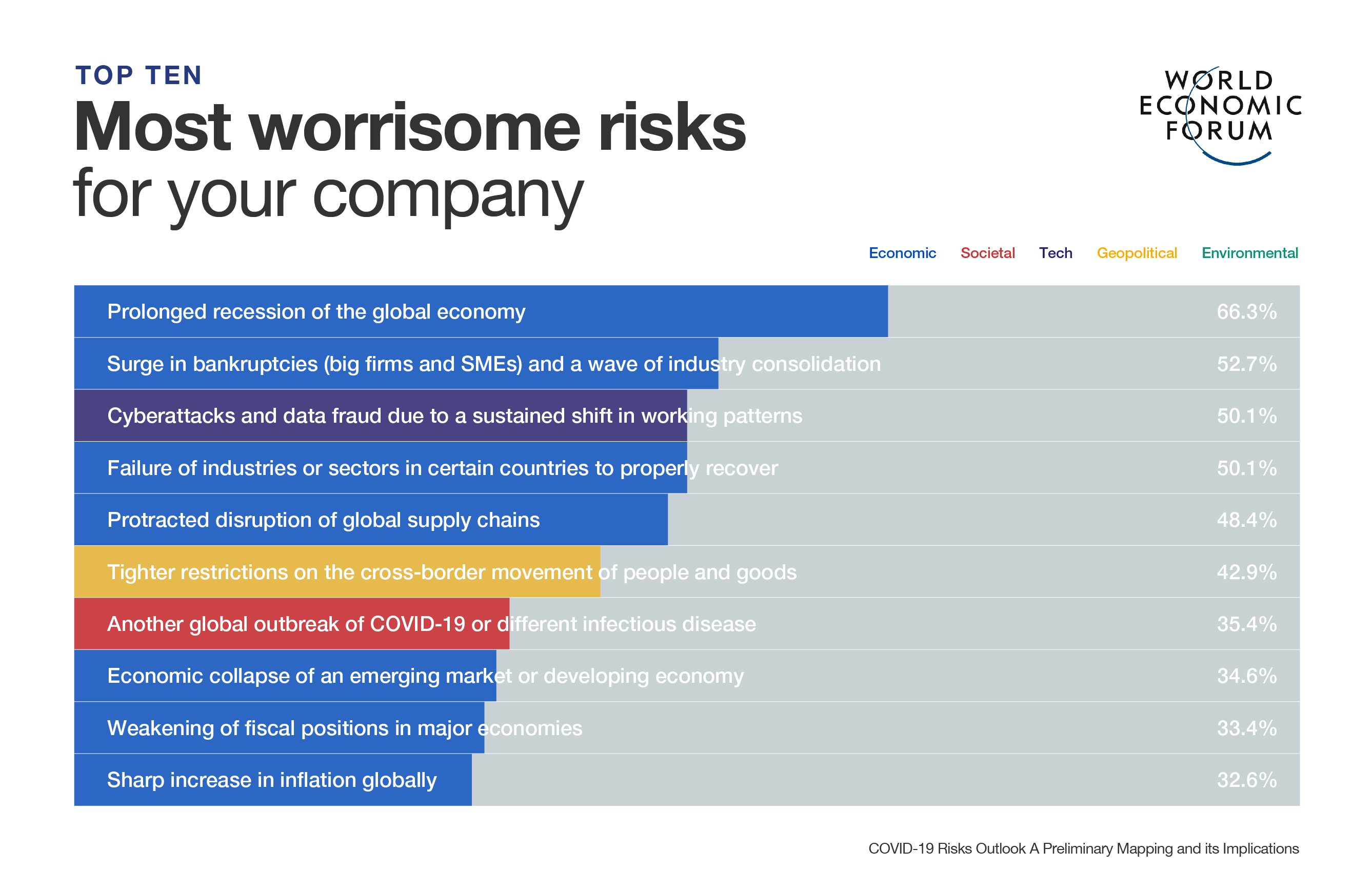 This report analysed emerging trends in the preferences, attitudes and choices of travellers with regard to health and hygiene. The results suggest that health and hygiene strongly drive booking behaviour and will in turn alter the competitive travel and tourism landscape.
Building on the report findings to extend this preference for health and hygiene, this analysis takes into account actual COVID-19 responses. Specifically, if post-pandemic consumers evaluate a destination's crisis response before deciding to travel there, how does it alter those destinations' competitive stances in relation to each other.
Asia Pacific (APAC) makes a good case study in this regard. It is highly competitive in global terms with regard to travel and tourism, but its health and hygiene landscape is very diverse.
In general, there is a positive correlation between health and hygiene, and overall competitiveness, as shown by the following chart. Destinations that score high on health and hygiene also tend to score high on travel and tourism competitiveness
How COVID-19 response may reshuffle competitiveness
By global comparison, most of the Asia Pacific destinations mentioned mounted strong COVID-19 responses. Generally, the region handled many aspects of the crisis in an exemplary way.
Within this broadly successful group, some destinations have performed even more strongly in terms of pandemic control than others. Given that tourists now pay attention to such pandemic-related competence, this could enhance their competitiveness as a destination of choice when travel reopens.
Japan and Australia
For example, Japan and Australia ranked highly for destination competitiveness before the pandemic. They both mounted strong responses to COVID-19, but others reported even fewer cases. In theory this could nudge tourists towards those other Asia Pacific destinations, such as Vietnam and Thailand, that have had very few cases by global comparison.
On the other hand, when compared to other countries in the world, Japan and Australia have been successful in controlling the pandemic, and also have a long history as top destinations given their cultural and natural assets. By marketing themselves as health-aware given their strong underlying health and hygiene infrastructure, as well as destinations offering unique cultural and nature-related experiences, they will likely retain their competitive edge.
Thailand and Vietnam
Meanwhile, destinations like Thailand and Vietnam, who have both mounted leading regional and global COVID-19 responses, may gain in competitiveness after the crisis due to the perception of safety for travellers going there.
For example, in the TTCI, Thailand ranked fourth to last in this grouping with regard to tourism competitiveness at 31. However, according to the Global Health Security (GHS) Index, an assessment and benchmarking of health security in 195 national-level destinations, Thailand is the top Asia Pacific destination and ranks sixth globally. Thailand is the only middle-income destination to score in the highest tier of the GHS Index, where it earned top scores for its laboratory and specimen transport systems, risk communication plans, and integrated disease surveillance systems. Thailand also ranks second for healthcare access and is one of only five destinations to publicly commit to giving priority access to healthcare workers who develop illness while responding to public health emergencies.
With regard to COVID-19, Thailand's response has been extremely strong, with low case counts and strong lockdown measures.
Vietnam is a great example of how competitiveness may greatly change into the future. Although Vietnam's global TTCI ranking was on a growth trajectory, improving from 75 in 2015 to 63 in 2019, it still ranked lowest out of this "Top APAC Destinations" grouping at 63. Furthermore, in comparison to other regional destinations, it's GHS pandemic preparedness ranking was in the bottom three, with a global rank of 50. Nevertheless, Vietnam's strong response to COVID-19 is one of the best in the world. The destination's strict and swift policy and health responses have been celebrated and studied around the world, as have its early and ongoing leading communications efforts (which included a viral PSA music video and dance challenge featuring Vietnamese pop stars that has been viewed over 60 million times since March on YouTube).
Therefore, Thailand and Vietnam should both continue investing in their health infrastructure, while destination managers should also undertake proactive communications and marketing efforts to integrate their COVID-19 response as a point of pride and traveller safety into future destination marketing campaigns. Doing so may help both destinations gain a substantial competitive advantage over other regional players once tourism fully reopens in due time.
That said, aside from just assessing a destination's response to COVID-19 in health terms, it is also important to recognise the dynamic nature and relationship of the various components of T&T competitiveness and how COVID-19 will impact them. For example, in light of these new health and hygiene preferences, visitors and residents may have a greater preference for less densely populated nature destinations, a great benefit for some nature rich destinations in Asia Pacific. This could adversely affect urban destinations like Singapore, despite its health and hygiene scores and pandemic response being very strong. To offset this potential prejudice toward urban tourism, destinations like Singapore will need to find a way to showcase their strong response to COVID-19 as well as preparatory measures in case of future infectious disease outbreaks to put future travellers at ease.
Integrating T&T into national and local health policy agendas
The above analysis was done solely to highlight that, based on current observable trends, the traveller of the future will take into account a destination's underlying health and hygiene conditions, including COVID-19 crisis response, before making any booking decisions.
Furthermore, the purpose is not to critique individual governments or health systems, rather show how indices like the TTCI exist specifically to showcase the complex and interrelated nature of the tourism sector, while simultaneously promoting meaningful multi-sectoral engagement to complement existing processes for national health security and T&T needs assessment, prioritisation, planning, and financing.
These findings could help catalyse political will to fill gaps in health security and hygiene capacity, and also better integrate tourism into the national health agenda, and health into tourism promotions. To do so, travel policy, infrastructure, digitalisation and now health and hygiene systems will all have to be aligned.