Universities could increase fundraising if they start expanding their social purpose off-campus.
It is essential that universities become nimbler, more global in their approach, and less isolated in their social agenda and fundraising action.
The pandemic will reshape how higher education systems decide on what needs more external funding and financial support.
There is a tendency to make a clear distinction between philanthropy and solidarity. Philanthropy is seen to be private in nature, to belong to the realm of the individual and an economic, liberal school of thought. It often offers a tax exemption and is thought to focus on independent causes and a long-term return – sometimes across generations, when it comes to family foundations.
In turn, solidarity tends to be perceived as more social, collective and broader in nature; more dependent and aligned with the Welfare State; progressive in policy terms and seeking short-term returns.
The United States is considered to have philanthropic roots whereas a great part of Europe and Latin America are understood to have principles of solidarity.
However, during this pandemic, we have seen spontaneous, unstructured, collaborative, voluntary initiatives come forth across the globe, led by individuals, associations, public administration and companies from different sectors, which seem to have blurred the line between philanthropy and solidarity (as also happens during humanitarian emergencies and natural disasters). Many of the actions share the same generous and selfless drive to alleviate the effects of the virus on those closest to it and on those hardest hit.
After the onset of COVID-19, fundraising and development experts from several US universities became concerned about meeting fundraising goals. They were worried that working virtually would make it difficult to make the most of their donor base and campaign teams, since much of their time has traditionally relied on their ability to generate and maintain trust by fostering in-person relations.
It is clear that COVID-19 will mark a new chapter in the history of higher education, by refining the teaching, learning, student life, mentoring and delivery formats. Significantly, it will also reshape how universities decide on what needs more external and generous funding and resources, which in turn will impact on their own social commitment, institutional engagement and fundraising strategy.
In Mexico, authorities called upon citizens and developed a series of joint efforts with which to face the COVID-19 crisis. These actions were undertaken by the public administration, working together with higher education institutions (such as the Tecnológico de Monterrey and the Universidad Nacional Autónoma de México) and industry.
They achieved several solutions, from obtaining accurate information and tracking patients, to pro-bono manufacturing, buying, and distributing of ventilators to hospitals, as well as raising awareness about the importance of wearing masks. Some of these initiatives, under the name Juntos por la Salud, have become genuine fundraising platforms thanks to their crowdfunding approach.
In all these cases, philanthropy and solidarity are part of the same shared drive to help the common good.
Expanding fundraising reach and endorsing new approaches
Universities would do well to realize that they could expand their fundraising reach beyond their communities and regions by expanding their social mission off-campus and overseas.
At a multilateral level, over the past few years, global entities such as the World Bank have invested in modernizing and improving higher education systems in different parts of the world in the belief that better universities lead to more open, diverse, and advanced societies. In the meantime, international cooperation for the educational improvement of certain countries in Latin America and the Caribbean has concentrated on secondary schools, not universities. At a local level in the US, the University of Pennsylvania has gone as far as to act by itself as a private donor to public secondary schools in Philadelphia.
We might find ourselves, in a not too-distant future, in a situation in which universities with a conventional fundraising style would find themselves unable to increase gifts to erect or renew tangible assets, such as buildings, offices and labs. Instead, new funds and donations will increasingly endorse those systemic challenges of the millennium: poverty, inequality, accessibility and social justice, among others.
What is the World Economic Forum doing to manage emerging risks from COVID-19?
The first global pandemic in more than 100 years, COVID-19 has spread throughout the world at an unprecedented speed. At the time of writing, 4.5 million cases have been confirmed and more than 300,000 people have died due to the virus.
As countries seek to recover, some of the more long-term economic, business, environmental, societal and technological challenges and opportunities are just beginning to become visible.
To help all stakeholders – communities, governments, businesses and individuals understand the emerging risks and follow-on effects generated by the impact of the coronavirus pandemic, the World Economic Forum, in collaboration with Marsh and McLennan and Zurich Insurance Group, has launched its COVID-19 Risks Outlook: A Preliminary Mapping and its Implications - a companion for decision-makers, building on the Forum's annual Global Risks Report.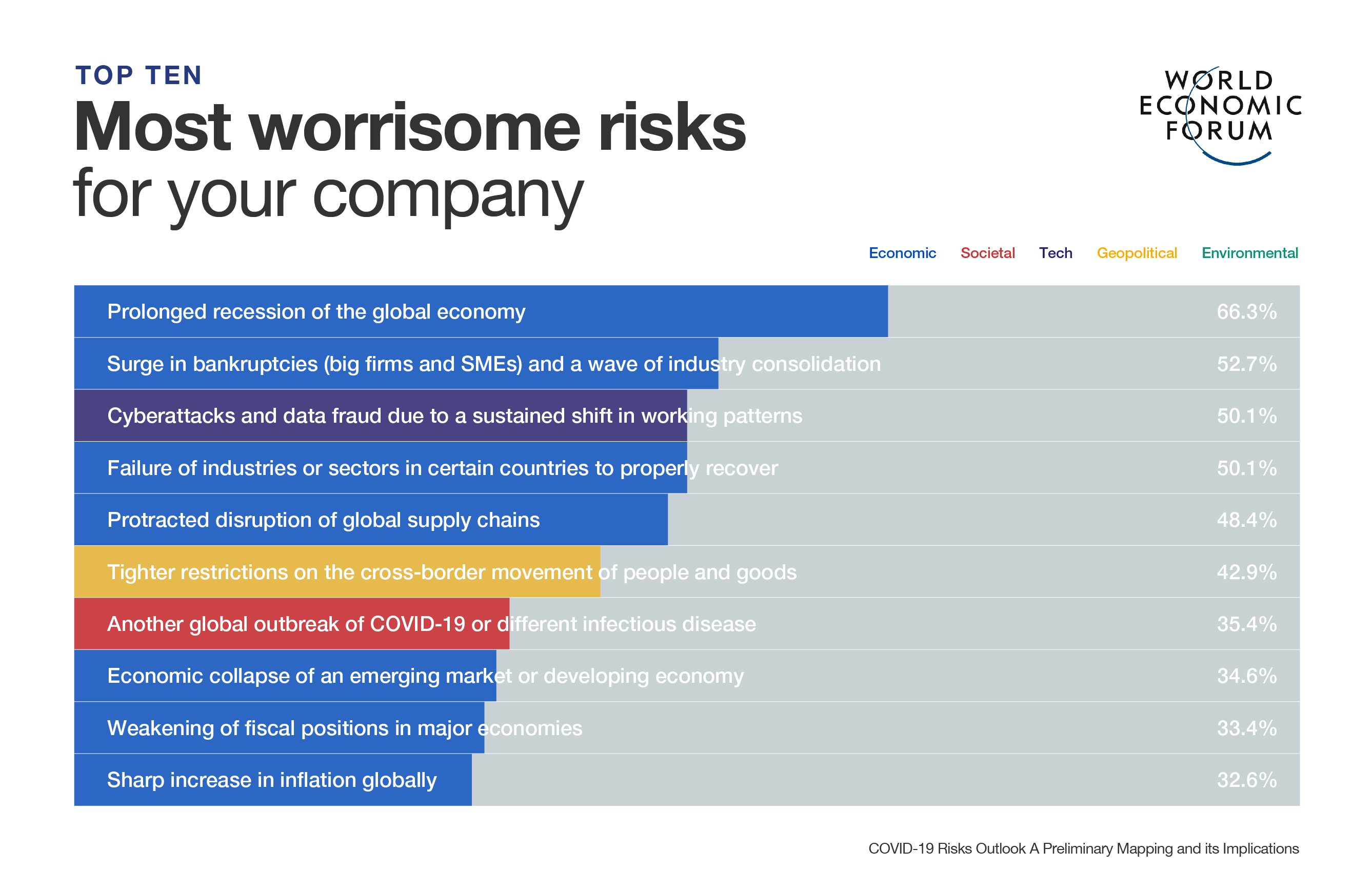 It is likely that higher education will have to stand and listen carefully at the crossroads where philanthropy and solidarity meet, where private and public partners, academic and regular citizens converge.
It is essential that universities assimilate those basic COVID-19 lessons and trends, becoming nimbler, more imaginative, less isolated, and that they increase their social engagement with the outside world.
Universities will probably have to transform more clearly into problem-solvers for third and vulnerable parties even outside their communities. Once there, they will start reaching out more clearly to society in general.
Hopefully, we may yet witness a positive "new normal" impact in higher education, in which universities become the courageous facilitators through which other agents, sectors and institutions advance their social purposes and causes. As Marie Curie (1867-1934) said: "Now is the time to understand more, so that we may fear less."