Coal is the single largest source of energy-related CO2 emissions.
Demand is falling in the US and EU, but continues to grow in some Asian countries.
Existing energy infrastructure must be decarbonized or retired to help meet climate targets.
A perfect storm of renewables growth, cheap natural gas prices and growing awareness of the urgent need to cut emissions, not to mention stilted energy demand caused by the COVID-19 pandemic, could signal the end of rising coal demand in the US and Europe.
But this emissions-heavy fossil fuel's day isn't over yet.
Demand from some of the burgeoning economies of Asia could fill the void left by those nations switching away from coal, and Asia could be where the future of coal is decided.
Globally, demand for coal looks set to fall by 5% in 2020 – the largest decline since World War II, according to the International Energy Agency's (IEA) Coal 2020 report, which looks at historical trends in the coal industry and projects how these will play out over the coming five years. A forecasted rebound in 2021 could be short-lived, with no further increases in demand expected between 2021 to 2025, provided the economic recovery from the pandemic continues and policy initiatives remain unchanged.
Although the global picture shows static demand over the next few years, there are regional imbalances, with economies like China and India offsetting declines in the United States, the European Union and other regions.
Energy infrastructure needs to change
Coal is the single largest source of global energy-related CO2 emissions. Which means that curbing emissions from new energy projects alone would not be sufficient to meet climate targets.

If existing energy infrastructure – power plants, industrial plants, buildings, vehicles and more – continue to operate as they have in the past, with similar lifespans, this alone will push global temperatures to 1.65C above pre-industrial levels, according to the IEA's World Energy Outlook 2020.

These legacy assets must also be decarbonized, especially heavy polluters like coal-fired plants. The IEA's Sustainable Development Scenario outlines the need to either retrofit, repurpose or retire existing coal-fired power plants to halve coal-fired emissions by 2030.
What's the World Economic Forum doing about the transition to clean energy?
Moving to clean energy is key to combating climate change, yet in the past five years, the energy transition has stagnated.
Energy consumption and production contribute to two-thirds of global emissions, and 81% of the global energy system is still based on fossil fuels, the same percentage as 30 years ago. Plus, improvements in the energy intensity of the global economy (the amount of energy used per unit of economic activity) are slowing. In 2018 energy intensity improved by 1.2%, the slowest rate since 2010.
Effective policies, private-sector action and public-private cooperation are needed to create a more inclusive, sustainable, affordable and secure global energy system.
Benchmarking progress is essential to a successful transition. The World Economic Forum's Energy Transition Index, which ranks 115 economies on how well they balance energy security and access with environmental sustainability and affordability, shows that the biggest challenge facing energy transition is the lack of readiness among the world's largest emitters, including US, China, India and Russia. The 10 countries that score the highest in terms of readiness account for only 2.6% of global annual emissions.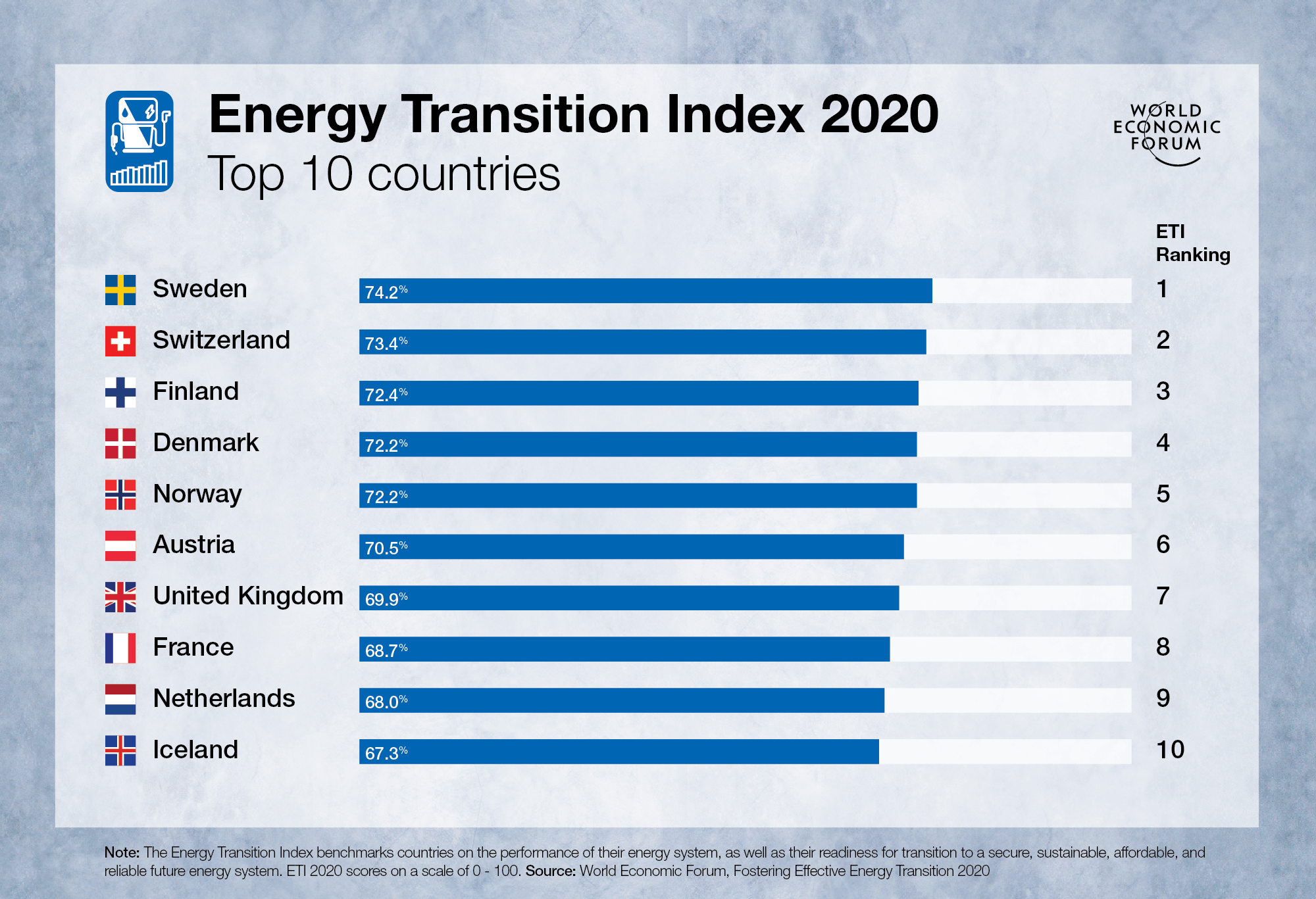 Additionally, the Mission Possible Platform (MPP) is working to assemble public and private partners to further the industry transition to set heavy industry and mobility sectors on the pathway towards net-zero emissions. MPP is an initiative created by the World Economic Forum and the Energy Transitions Commission.
Is your organisation interested in working with the World Economic Forum? Find out more here.