Mining and metals are an essential global industry that will provide key materials needed for the energy transition to a lower-carbon economy.

Consumer and investor expectations continue to drive improvements in environmental, social and governance standards.

The World Economic Forum's Mining and Metals Industry Action Group and Accenture have identified three areas where the industry could collaborate more effectively.
Faced with the extraordinary events of the COVID-19 pandemic, mining and metals companies have risen to the challenge. In many areas, the industry has been designated an essential business—reflecting its key role in global and local economies—and companies have found innovative ways to continue operations while keeping their staff safe.
As the pandemic continues, it will undoubtedly have long-term ramifications, and the industry must continue to adjust to this evolving reality. With that in mind, the World Economic Forum Mining and Metals group teamed up with Accenture to create the COVID-19 Industry Action Group (IAG).
With about 30 mining and metals companies, the working group sought to answer the daunting question: how might mining and metals companies collaborate with one another and their surrounding ecosystems to build resilience for future disruptions?
COVID-19's impact on the industry has been rapid and widespread. By peak lockdown in April, market capitalization of the top 30 mining and metals companies had fallen 28% since January, and 275 mining operations and more than 56 steel plants had been disrupted (see figure below).
Three months later, market capitalization is still down 27% from January, and more than 40 mines are still shut down across the world. Projections indicate a 12% decline in 2020 production across key customer industries, including: high-tech; motor vehicles; industrial production; construction; and declines of 6% and 4% in commodity and steel production, respectively.
The situation has stabilized somewhat since the peak of the crisis, but that stability is fragile. COVID-19 case numbers have declined in some areas and surged in others. The long-term economic impact of the crisis is still unclear and there are still many unknowns about the virus.
However, one thing seems certain – the pandemic is driving and accelerating further disruption. In addition, the urgency of tackling climate change remains real. COVID-19 has highlighted the need to fundamentally change the way companies operate.
The world is entering a unique window of opportunity to shape the recovery through a "Great Reset", to address political, economic and social disruptions caused by the pandemic. Industries and society need to assess, re-think and transform the way they work.
Collective industry action
Companies should build greater resilience through initiatives such cybersecurity, deploying digital technologies that increase flexibility and efficiency, and creating mechanisms for dynamically adjusting production capacity to meet changing demand.
These efforts are critical, but they won't be enough. As companies drive internal improvements, they also need to look beyond their own organizations. Effective responses will need to include industry-wide, collective initiatives that tackle the evolving pandemic-related challenges from a broad, holistic perspective. With that in mind IAG has identified three areas where the industry is likely to find valuable opportunities to collaborate.
A new paradigm of work
Companies will need to draw on employees and contractors to build a resilient, flexible, skilled workforce. In order to move from recovery to resilience, the industry should focus on rebounding operations safely. In parallel, organizations should develop their digital operations to continue protecting people.
Collaborative actions could include: building a future ready workforce (understanding the skills needed and preparing the workforce to acquire them); and creating an employee value proposition for the industry to help attract talent.
This is particularly important with digital skills, where mining and metals companies compete with other industries from a limited talent pool. Companies should leverage their network to provide equitable access to education and work together as an industry to build operational resilience and engage with their employees.
Creating a connected value chain
As a global industry, mining and metals must look towards building resilience in its value chains, from suppliers to downstream customers. With the shutdown of multiple operations and trade routes, COVID-19 has been a catalyst for major global shifts, such as increased localization of production and processes, and the need for real-time data and delivery to mitigate disruption.
Companies across the value chain must collectively improve their response to the inevitable, frequent downstream changes in a post-pandemic world. They should consider two basic strategies: working with partners to build new demand-sensing capabilities, using technologies such as machine learning and artificial intelligence to provide earlier insight into changing demand; or increasing operational flexibility to become hyper-agile to shifts in demand. Companies could also build a "touchless supply chain" where data is shared and tracked across partners.
These are just a few examples of collaboration to expand and strengthen connections in the value chain. In the future, the industry can explore closer connections with consumers to increase resilience and decrease risk exposure.
Accelerating the shift to 'purpose'
In recent years, research and experience has highlighted the importance of purpose in business, and the pandemic has dramatically emphazised its importance. The industry must work together to define, strengthen and articulate its purpose and collaborate with financial services to transform commitments into reality.
But it has several key issues to contend with: what is its broader responsibility to employees, communities and society—not only in response to COVID-19—but in areas such as decarbonization, circular business models, environmental, social, and governance issues in general?; and how can the industry accelerate efforts in these areas to solidify and reinforce its commitment to purpose?
Establishing a clear industry purpose can help build trust among stakeholders and serve as a powerful source of stability as companies pivot to meet future challenges and opportunities, most notably in sustainability and finance which have strategic implications for the industry.
What's the World Economic Forum doing about the transition to clean energy?
Moving to clean energy is key to combating climate change, yet in the past five years, the energy transition has stagnated.
Energy consumption and production contribute to two-thirds of global emissions, and 81% of the global energy system is still based on fossil fuels, the same percentage as 30 years ago. Plus, improvements in the energy intensity of the global economy (the amount of energy used per unit of economic activity) are slowing. In 2018 energy intensity improved by 1.2%, the slowest rate since 2010.
Effective policies, private-sector action and public-private cooperation are needed to create a more inclusive, sustainable, affordable and secure global energy system.
Benchmarking progress is essential to a successful transition. The World Economic Forum's Energy Transition Index, which ranks 115 economies on how well they balance energy security and access with environmental sustainability and affordability, shows that the biggest challenge facing energy transition is the lack of readiness among the world's largest emitters, including US, China, India and Russia. The 10 countries that score the highest in terms of readiness account for only 2.6% of global annual emissions.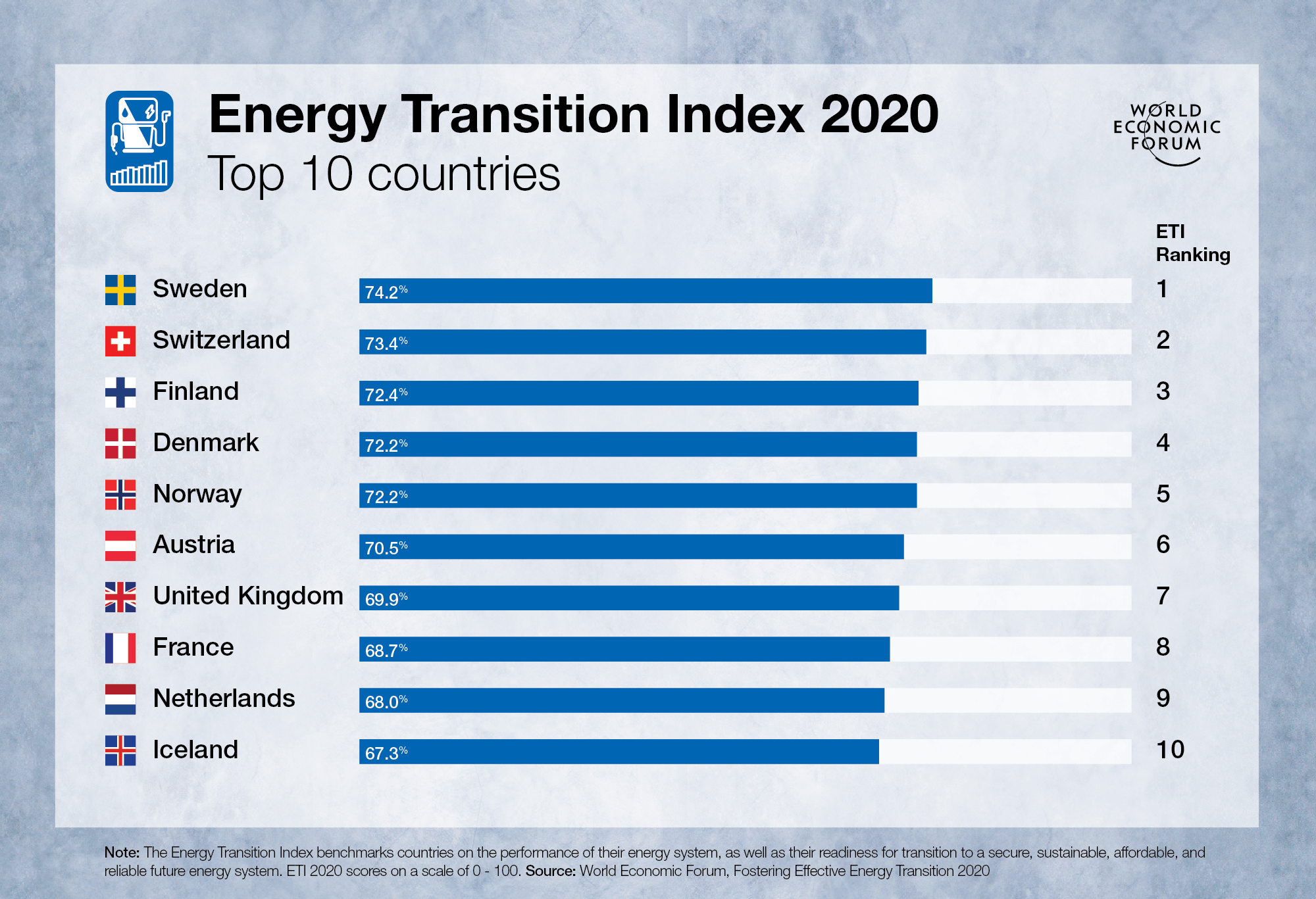 Additionally, the Mission Possible Platform (MPP) is working to assemble public and private partners to further the industry transition to set heavy industry and mobility sectors on the pathway towards net-zero emissions. MPP is an initiative created by the World Economic Forum and the Energy Transitions Commission.
Is your organisation interested in working with the World Economic Forum? Find out more here.