The IEA has said that low-carbon hydropower will need a sweeping policy and investment push to prevent its growth from slowing by 23%.
IEA Executive Director Faith Birol has stated that hydropower energy is the "forgotten giant of clean electricity".
However, there are obstacles in the way of new projects, such as high costs and opposition from local communities.
Policymakers need to focus on addressing these hurdles, which could potentially lift capacity additions by 40% through 2030.
Low-carbon hydropower capacity is vital for a faster integration of wind and solar power, but its growth is set to slow by 23% this decade without a sweeping policy and investment push, the International Energy Agency (IEA) said.
"Hydropower energy is the forgotten giant of clean electricity, and it needs to be put squarely back on the energy and climate agenda if countries are serious about meeting their net zero goals," said IEA Executive Director Fatih Birol in a statement.
In addition to producing massive quantities of low-carbon electricity, many hydropower energy plants can ramp generation up and down very rapidly, allowing for the integration of more intermittent wind and solar power output, the Paris-based agency said when presenting its Hydropower Special Market Report.
But new projects often face long lead times, lengthy permitting processes, high costs and risks from environmental assessments, as well as opposition from local communities, it said.
In 2020, hydropower energy supplied one sixth of global electricity generation and more than all other renewables combined, meeting the majority of electricity demand in 28 emerging and developing economies with a total population of 800 million, the IEA added.
Global hydropower capacity is expected to increase by 17% or 230 gigawatt (GW) between 2021 and 2030, led by China, India, Turkey and Ethiopia, but this was nearly 25% slower than expansion in the previous decade, according to the report.
Around half of hydropower's economically viable potential worldwide remains untapped, especially in emerging and developing economies, the IEA said.
What's the World Economic Forum doing about the transition to clean energy?
Moving to clean energy is key to combating climate change, yet in the past five years, the energy transition has stagnated.
Energy consumption and production contribute to two-thirds of global emissions, and 81% of the global energy system is still based on fossil fuels, the same percentage as 30 years ago. Plus, improvements in the energy intensity of the global economy (the amount of energy used per unit of economic activity) are slowing. In 2018 energy intensity improved by 1.2%, the slowest rate since 2010.
Effective policies, private-sector action and public-private cooperation are needed to create a more inclusive, sustainable, affordable and secure global energy system.
Benchmarking progress is essential to a successful transition. The World Economic Forum's Energy Transition Index, which ranks 115 economies on how well they balance energy security and access with environmental sustainability and affordability, shows that the biggest challenge facing energy transition is the lack of readiness among the world's largest emitters, including US, China, India and Russia. The 10 countries that score the highest in terms of readiness account for only 2.6% of global annual emissions.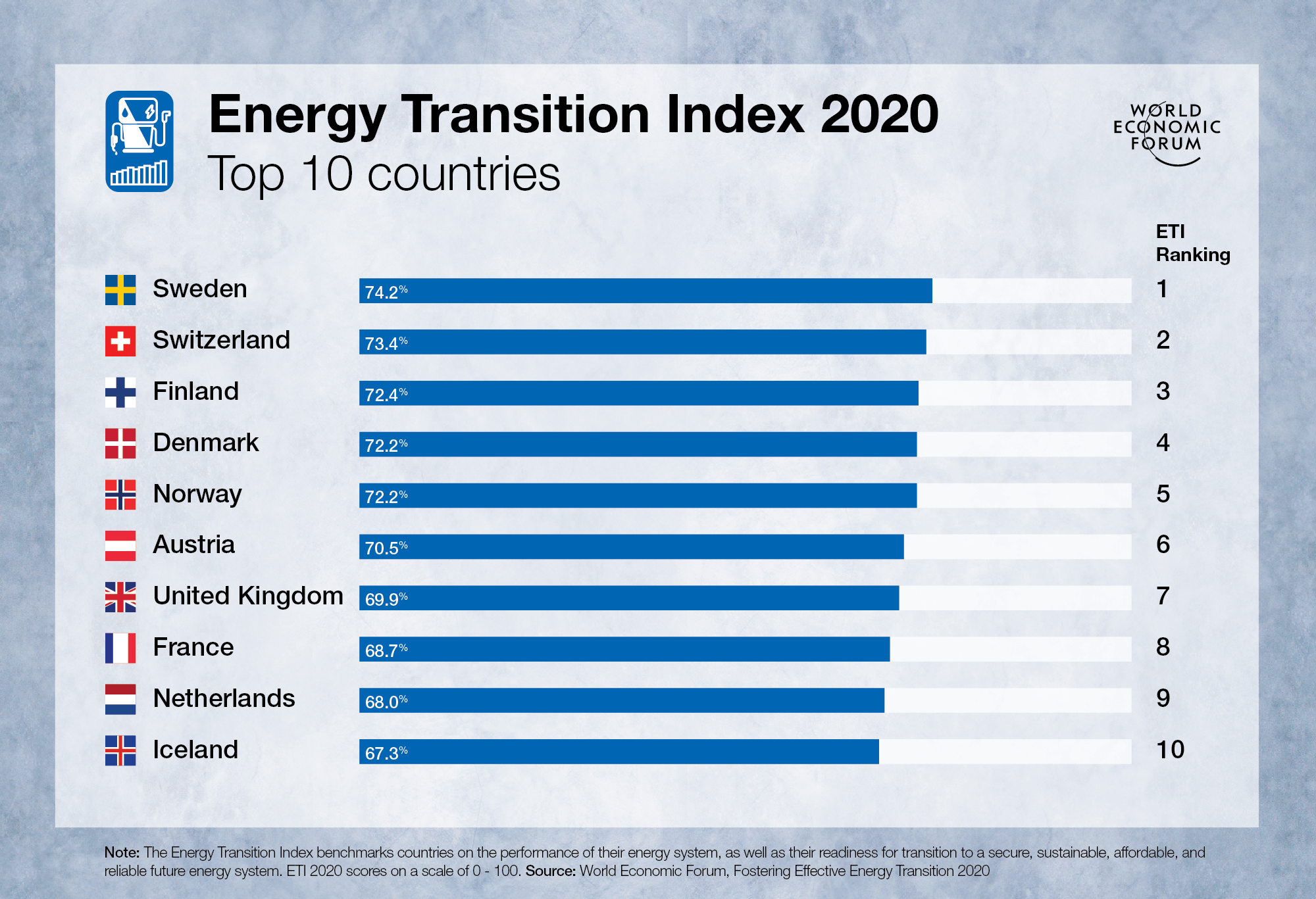 Additionally, the Mission Possible Platform (MPP) is working to assemble public and private partners to further the industry transition to set heavy industry and mobility sectors on the pathway towards net-zero emissions. MPP is an initiative created by the World Economic Forum and the Energy Transitions Commission.
Is your organisation interested in working with the World Economic Forum? Find out more here.
Policymakers needed to address the hurdles and set robust sustainability standards to ensure projects were economically viable and garnered investor interest. Doing so could unblock existing project pipelines and potentially lift capacity additions by 40% through 2030, the agency said.
Still, hydropower energy would need to grow twice as fast through 2030 to meet renewables targets outlined by the IEA's recent report on reaching net zero emissions by 2050.