The cost of renewable technologies like wind and solar is falling significantly, according to a new report.
This is fuelling the rise of renewables as the world's cheapest source of energy.
The cost of large-scale solar projects has plunged 85% in a decade.
Retiring costly coal plants would also cut around three gigatonnes of CO2 a year.
Renewables are now significantly undercutting fossil fuels as the world's cheapest source of energy, according to a new report.
Of the wind, solar and other renewables that came on stream in 2020, nearly two-thirds – 62% – were cheaper than the cheapest new fossil fuel, according to the International Renewable Energy Agency (IRENA).
This is double the equivalent share for 2019.
Cheap renewables are good news
Cheaper renewables give developed and developing countries a compelling reason to phase out coal while meeting growing energy demands, saving costs and adding jobs, IRENA said.
Retiring costly coal plants would also stop the emission of about three gigatonnes of CO2 a year – 20% of the reduction in emissions needed by 2030 to avert climate catastrophe.
Emerging economies will save up to $156 billion over the lifespan of the renewable projects added in 2020 alone, the agency added.
Falling cost of renewables
The cost of onshore wind projects fell by 13%, and offshore wind projects by 9%.
Solar photovoltaics (PV) – the conversion of light into electricity using semiconducting materials – saw project costs fall by 7%. IRENA reported that the cost of electricity from utility-scale solar PV plunged 85% in the decade to 2020.
IRENA's report also covers hydropower, geothermal, bioenergy and renewable heat.
Financing the transition to renewable energy
The report follows the International Energy Agency's (IEA) conclusion in its World Energy Outlook 2020 that solar power is now the cheapest electricity in history. The technology is cheaper than coal and gas in most major countries, the outlook found.
Another IEA study, Net Zero by 2050, reports that carbon neutrality is possible by 2050 – but only with big changes. This includes huge cuts in the use of coal, oil and gas – and substantial investment in renewables.
This predicts that emerging and developing economies will need to increase their annual clean energy investment by more than seven times – from less than $150 billion in 2020 to over $1 trillion by 2030 – to put the world on track to reach net-zero emissions by 2050.
What's the World Economic Forum doing about the transition to clean energy?
Moving to clean energy is key to combating climate change, yet in the past five years, the energy transition has stagnated.
Energy consumption and production contribute to two-thirds of global emissions, and 81% of the global energy system is still based on fossil fuels, the same percentage as 30 years ago. Plus, improvements in the energy intensity of the global economy (the amount of energy used per unit of economic activity) are slowing. In 2018 energy intensity improved by 1.2%, the slowest rate since 2010.
Effective policies, private-sector action and public-private cooperation are needed to create a more inclusive, sustainable, affordable and secure global energy system.
Benchmarking progress is essential to a successful transition. The World Economic Forum's Energy Transition Index, which ranks 115 economies on how well they balance energy security and access with environmental sustainability and affordability, shows that the biggest challenge facing energy transition is the lack of readiness among the world's largest emitters, including US, China, India and Russia. The 10 countries that score the highest in terms of readiness account for only 2.6% of global annual emissions.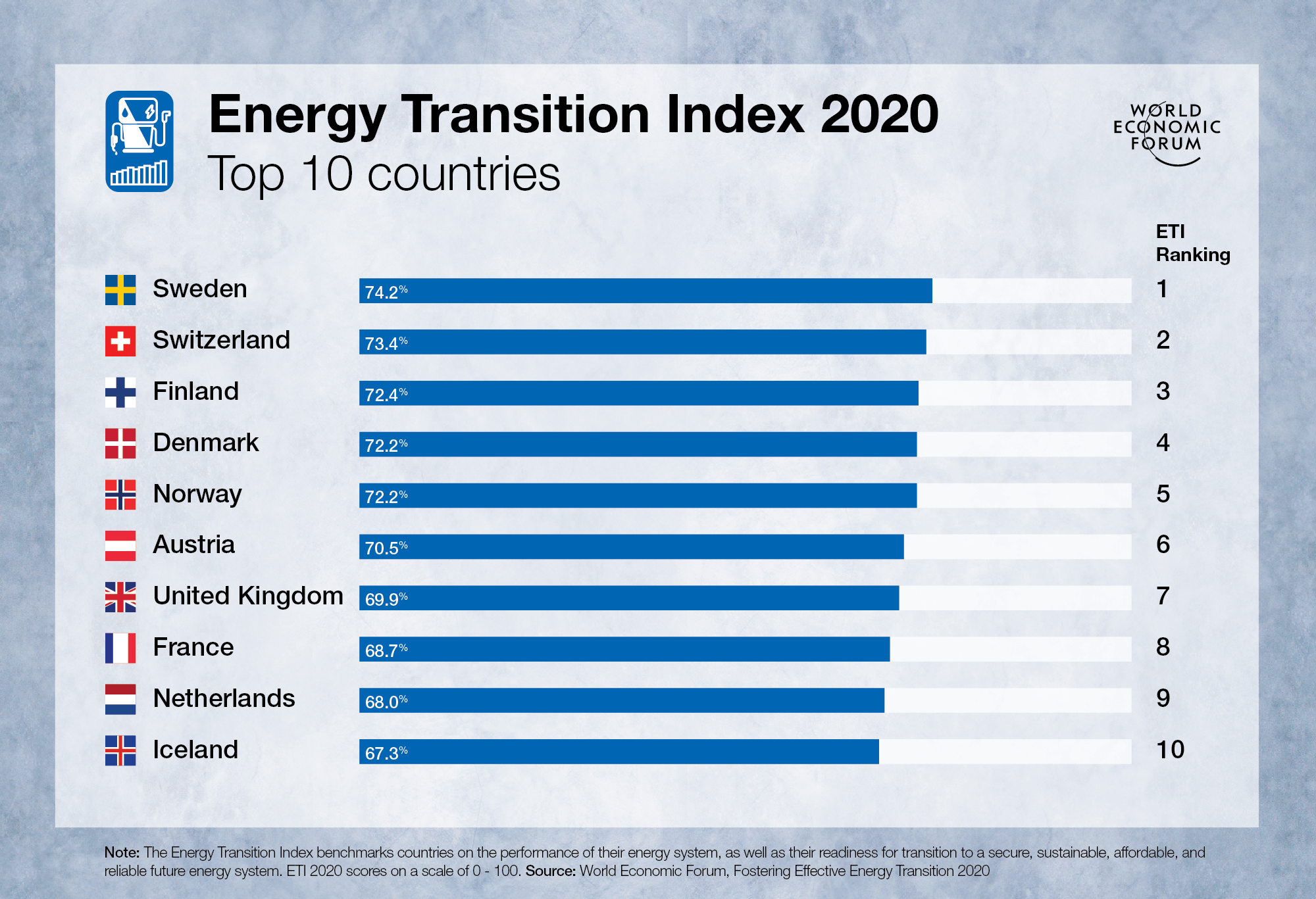 Additionally, the Mission Possible Platform (MPP) is working to assemble public and private partners to further the industry transition to set heavy industry and mobility sectors on the pathway towards net-zero emissions. MPP is an initiative created by the World Economic Forum and the Energy Transitions Commission.
Is your organisation interested in working with the World Economic Forum? Find out more here.