Coronavirus and the measures to contain it caused a severe global economic recession.
Those with less formal education, on low pay, women and the young were more likely to lose their jobs.
Governments have committed exceptional resources to recovery, offering an opportunity to build a more equitable jobs market.
Covid-19 has had a shattering effect on the world of work and in many countries it continues to do so.
Measures put in place to contain the virus have caused severe economic pain. Lockdowns closed businesses, cost jobs and required billions to isolate at home, away from extended family and friends.
Inequalities in society that predated the pandemic worsened. The gender pay gap has widened, youth unemployment has increased and many employed on insecure contracts have lost their jobs.
But the pandemic has presented governments with a chance to address all of these issues as vaccination programmes bring the hope of recovery. Instead of returning to the life we had before the pandemic, some policy makers think now's the time to invest in jobs that offer security, better prospects and higher pay.
When will jobs be back?
The pandemic prompted governments and central banks to provide unprecedented stimulus to protect jobs; the OECD estimates that 21 million jobs were saved in this way. But what happens when that safety net is removed?
The OECD's 2021 Employment Outlook suggests that even across the world's richest countries, the bounce back to pre-pandemic employment rates will be patchy. Israel, for instance, isn't expected to see jobs return to 2019 levels until 2025, four years after Australia.
Long-term unemployed struggle to find work
The downturn in many OECD economies has resulted in more job seekers being out of work for longer than they might have expected before the pandemic.
That may pose problems for future employment because the longer a person is out of work the harder it is for them to find a job.
Unemployment is higher than in 2019
While unemployment has begun to lessen, it has yet to fall to pre-pandemic levels. Additionally, job losses have been disproportionately higher among the young, those on lower pay and workers in industries most troubled by shutdowns, such as hospitality. These are also traditionally roles with the least protections.
The youth employment gap is growing
The employment gap between people aged 15-to-24 and older workers has been widening for decades, but the past year has seen the chasm deepen. A greater proportion of jobs were lost among young people, who have also been less able to find work.
Youth unemployment and underemployment (when people would like to work for more hours than they do) particularly affects women, those from disadvantaged backgrounds and minority groups. Left unchecked, this could aggravate social exclusion, potentially fuelling unrest, the OECD warns.
Not everyone can work remotely
Many people took the opportunity to work from home during pandemic lockdowns, swapping an early commute for another hour in bed. Others, especially in lower-paid and labour-intensive industries didn't have that choice and had to go to work as usual. This affected the less educated to a greater degree than college graduates.
A different future
The economic hit to the global economy from coronavirus was worse even than the 2008 recession, with the OECD estimating that more than 110 million jobs have been lost.
Governments are moving from their initial crisis response into long-term recovery plans. This year support for people seeking work increased in 53% of countries.
However International Monetary Fund (IMF) data indicates economic recovery is affected by the country you call home. Next year's economic forecast is revised up for developed nations with vaccines, while developing economies, especially in Asia have been downgraded.
What is the World Economic Forum doing to manage emerging risks from COVID-19?
The first global pandemic in more than 100 years, COVID-19 has spread throughout the world at an unprecedented speed. At the time of writing, 4.5 million cases have been confirmed and more than 300,000 people have died due to the virus.
As countries seek to recover, some of the more long-term economic, business, environmental, societal and technological challenges and opportunities are just beginning to become visible.
To help all stakeholders – communities, governments, businesses and individuals understand the emerging risks and follow-on effects generated by the impact of the coronavirus pandemic, the World Economic Forum, in collaboration with Marsh and McLennan and Zurich Insurance Group, has launched its COVID-19 Risks Outlook: A Preliminary Mapping and its Implications - a companion for decision-makers, building on the Forum's annual Global Risks Report.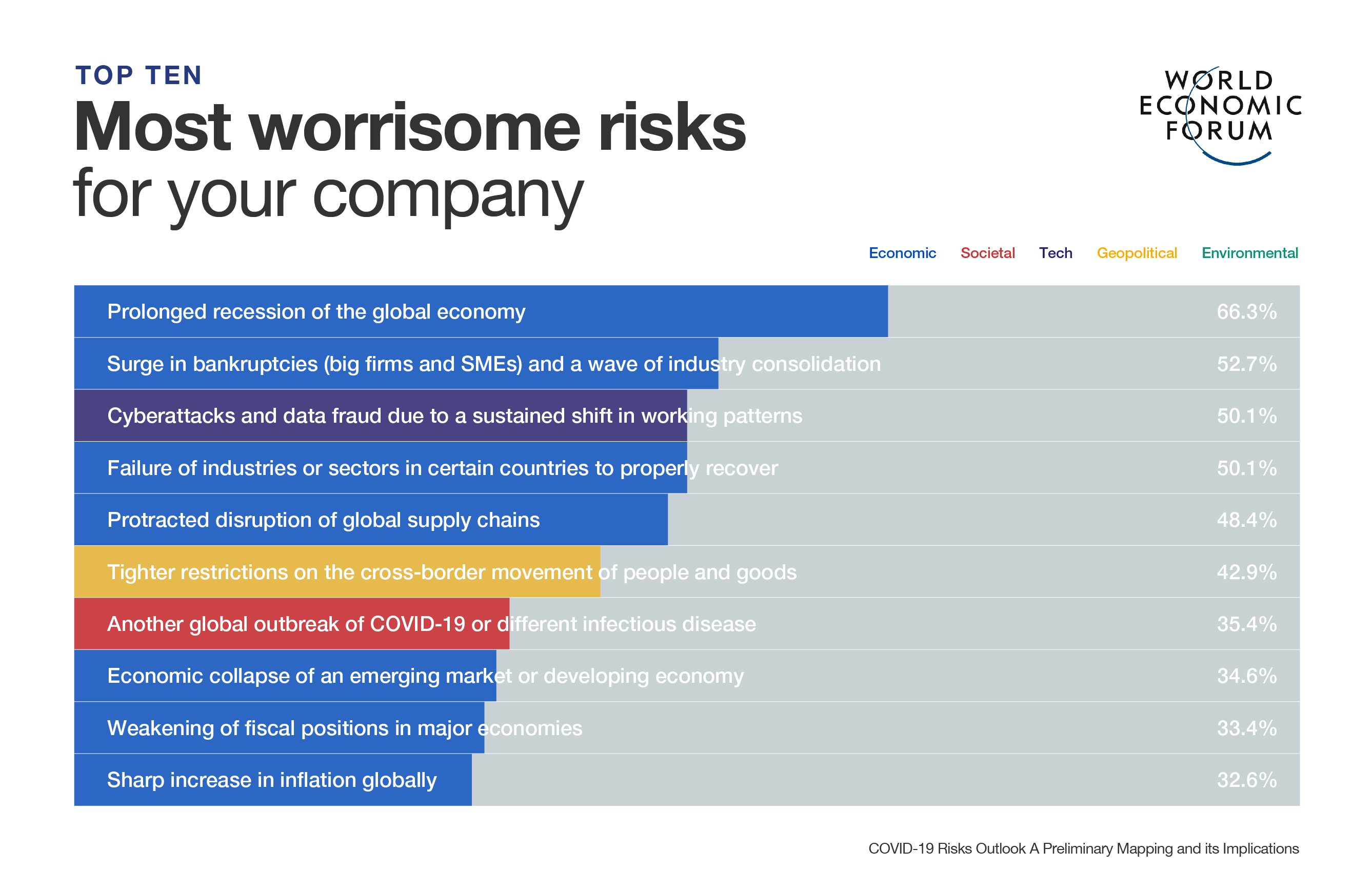 The International Labour Organization (ILO) is asking policy makers to take the long view. In its Global Call to Action the ILO argues jobs recovery plans need to be inclusive, with specific support to help disadvantaged groups. For the recovery to last, policy makers must include excellent training programmes with a focus on investing in well-paid, quality jobs.