This weekly round-up brings you some of the key environment stories from the past seven days.
Top stories: UN chief appeals for support for developing countries; German chancellor calls for 'paradigm shift' on climate action; pristine coral reef found off Tahiti.
1. Environment and climate change stories to read this week
UN Secretary-General Antonio Guterres appealed to business leaders on Monday to support developing countries "in their hour of need" with access to COVID-19 vaccines, help to combat the climate crisis and reform of the global financial system. Speaking virtually to the World Economic Forum, Guterres said: "Across all three of these areas, we need the support, the ideas, the financing and the voice of the global business community."
A study has found that of the 21 cities to host the Winter Olympics, only Sapporo, Japan would be able to provide fair and safe conditions to stage them again by the end of the century if greenhouse gases are not dramatically reduced. Researchers reviewed historical climate data from the 1920s along with future climate change trends.
China will force key industrial sectors and regions to take action to measure greenhouse gas emissions as part of a new initiative to improve data quality and oversight, according to an environment ministry document reviewed by Reuters.
It comes as Royal Dutch Shell said China may triple electricity generation to supply 60% of the country's total energy under Beijing's carbon-neutral goal by 2060, up from the current 23%. Shell is one of the largest global investors in China's energy sector, with business covering gas production, petrochemicals and a retail fuel network.
A new $80 billion fund to support Europe's poorest households during the shift to green energy should kick in a year earlier than planned, in 2024, an early draft of the European Parliament's position on the proposal said. The European Commission said last year it would launch a "social climate fund" in 2025 to shield vulnerable citizens from higher bills that could arise from a EU carbon market for buildings and transport fuels.
A major winter storm slammed much of the eastern United States with snow, ice and high winds on Sunday, causing widespread travel disruptions and power outages on a holiday weekend. Winter weather alerts stretched more than 1,000 miles (1,609 km) from Alabama to Maine, with the governors of Georgia, Virginia, North Carolina and South Carolina all declaring emergencies due to the storm.
Severe weather events in Canada caused insured losses of C$2.1 billion ($1.68 billion) last year, making 2021 the sixth-costliest since 1983, the Insurance Bureau of Canada said in a statement on Tuesday.
Greece will forbid new road building and development in six of its mountain areas, taking a first step to protect its last remaining virgin habitats, Environment Minister Kostas Skrekas said on Tuesday. Making the transition to green energy a key priority, the conservative government of Prime Minister Kyriakos Mitsotakis has promised to shut down nearly all its lignite-fired plants by 2025 and protect areas with native plants and animals.
2. German chancellor calls for 'paradigm shift' on climate action
Germany's Federal Chancellor Olaf Scholz called for a 'paradigm shift' in how the world approaches climate policy.
Speaking at the Davos Agenda on Wednesday, he said: "We will no longer wait for the slowest and least ambitious. We'll turn climate from a cost factor to competitive advantage."
Germany wants to reach the goal of carbon neutrality by 2045 – "which leaves us less than 25 years to reach net zero". It's a "monumental task but one that we will master. Europe offers openness and liberal societies that support innovation," Scholz added.

Fatih Birol, the Executive Director of the International Energy Agency (IEA), echoed the warning, saying it would require a "Herculean effort" to go from 80% of energy coming from fossil fuels to net zero by 2050.
Speaking during the Navigating the Energy Transition Davos Agenda session, Birol and Björn Rosengren, the President and Chief Executive Officer, ABB Ltd, agreed on the crucial role of reducing energy waste.
Efficiency will drive more than 40% of the reduction in greenhouse gases, Rosengren explained. Or as Birol put it, "At the IEA, we call energy efficiency the 'first fuel'".
The G7 will form the nucleus of a climate action club, Scholz said in his special address, which will work on priorities including a common understanding of what "green hydrogen" is.
"We are on course towards greater technological serenity, and a global shift towards a sustainable graph will give Europe a first-mover advantage."
What's the World Economic Forum doing about the transition to clean energy?
Moving to clean energy is key to combating climate change, yet in the past five years, the energy transition has stagnated.
Energy consumption and production contribute to two-thirds of global emissions, and 81% of the global energy system is still based on fossil fuels, the same percentage as 30 years ago. Plus, improvements in the energy intensity of the global economy (the amount of energy used per unit of economic activity) are slowing. In 2018 energy intensity improved by 1.2%, the slowest rate since 2010.
Effective policies, private-sector action and public-private cooperation are needed to create a more inclusive, sustainable, affordable and secure global energy system.
Benchmarking progress is essential to a successful transition. The World Economic Forum's Energy Transition Index, which ranks 115 economies on how well they balance energy security and access with environmental sustainability and affordability, shows that the biggest challenge facing energy transition is the lack of readiness among the world's largest emitters, including US, China, India and Russia. The 10 countries that score the highest in terms of readiness account for only 2.6% of global annual emissions.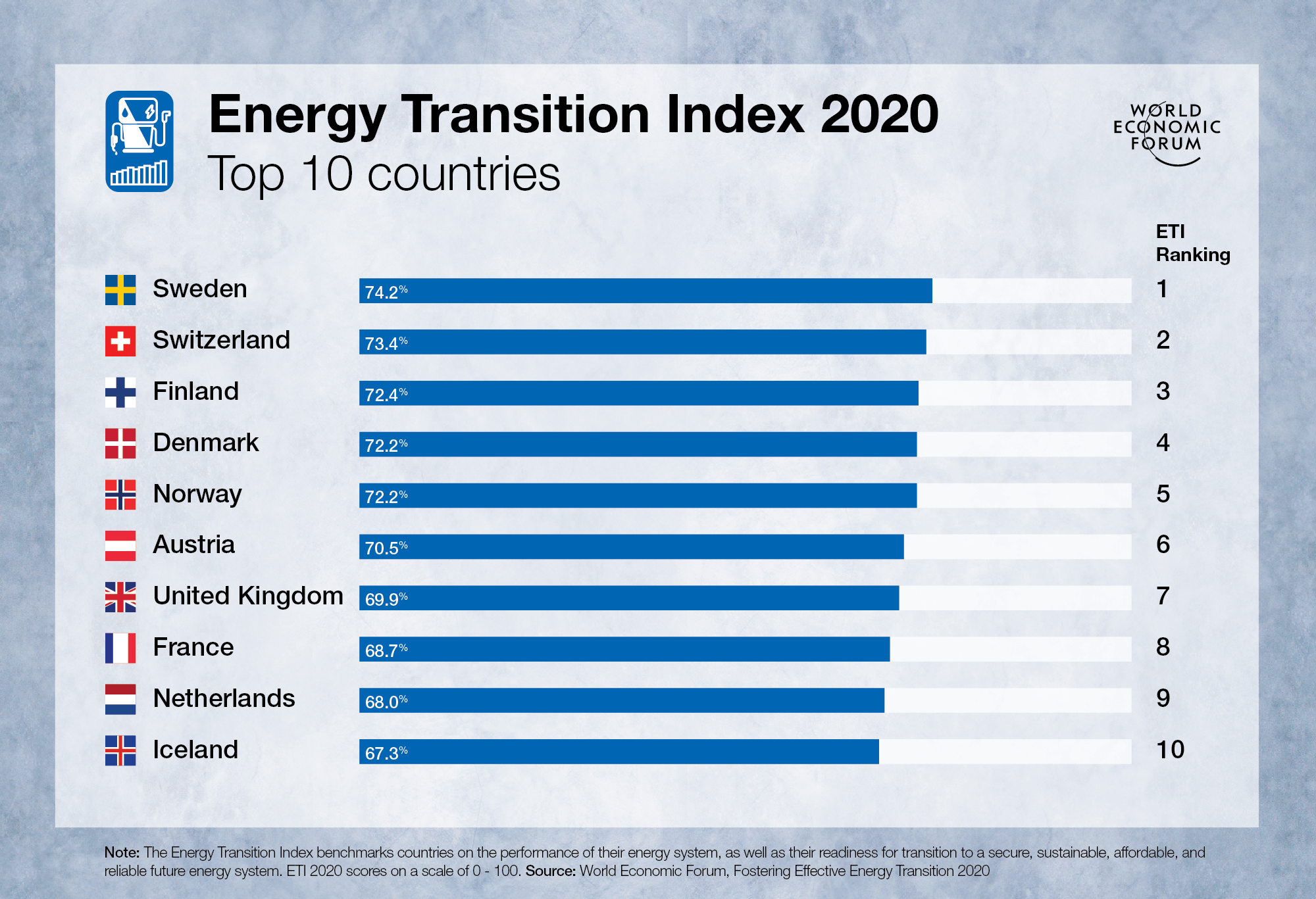 Additionally, the Mission Possible Platform (MPP) is working to assemble public and private partners to further the industry transition to set heavy industry and mobility sectors on the pathway towards net-zero emissions. MPP is an initiative created by the World Economic Forum and the Energy Transitions Commission.
Is your organisation interested in working with the World Economic Forum? Find out more here.
3. Pristine coral reef found off Tahiti
The reef, which lies at depths of more than 30 metres (100 feet), probably took around 25 years to grow. Some of the rose-shaped corals measure more than 2 metres in diameter.
"It was magical to witness giant, beautiful rose corals which stretch for as far as the eye can see. It was like a work of art," said French photographer Alexis Rosenfeld, who led the team of international divers that made the discovery.
Most of the world's known coral reefs are in warmer waters at depths of up to 25 metres, UNESCO said. The reef off Tahiti lies in the "twilight zone", 30 to 120 metres below the surface where there is still enough light for coral to grow and reproduce.