The shift to net-zero emissions will create huge opportunities in clean energy technologies, but the developing world's lack of access to affordable financing is a major obstacle.
The combined market for wind turbines, solar panels, lithium-ion batteries, electrolysers and fuel cells could reach a similar size to today's oil market by 2050, according to the International Energy Agency.
To ensure the clean energy transition brings a better future for all people, developing economies must have equal access to the investment that will finance the transition.
A new global energy economy is emerging, promising to deliver huge commercial, industrial, technological and employment gains to those who take the leap. Even amid the turmoil brought about by COVID-19, additions of renewable power capacity such as wind and solar have continued to accelerate and electric vehicle sales have set new records.
As the world starts to move closer to a pathway to net-zero emissions, the potential benefits are enormous. The shift will offer unprecedented market opportunities to equipment manufacturers, service providers and developers, as well as engineering, procurement and construction companies along the entire clean energy supply chain.
New clean energy industries on the scale of today's oil market
According to the International Energy Agency's (IEA) recent World Energy Outlook 2021, putting the world on track for net-zero emissions by 2050 would create a cumulative $27 trillion market opportunity for manufacturers of wind turbines, solar panels, lithium-ion batteries, electrolysers and fuel cells. By mid-century, these five types of equipment would together create a clean energy market comparable in size to today's oil market. And just like today's oil market, it would be global in scope and not limited to the most developed economies. This creates enormous prospects for companies that are well-positioned along an expanding set of global supply chains.
Under the IEA's pathway to net-zero emissions by 2050, electricity replaces fossil fuels in many areas of the economy, spanning key sectors such as transport, heating and industry. In this scenario, electricity accounts for around 50% of final energy use by 2050, up from about 20% now. Electricity's expansion drives a parallel explosion of related investments, not just in renewable sources like solar and wind to provide us with clean power, but also in transmission and storage facilities, and in emerging digital technologies to run our energy systems more intelligently and efficiently.
And even in a much more electrified energy system, there are major openings for fuel suppliers. IEA projections indicate that companies producing and delivering low-carbon gases in a net-zero world in 2050 would be handling the equivalent of almost half of today's global natural gas market.

Employment in clean energy areas is set to become a very dynamic part of labour markets, with growth more than offsetting a decline in traditional fossil fuel supply sectors. As well as creating jobs in renewables and energy network industries, clean energy transitions will increase employment in areas such as retrofits and other energy efficiency improvements in buildings, and the manufacturing of efficient appliances and electric and fuel cell vehicles. In the IEA's pathway to net zero by 2050, an additional 26 million workers are employed in clean energy and related sectors by 2030.
Bridging the financial divide
The momentum towards a new energy economy is undeniable, but not everyone has equal access to the huge potential benefits it can bring. Many emerging and developing economies face challenges that are cutting them off from this new energy economy.
A key bottleneck is access to investment. Globally, there is no shortage of finance. But because of perceived risks, large swathes of the world struggle to attract essential investment in their energy systems, especially from the private sector. Capital is significantly more expensive in emerging and developing economies compared with advanced economies.
The IEA estimates that economy-wide nominal financing costs in some of the economies perceived to be among the riskiest are up to seven times higher than in the United States and Europe. That chasm is one of the reasons emerging and developing economies currently account for two-thirds of the world's population, but only one-fifth of global investment in clean energy.
This financial divide is both unsustainable and avoidable. To help close it, the IEA and the World Economic Forum – together with ETH Zurich and Imperial College London – plan to establish a Cost of Capital Observatory to increase transparency in the energy sector and inspire investor confidence. The Observatory will guide project developers, financial institutions and policymakers to help encourage the clean energy investment that is needed so urgently in emerging and developing economies. This is an important topic and a recent IEA article explains the role of the cost of capital in energy transitions, its determinants and the ways to calculate it.
A special report published last June by the IEA, in partnership with the World Bank and the World Economic Forum, argued that mobilizing this capital and channelling it to the right places can be achieved. It will take a combination of smart policies, financial innovation and bold collective action by the international community. The countries in need of the extra investment have to take their own steps as well. They must strengthen their sustainable finance frameworks, address barriers to foreign investment, eliminate regulatory risk, ease procedures for licensing and land acquisition, and roll back policies that distort local energy markets.

An encouraging element is that avoiding a tonne of carbon dioxide (CO2) emissions in emerging and developing economies costs about half as much on average as it does in advanced economies, according to the report. This is because emerging and developing economies can often jump straight to cleaner and more efficient technologies without having to phase out or refit as much existing infrastructure that was built for fossil fuels. In addition, renewables are well suited to help provide electricity for the estimated 800 million people, mostly in sub-Saharan Africa, who have no access to it today.
Picking up the pace
Even as the world rolls out clean energy technologies like renewables and electric vehicles at a record pace, it needs to go much faster still to get on track for net zero by 2050 and have a chance of limiting the increase in global temperatures to 1.5°C. This won't happen if many countries can't access the financing they need to properly benefit from the new energy economy that is emerging.

What's the World Economic Forum doing about the transition to clean energy?
Moving to clean energy is key to combating climate change, yet in the past five years, the energy transition has stagnated.
Energy consumption and production contribute to two-thirds of global emissions, and 81% of the global energy system is still based on fossil fuels, the same percentage as 30 years ago. Plus, improvements in the energy intensity of the global economy (the amount of energy used per unit of economic activity) are slowing. In 2018 energy intensity improved by 1.2%, the slowest rate since 2010.
Effective policies, private-sector action and public-private cooperation are needed to create a more inclusive, sustainable, affordable and secure global energy system.
Benchmarking progress is essential to a successful transition. The World Economic Forum's Energy Transition Index, which ranks 115 economies on how well they balance energy security and access with environmental sustainability and affordability, shows that the biggest challenge facing energy transition is the lack of readiness among the world's largest emitters, including US, China, India and Russia. The 10 countries that score the highest in terms of readiness account for only 2.6% of global annual emissions.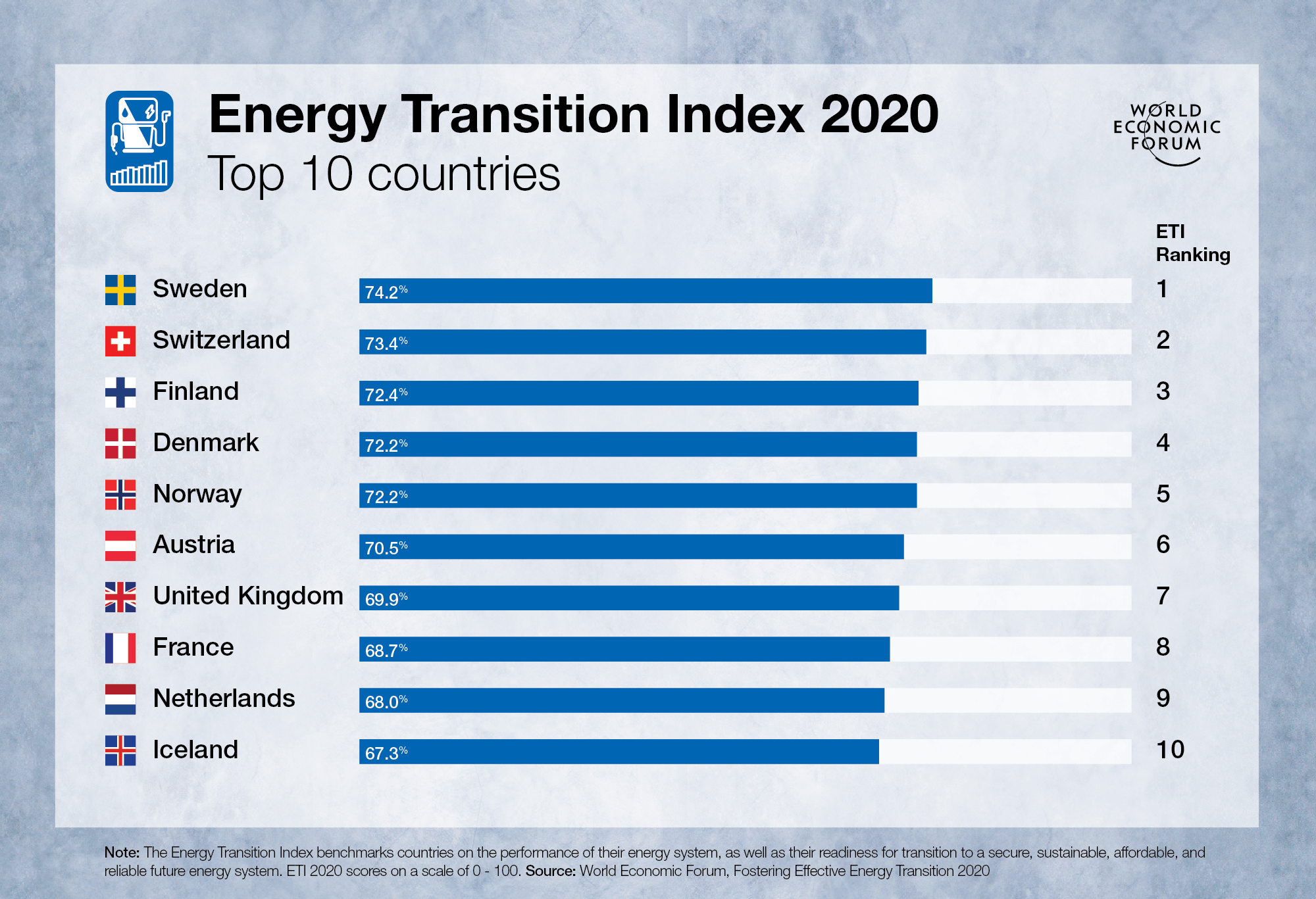 Additionally, the Mission Possible Platform (MPP) is working to assemble public and private partners to further the industry transition to set heavy industry and mobility sectors on the pathway towards net-zero emissions. MPP is an initiative created by the World Economic Forum and the Energy Transitions Commission.
Is your organisation interested in working with the World Economic Forum? Find out more here.
As leaders from across the world convene online for the World Economic Forum's Davos Agenda in January 2022, a crucial topic for discussion will be how to ensure the benefits of the new energy economy are shared widely as the transition to net-zero emissions accelerates. As the IEA has repeatedly stated, the clean energy transition is fundamentally for and about people – and we need to make sure it brings about a better future for all.