Almost a quarter of the EU's electricity came from renewable sources in 2020.
This beat the bloc's self-imposed targets and outperformed other leading nations.
The EU says this is an important milestone on the region's journey to net-zero emissions.
The European Union has passed another milestone in the race towards a zero-carbon future, with official statistics showing the continent beat its targets for the use of renewable energy in 2020.
"This is a major achievement and an important milestone in the EU's path towards climate neutrality by 2050," an EU spokesperson says.
The European renewable energy league table is headed by two non-EU members. Iceland and and Norway – both of which are members of the wider European Economic Area (EEA) – generated a respective 83.7% and 77.4% of their power using renewables in 2020. Sweden had the highest share of renewables of any EU member state, at 60%.
Sweden and Croatia (31%) both exceeded their EU-set targets by 11 percentage points, while Bulgaria (23.3%) beat its goal by seven percentage points.
The targets take into account each nation's starting point on the route to net zero, as well as its potential to use renewables.
Renewable energy targets achieved
The EU nations that generated more than a third of their electricity from renewables were Sweden, Finland (44%), Latvia (42%) Austria (36.5%) and Portugal (34%). In all, 26 EU member states met or exceeded their targets.
"Renewable power is defying the difficulties caused by the pandemic, showing robust growth while other fuels struggle," IEA Executive Director Fatih Birol says. But the IEA still warns that more needs to be done to accelerate the role of renewables if we are to achieve net zero by 2050.
What's the World Economic Forum doing about the transition to clean energy?
Moving to clean energy is key to combating climate change, yet in the past five years, the energy transition has stagnated.
Energy consumption and production contribute to two-thirds of global emissions, and 81% of the global energy system is still based on fossil fuels, the same percentage as 30 years ago. Plus, improvements in the energy intensity of the global economy (the amount of energy used per unit of economic activity) are slowing. In 2018 energy intensity improved by 1.2%, the slowest rate since 2010.
Effective policies, private-sector action and public-private cooperation are needed to create a more inclusive, sustainable, affordable and secure global energy system.
Benchmarking progress is essential to a successful transition. The World Economic Forum's Energy Transition Index, which ranks 115 economies on how well they balance energy security and access with environmental sustainability and affordability, shows that the biggest challenge facing energy transition is the lack of readiness among the world's largest emitters, including US, China, India and Russia. The 10 countries that score the highest in terms of readiness account for only 2.6% of global annual emissions.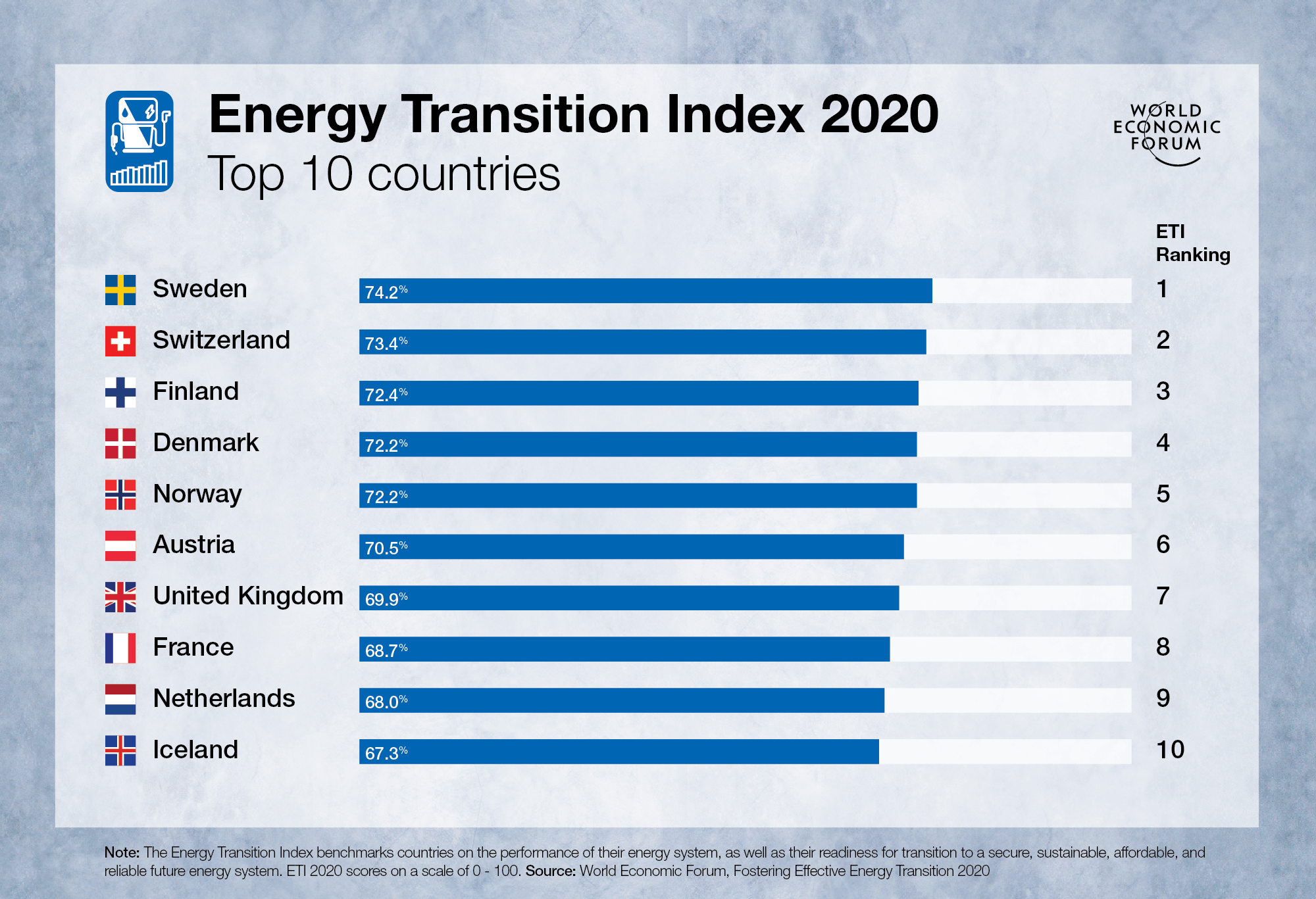 Additionally, the Mission Possible Platform (MPP) is working to assemble public and private partners to further the industry transition to set heavy industry and mobility sectors on the pathway towards net-zero emissions. MPP is an initiative created by the World Economic Forum and the Energy Transitions Commission.
Is your organisation interested in working with the World Economic Forum? Find out more here.