The UK government is considering building a solar power station in space.
The multi-billion pound project would contribute to the UK's goal of reaching net-zero emissions by 2050.
Recent technological developments have made the concept of space-based solar power more achievable.
Here, an engineer weighs up the pros and cons of the project.
Yes, you read that right. Space-based solar power is one of the technologies to feature in the government's Net Zero Innovation Portfolio. It has been identified as a potential solution, alongside others, to enable the UK to achieve net zero by 2050.
But how would a solar power station in space work? What are the advantages and drawbacks to this technology?
Space-based solar power involves collecting solar energy in space and transferring it to Earth. While the idea itself is not new, recent technological advances have made this prospect more achievable.
The space-based solar power system involves a solar power satellite – an enormous spacecraft equipped with solar panels. These panels generate electricity, which is then wirelessly transmitted to Earth through high-frequency radio waves. A ground antenna, called a rectenna, is used to convert the radio waves into electricity, which is then delivered to the power grid.
A space-based solar power station in orbit is illuminated by the Sun 24 hours a day and could therefore generate electricity continuously. This represents an advantage over terrestrial solar power systems (systems on Earth), which can produce electricity only during the day and depend on the weather.
With global energy demand projected to increase by nearly 50% by 2050, space-based solar power could be key to helping meet the growing demand on the world's energy sector and tackling global temperature rise.
What's the World Economic Forum doing about the transition to clean energy?
Moving to clean energy is key to combating climate change, yet in the past five years, the energy transition has stagnated.
Energy consumption and production contribute to two-thirds of global emissions, and 81% of the global energy system is still based on fossil fuels, the same percentage as 30 years ago. Plus, improvements in the energy intensity of the global economy (the amount of energy used per unit of economic activity) are slowing. In 2018 energy intensity improved by 1.2%, the slowest rate since 2010.
Effective policies, private-sector action and public-private cooperation are needed to create a more inclusive, sustainable, affordable and secure global energy system.
Benchmarking progress is essential to a successful transition. The World Economic Forum's Energy Transition Index, which ranks 115 economies on how well they balance energy security and access with environmental sustainability and affordability, shows that the biggest challenge facing energy transition is the lack of readiness among the world's largest emitters, including US, China, India and Russia. The 10 countries that score the highest in terms of readiness account for only 2.6% of global annual emissions.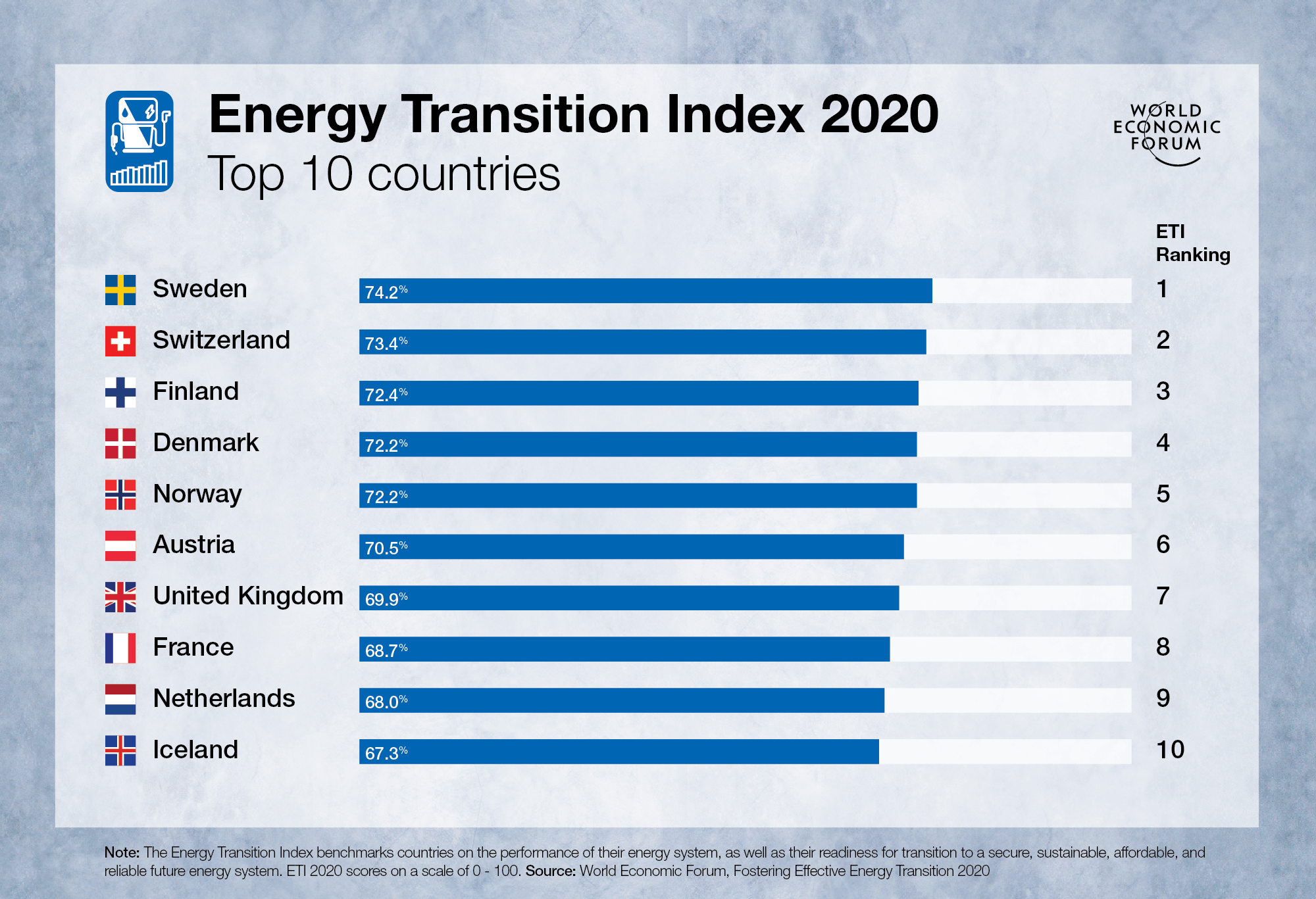 Additionally, the Mission Possible Platform (MPP) is working to assemble public and private partners to further the industry transition to set heavy industry and mobility sectors on the pathway towards net-zero emissions. MPP is an initiative created by the World Economic Forum and the Energy Transitions Commission.
Is your organisation interested in working with the World Economic Forum? Find out more here.
Some challenges
A space-based solar power station is based on a modular design, where a large number of solar modules are assembled by robots in orbit. Transporting all these elements into space is difficult, costly, and will take a toll on the environment.
Space-based solar power is deemed to be technically feasible primarily because of advances in key technologies, including lightweight solar cells, wireless power transmission and space robotics.
Importantly, assembling even just one space-based solar power station will require many space shuttle launches. Although space-based solar power is designed to reduce carbon emissions in the long run, there are significant emissions associated with space launches, as well as costs.
Space shuttles are not currently reusable, though companies like Space X are working on changing this. Being able to reuse launch systems would significantly reduce the overall cost of space-based solar power.
If we manage to successfully build a space-based solar power station, its operation faces several practical challenges, too. Solar panels could be damaged by space debris. Further, panels in space are not shielded by Earth's atmosphere. Being exposed to more intense solar radiation means they will degrade faster than those on Earth, which will reduce the power they are able to generate.
The efficiency of wireless power transmission is another issue. Transmitting energy across large distances – in this case from a solar satellite in space to the ground – is difficult. Based on the current technology, only a small fraction of collected solar energy would reach the Earth.
Pilot projects are already underway
In the UK, a £17 billion space-based solar power development is deemed to be a viable concept based on the recent Frazer-Nash Consultancy report. The project is expected to start with small trials, leading to an operational solar power station in 2040.
The solar power satellite would be 1.7km in diameter, weighing around 2,000 tonnes. The terrestrial antenna takes up a lot of space – roughly 6.7km by 13km. Given the use of land across the UK, it's more likely to be placed offshore.
This satellite would deliver 2GW of power to the UK. While this is a substantial amount of power, it is a small contribution to the UK's generation capacity, which is around 76GW.
With extremely high initial costs and slow return on investment, the project would need substantial governmental resources as well as investments from private companies.
But as technology advances, the cost of space launch and manufacturing will steadily decrease. And the scale of the project will allow for mass manufacturing, which should drive the cost down somewhat.
Whether space-based solar power can help us meet net zero by 2050 remains to be seen. Other technologies, like diverse and flexible energy storage, hydrogen and growth in renewable energy systems are better understood and can be more readily applied.
Despite the challenges, space-based solar power is a precursor for exciting research and development opportunities. In the future, the technology is likely to play an important role in the global energy supply.