How to ensure emerging markets benefit from the clean energy revolution
The war in Ukraine has forced Europe to radically rethink its energy security and affordability.

At this critical moment in the clean energy transition we must ensure emerging markets aren't left behind.

We outline three key ways to support a just energy transition.
The Russian invasion of Ukraine precipitated a global energy crisis, which puts energy security and affordability on top of the agenda, particularly in Europe.
Europe has used this crisis to double down on its shift away from fossil fuels. Building on its existing plan to reduce emissions, mainly by cutting consumption of fossil fuels, the EU has added a new plan to accelerate the shift away from Russian gas, through a reduction of demand for gas and diversification of alternative gas sources.
While in many ways, this energy crisis is similar to the previous global energy crisis – where price shocks and search for diversification of energy sources ultimately did not lead to a decrease of the overall dependency on fossil fuels – there are strong reasons to believe that this time it will be different.
Accelerating the energy transition
The credibility of both the European policy response and high energy prices will push to accelerate the energy transition away from fossil fuels. Importantly, now there are vast pools of available private capital to back risky, novel technologies that support the most credible plans. With deep political support, European governments offer a vision for a cleaner (and less Russia-dependent) future. Backed by that vision, private investors are now lining up.
Although we are likely to see some delays in the coming months and years due to energy security needs – retirement of coal plants will be delayed, governments will scrounge for new oil and gas supplies and anything else that burns to make useful energy – we see an optimistic future with intensification of the decarbonization efforts.
What's the World Economic Forum doing about the transition to clean energy?
Moving to clean energy is key to combating climate change, yet in the past five years, the energy transition has stagnated.
Energy consumption and production contribute to two-thirds of global emissions, and 81% of the global energy system is still based on fossil fuels, the same percentage as 30 years ago. Plus, improvements in the energy intensity of the global economy (the amount of energy used per unit of economic activity) are slowing. In 2018 energy intensity improved by 1.2%, the slowest rate since 2010.
Effective policies, private-sector action and public-private cooperation are needed to create a more inclusive, sustainable, affordable and secure global energy system.
Benchmarking progress is essential to a successful transition. The World Economic Forum's Energy Transition Index, which ranks 115 economies on how well they balance energy security and access with environmental sustainability and affordability, shows that the biggest challenge facing energy transition is the lack of readiness among the world's largest emitters, including US, China, India and Russia. The 10 countries that score the highest in terms of readiness account for only 2.6% of global annual emissions.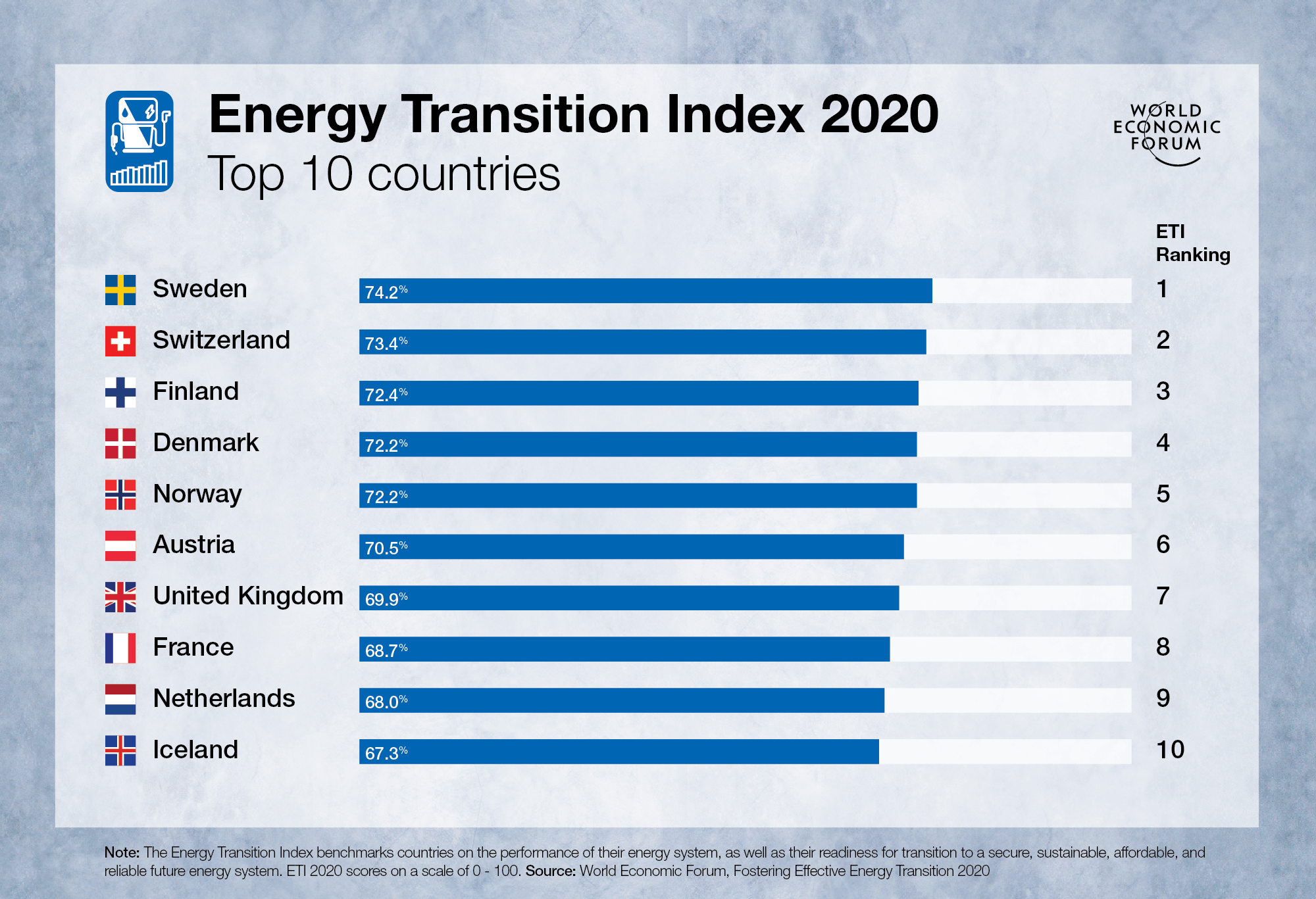 Additionally, the Mission Possible Platform (MPP) is working to assemble public and private partners to further the industry transition to set heavy industry and mobility sectors on the pathway towards net-zero emissions. MPP is an initiative created by the World Economic Forum and the Energy Transitions Commission.
Is your organisation interested in working with the World Economic Forum? Find out more here.
At the centre of this new reality is an increased financial intelligence. Firms and their bankers are rethinking costs and risks. With high fuel prices, the case for renewable energy, which does not rely on a small number of exporting countries, is more compelling. Politicians and consumers are looking for local energy solutions, and in most cases they strongly favour clean options, in particular renewables.
Renewable cost tipping points have been brought forward. Despite some inflation currently in renewables supply chains, still well below that seen in fossil fuel prices, the cost and learning curves point towards further decreases in coming years.
At the same time, the price shock will give a big push to energy efficiency measures – the low hanging fruit of the energy transition.
But how do we make sure that this revolution spreads and emerging markets can benefit from it too? Success requires at least three things:
1. Ensure markets stay open and global supply chains deliver new technologies
First, we need to recognize that a clean energy revolution hinges on globalization. We must ensure that markets stay open so that the best technologies can be provided via global supply chains. Innovation and the introduction of new technologies can only happen at scale once these become affordable. Green hydrogen is a case in point. Faster deployment and scaling of hydrogen is already leading to a decline in the cost of electrolysers used to make hydrogen from water as quickly as we saw with the cost for renewables.
Open markets can also facilitate the production of technologies such as hydrogen and green ammonia at scale. These can be a great economic opportunity for many developing countries with plenty of sun, wind and land for transportation to markets in the developed world – where the demand is the greatest to displace traditional fossil fuels. This also means investing in transportation, greener shipping lines, and electricity interconnections to ensure rapid and global adoption of these technologies.
2. Provide technical and financial assistance to developing nations
Second, it is essential to make sure that developing countries stay engaged centrally. We know the big challenge for these countries is not a shortage of capital but a shortage of bankable projects. Regulatory hurdles, inertia or non-financial market failures are what hold back investment – they are what diminish the incentive to create bankable projects and what drive up the cost of capital, which drives the shortage. We need to provide direct technical assistance to help them create the policies and frameworks which can attract private sector investment to meet their own growing energy demand. That means, in part, strategies for lowering the cost of capital – because so much of the energy transition depends on capital intensive technologies.
It also means "leapfrogging" to cleaner technologies – something now evident, for example, in Egypt, where Benban solar park, the largest solar park in Africa and the foundation for kick-starting the energy transition in the country, has provided renewables at such a scale that this now forms the backbone for the next stage of scale, innovation and investment needed in electric vehicles, green ammonia and hydrogen and even green desalination.
3. Help countries and societies manage a "just energy transition" that protects the displaced
Third, and perhaps most important: we must help countries and societies deal with the displaced. Coal is on the front lines because, for the most part, any serious plan for deep decarbonization crushes coal. Allowing this to happen in the real world requires active planning and engagement in coal-dependent regions – analyzing the environmental, social and economic implication for the communities around, examining the options to create green economic diversification in the region, including green employment opportunities, and also looking at retraining and reskilling requirements for affected workers, while stimulating the local economy and entrepreneurship.
This kind of thinking is exactly what the "just transition" is about: moving ahead with the energy transition while ensuring that those whose livelihoods are affected by that transition are not left behind. Work particularly by the EU on diagnosing such needs in coal dependent regions in countries such as Germany, Poland, Greece and the Western Balkans offer good examples for many other countries around the world.
The time for change is now
This time, it appears, will be different. The war in Ukraine has come at a time when many governments, especially those in Europe, are strongly committed to a cleaner future. Commitment is not the same as reality, and that is what sets this time apart. This time policy makers, industry, consumers, financial institutions have the tools to keep capital costs in check, accelerate the much needed innovations and a strong energy security and economic impetus to stay the course of the green energy transition. They have those tools, and they are using them. And they are learning how to deal with the displaced – a matter of utmost moral and political importance.