How to clear the finance and policy hurdles on the way to a clean energy future
Tackling climate change will require huge shifts in policy and finance.
Governments must set the agenda using targets and incentives.
Collaboration between the public and private sectors will be crucial.
Nevertheless, global electricity produced from coal was on track to fall by 3% in 2019, a trend led by the advanced economies of Europe (mainly the UK, Germany and Spain) and the US. However, emerging markets are still adding to their energy capacity through traditional fuel sources, including coal.
The emissions challenge
Syncing up global promises
Almost 197 countries are signatories to Paris Agreement and many have ratified the same. Dozens have formulated policies to support the implementation of the Paris Agreement targets and the UN's Sustainable Development Goals (SDGs) - see below.
And this is promising - because combating the threat of climate change and moving towards sustainable development will require huge policy support and investment.
Policy as an accelerator
Policies play a major role in influencing investors, industry and stakeholders in redefining their future courses of action. For example, the global shift towards clean energy sources, encouraged and supported by policy-makers, is now redefining the business models of the large oil firms, who are typically reliant on carbon-based fuels. A recent study by Carbon Tracker found that large oil companies will have to reduce oil production by 35% to meet the target of a 1.5˚C rise in global temperatures.
Governments and policy-makers need to set targets for energy efficiency and sustainability, create incentives and tools to make it conducive for stakeholders (including incumbents) to increase commitments and investment in renewable energy. Emerging economies are catching up with this, and are moving towards sustainable energy sources.
Sustainable finance as an accelerator
Sustainable finance is a leading contributor to the transition from carbon-intensive energy to renewables and green energy. In 2017/18, global climate finance was a mixture of 44% public and 56% private funds. Clean energy is becoming competitive, but funding requirements are huge, estimated at an annual spend of $1.6 trillion until 2050 to reach acceptable levels of carbon emissions.
The sustainable energy transformation will have huge health and socio-economic benefits. IRENA estimates that every $1 spent will generate $3-$7 in savings on healthcare and climate change-related costs. Availability of appropriately priced and innovative finance can unleash this potential and facilitate the transition. Funding is required to set up new projects and also to exit from legacy projects, which are often under long-term power purchase agreements (PPAs) - these are inefficient and expensive in some countries, but it can be even costlier to exit such contracts.
It is also fundamentally important to create guarantee mechanisms that support the transition. Typically, governments provide guarantees in most jurisdictions, but as fiscal space is limited, alternate guarantee frameworks led by donors, large banks or foreign investors can really scale and speed the transition in developing countries.
The goal of supporting the transition towards green energy while meeting energy demands and reducing emissions requires long-term integrated and cohesive planning among public and private-sector participants. Governments must continuously upgrade their plans and policies, and the finance industry must respond continuously with innovative tools.
What's the World Economic Forum doing about the transition to clean energy?
Moving to clean energy is key to combating climate change, yet in the past five years, the energy transition has stagnated.
Energy consumption and production contribute to two-thirds of global emissions, and 81% of the global energy system is still based on fossil fuels, the same percentage as 30 years ago. Plus, improvements in the energy intensity of the global economy (the amount of energy used per unit of economic activity) are slowing. In 2018 energy intensity improved by 1.2%, the slowest rate since 2010.
Effective policies, private-sector action and public-private cooperation are needed to create a more inclusive, sustainable, affordable and secure global energy system.
Benchmarking progress is essential to a successful transition. The World Economic Forum's Energy Transition Index, which ranks 115 economies on how well they balance energy security and access with environmental sustainability and affordability, shows that the biggest challenge facing energy transition is the lack of readiness among the world's largest emitters, including US, China, India and Russia. The 10 countries that score the highest in terms of readiness account for only 2.6% of global annual emissions.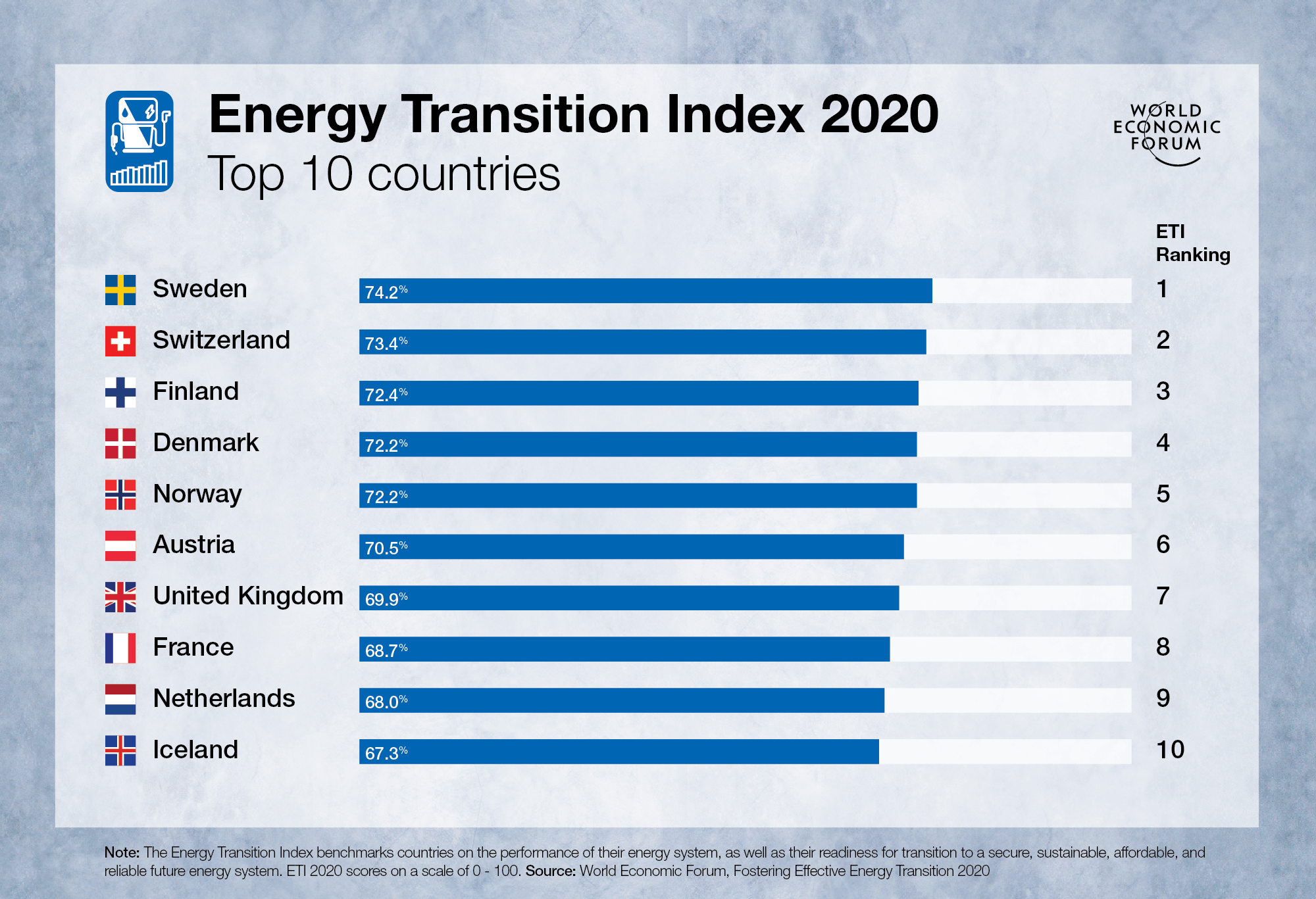 Additionally, the Mission Possible Platform (MPP) is working to assemble public and private partners to further the industry transition to set heavy industry and mobility sectors on the pathway towards net-zero emissions. MPP is an initiative created by the World Economic Forum and the Energy Transitions Commission.
Is your organisation interested in working with the World Economic Forum? Find out more here.