Countries worldwide are making progress towards more inclusive societies, with Ecuador legalising same-sex marriage and Botswana decriminalising gay sex. However, the LGBTI community still faces many challenges.
This Pride Month 2019, we spoke to Ludovic-Mohamed Zahed, a gay Algerian imam who founded Europe's first inclusive mosque 10 years ago. He told us about the challenges he and many other young LGBTI Muslims face, and how societies can be made to be more inclusive.
What was your experience, as a Muslim, of coming out as a gay man?
I was young, 17 years old, when I realised that what I was dealing with, what I was feeling, was homosexuality. I was in Algeria during the civil war. It wasn't spoken about, the issue of sexual minorities wasn't addressed, not in the public sphere nor in my family. In 1995, I was able to express my minority identity more openly, but suddenly I had no skills to link my homosexuality to my spirituality.
The only representation of Islam I had ever seen was a fascist, homophobic, misogynistic and antisemitic representation. The ideas I had about homosexuality were religious ones and were quite homophobic.
It took me seven years to reconnect them, when I was at university and where I chose to live by my sexuality and not my spirituality. Then, after reading and thinking more deeply about who I was, and why I initially rejected my spirituality and my culture so abruptly, I thought that maybe there was a way to connect the two. That's when I decided to dive into my spirituality again, through meditation and Buddhism.
I went to Tibet and saw some homophobia there as well. I started telling myself, finally, the problem isn't religion or Islam in particular: the problem is discrimination, prejudices and ignorance. When people are distraught, economically or mentally, that's when they start discriminating and fighting between themselves, and minorities are the first ones to be attacked. This has happened in many countries, and in many different historical timeframes and contexts.
What was your family's reaction when you came out? What have been your experiences as an openly gay Algerian man?
It actually didn't happen at first – I didn't talk about any of these things with my family. This subject was forbidden, was taboo, and I heard: "If you are like this you will die – people will kill you." There were a lot of threats that were not executed, of course – otherwise I wouldn't be here.
My father was the one who made the most effort: he comes from a patriarchal society and he had a very macho representation of masculinity. When I came out at 21 years old, I told them it was too difficult to live with my older brother and my uncle's threats. I told them: "Either you accept me as I am, or I go – my bags are packed and ready to go. But just tell me. We can't continue like this." This is when my father said, and he was very emotional: "He made his choice, we might not accept it, but we need to respect him and his choice." He then looked at me and said: "Life will be very difficult for you. Don't come crying on my shoulder." I replied saying that I had made my choice, and that it wasn't even a choice for me.
From this moment on we didn't speak about it for the next 10 years. It was very strange. But my brother and sister spoke about their relationships with our family, and my mother came to me – I was in my thirties – and said: "You are too private, you should share your life with us." So I introduced them to my fiancé, and they came to my wedding and we would then go visit them even during Ramadan. We then divorced, which can happen to anyone, but my mother said to me: "What a shame, we really liked your husband." It's as it is for everyone – sometimes it doesn't work out. But my mother learned a lot about homosexuality through us and our relationship.
I am lucky to have been able to move to the West – it would not have been the same in Algeria. We wouldn't have had the same destiny. There is no freedom there. My family's future would have been very different. My parents are open, but they have had to cut off many members of their own families. My uncle, after having threatened me with death, then threatened my mother as well. My mother obviously hasn't spoken to him since – she also paid the price for this.
What is the Forum doing to boost inclusion for LGBTI people?
Discrimination based on sexual orientation and gender identity not only violates universal basic human rights, it also adversely impacts the long-term economic prospects of individuals, businesses and countries.
An initiative of the World Economic Forum, the Partnership for Global LGBTI Equality (PGLE) leverages the power of business to promote LGBTI equality and inclusion in the workplace and take wider responsibility not just for the impact they have on their employees lives but also on the broader communities in which they operate.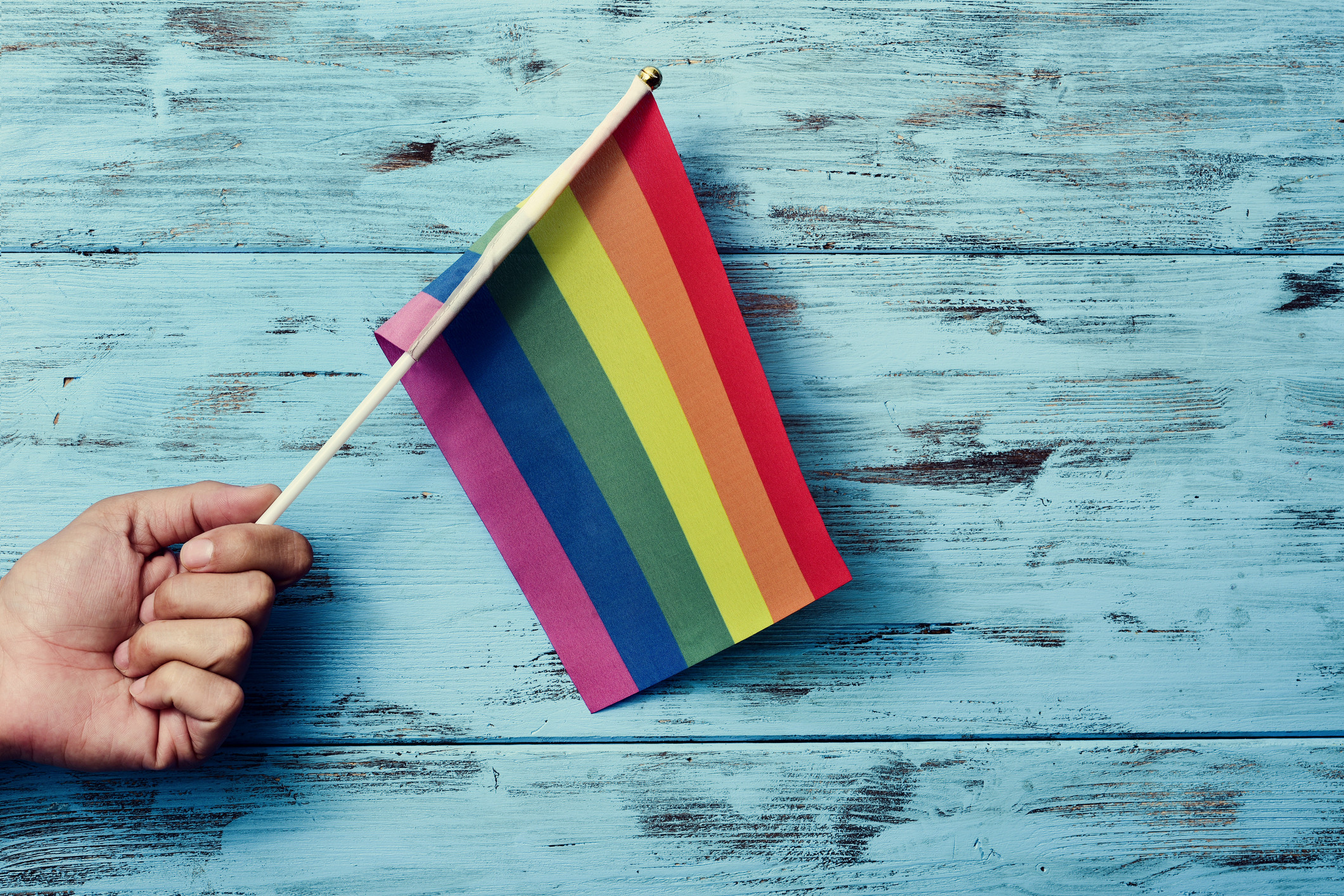 PGLE partners work together to:
Operationalize the five United Nations Standards of Conduct for Business Tackling Discrimination Against LGBTI People by providing a due-diligence framework, tools and resources for companies to advance and implement LGBTI inclusion globally (see here)

Provide a peer to peer learning platform connecting committed business leaders through the World Economic Forum in accelerating LGBTI workplace inclusion and promoting human rights for all

Share best practices and benchmarks to assist companies in meeting their commitments and responsibilities to global LGBTI equality.
Contact us to become a member or partner of the Forum.
The inclusive mosque is now nearly 10 years old. How did it start?
Ten years ago we founded the Association of Homosexual Muslims in France (Homosexuels musulmans de France, or HM2F). This minority expressed the need to discuss their spirituality and have a form of collective prayer. This was one of the main reasons we founded the inclusive mosque, as many in the larger association did not want to participate in religious activities. They felt traumatised after the treatment they received in religious spaces throughout their lives.
The mosque became the first inclusive mosque in Europe. Today, these sorts of communities exist everywhere in the world: in Western Europe, in the United States, in Indonesia, in South Africa, even in Tunisia. So it spread everywhere, but it started mostly in the US and Canada.
The second reason we created this kind of place, where people can meet and talk about all things spiritual, was that people came to find me from a Christian LGBT association. They had had a member join, a young transgender Muslim woman, who had nowhere to go and had recently died. No mainstream imam had wanted to do the traditional prayers surrounding death, because she was transgender.
They told me: you studied theology, religion and you are an imam. This was the first time in my life that I had been asked to act as an imam after having left Algeria, where I had studied to become one. I had not reconciled with that part of my identity yet, and it was a huge responsibility. At that moment, I knew: we have to do something about this. I am a cisgender man, so when I go into a mosque, nobody bothers me. But transgender people do not have the same privilege. It's not inclusive, not safe. This is why we founded this inclusive mosque. The community still exists in Paris, and here in Marseille we have the Calem Institute with a prayer room and emergency shelter for LGBTI people. It's difficult to keep going and to expand, as people do not want to rent us spaces. We are either too Muslim, or too gay. It feels impossible, but we have hope.
What were some of the first obstacles when trying to create this inclusive mosque? What was the reaction of non-LGBT Muslim people in the community around you?
Honestly, there weren't too many obstacles. The initiative had a very positive reaction. The first people to join were very positive and motivated. We participated in the protests for equal rights and for marriage for all in Paris. Our participants were very engaged politically. It was a very rich period for progressive Islam. We had a lot of encouragement, and some threats but nothing has ever happened. We kept on going.
Islam, the word, means "peace" in Arabic, and people are seeing that the representation of Islam has not shown that.
We debated with Egypt's University of Alazar on the German TV channel Deutsche Welle last year, as they said we weren't real Muslims. The imam of the progressive Ibn Rushd-Goethe mosque in Berlin was with me. They debated with us and weren't happy, but at least they spoke with us. The dialogue is open – this wasn't the case 10 years ago. Even they realize that this movement won't stop, and they will have to talk to us.
Are more people joining the movement? How has participation changed in the past 10 years? And what are your plans for the future?
Most of our participants are young. This generation knows that things won't change on them own. They want to learn how to help make more inclusive societies. For my part, I want to focus on the education of young imams, and on teaching and pushing for a more progressive Islam. I encourage everyone interested in creating these kinds of communities to go forward and to do it. If I could do it 25 years ago, being Algerian, gay, Muslim, Arabic, HIV positive, young and inexperienced, I think anyone can do it. We need to do it: we shouldn't be scared of confronting these realities.